>

Pixel dollhouses/For sims to live their lives in/Nice houses for sims
Harry Potter Collection: Ragnuk's Kingdom
MTS has all free content, all the time. Find out how YOU can help to keep it running.
Tell me how...
6,123

Downloads
260

Thanks Thanks
31

Favourited
37,967

Views


Uploaded: 22nd Nov 2007 at 2:04 AM
Updated: 10th Jan 2016 at 1:35 AM - MTS2 House Information Update
WELCOME TO THE WORLD OF MAGIC: Harry Potter Collection of Lots!
Ragnuk's Kingdom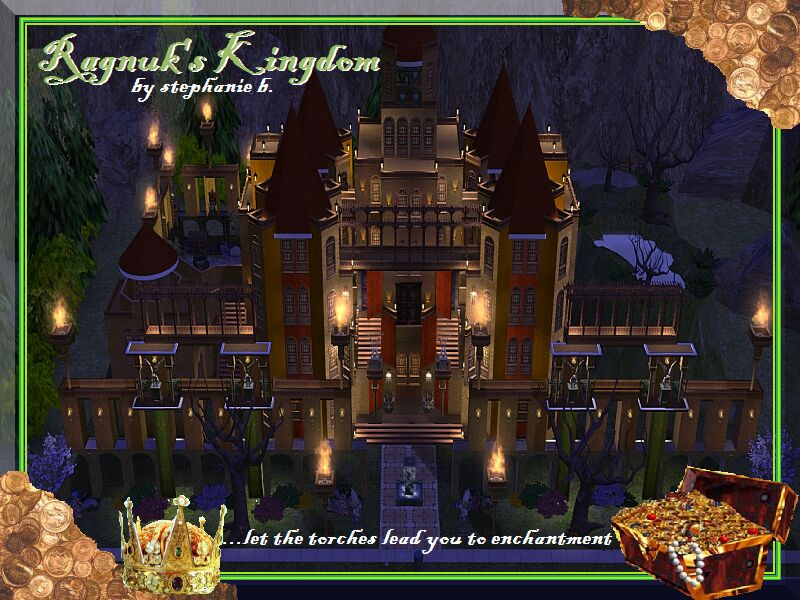 ------------------------------------------------------------------------------------------------
Note: Three Versions Available
While I mainly create for the artistic fun of producing something from nothing, I decided to enter Ragnuk's Kingdom (from my Harry Potter Collection) in the Fairytale Challenge. Seeing that I love the realm of all things fantasy, I had great fun creating this magical land, as there are few Goblin abodes. I included 3 Versions so everyone can enjoy this download.
- Custom Content Version
- Limited Content Version (No Treasures Included)
- UNFURNISHED Version with No "Object" Custom Content
(stephanie b. walls, floors and terrains ONLY with mzcynammon's roof)
------------------------------------------------------------------------------------------------
Harry Potter Collection of Lots: Ragnuk's Kingdom ( A Goblin Castle)
THE STORY BEHIND RAGNUK'S KINGDOM
In folklore, goblins are described as disfigured, mischievous creatures with unpredictable behavior who "love" to annoy humans. J.K. Rowling took the goblins a step further in the Harry Potter series by describing their cleverness and impressive ability to craft magnificent objects (often elaborate keepsakes made of gold and jewels). Goblins in Harry Potter have a "different" sense of ownership. They believe the creator of an object is ALWAYS the true owner of the object. In the Harry Potter series, Ragnuk is a goblin king who is thought to be the original owner of the Sword of Gryffindor.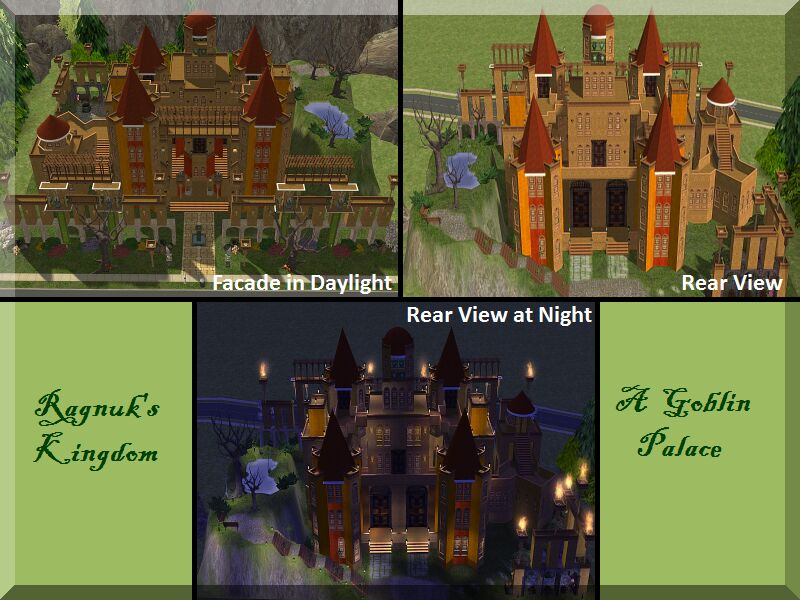 stephanian Fiction
Human understanding of things they find annoying (like goblins) often results in not seeing things as they really are. Are goblins really mischievous or misunderstood? Do we limit understanding how goblins live simply because they are different? We assume because goblins are loathsome creatures that they exist in the same manner. Not Ragnuk! He built himself an elaborate castle made of gold and painted with the residue of crushed jewels in the middle of nowhere. Unlike other goblins, Ragnuk learned to master the use of a wand. He strengthened his kingdom by casting all sorts of protective spells over it. As a result, he began to hoard piles of gold and other treasures in the highest rooms in his castle.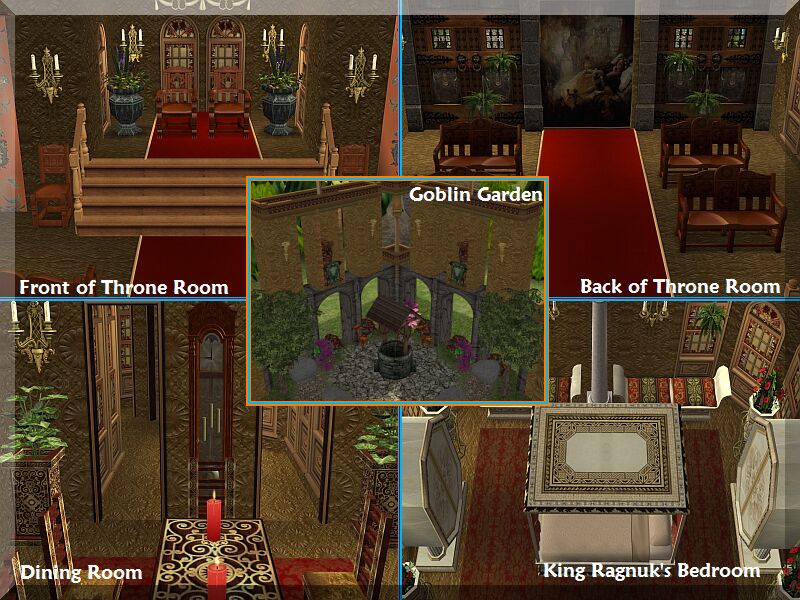 Ragnuk's Kingdom
RESIDENTIAL LOT / 5 x 4 Lot / Custom Content Version §361,448 / NO TREASURES Version §350,953 / UNFURNISHED No CC Objects Version §274,207 / Partially Furnished (1st Floor and Treasury) / 4 Stories / Garden / Pond
Floor 1:
Throne Room, King's Bedroom, King's Bathroom, Dining Hall, Kitchen, Guards Bedroom, Guest Bathroom, 2 Empty Rooms
Floors 2 - 4:
22 Empty Rooms

NOTE:

The Treasury is on the 4th Floor. It contains a large Pot of Gold and a "working" Treasure Chest that dispenses money for your Sims!
-----------------------------------------------------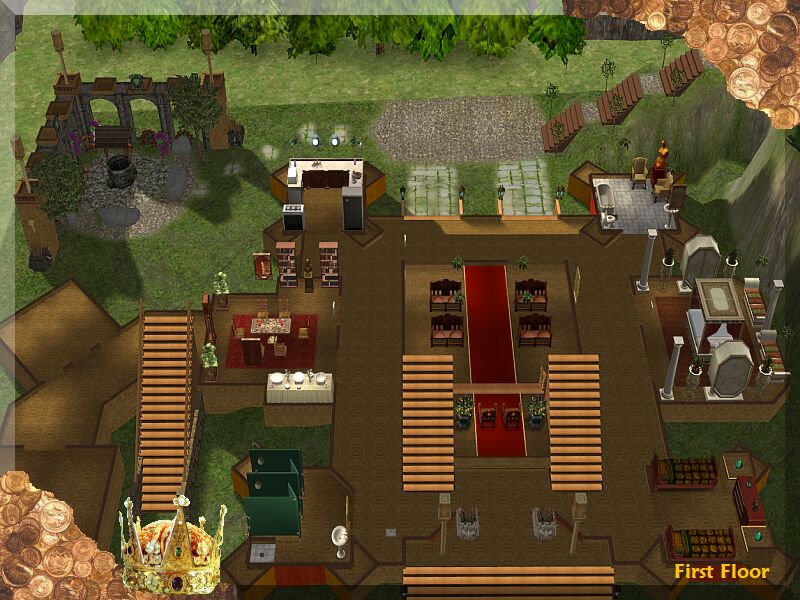 OTHER INFORMATION
THANK YOU!
I owe the deepest of gratitude to all the extraordinary artists whose objects helped to bring my vision of Harry Potter's Magical World to life! Thank you for sharing your time and talent with the Sim community. Thank you to the following artists for helping to bring a little "magic" to the Sim World: XxHalfBloodPrincexX, Khakidoo, Macarossi, smithypcl, Kate (at Parsimonious), mzcynnamon, Ailias, gromit, Worship4Ever0227, corvidophile2, Brasstex and Lethe_s. Be sure to browse the links at the end of the post for other fabulous downloads by each artist!

ABOUT THE DECORATIONS:
I only decorated the first floor because this is the only floor. All the necessary rooms are on this floor (with 2 extra rooms to make what you wish like a gym or t.v. room). I really envisioned the remaining rooms to be storage rooms for Ragnuk's treasures (be it objects or beings). Since I added the user created object (treasure chest, pot of gold, bedroom and dining room sets by Kate, XxHalfbloodprincexX's

Whomping Willow, etc.), the lot takes a little juice to load (10 seconds as opposed to 3 for me). Once loaded, it ran beautifully with no lag time (for me at least) and my Sims ran around like a polar bear suddenly realizing it is out of its Arctic element.


ADDITIONAL DOWNLOADS!
The following downloads are "suggestions" for enhancing your Ragnok Kingdom lot. Although the following items are NOT NEEDED and are NOT INCLUDED in this download, GOLD TREASURES are a MUST in Ragnuk's Kingdom. Add gold piles and furnishings to bring the castle to life. After all, Ragnuk is a hoarder of precious treasures! , I thought they would add a little authenticity to this lot:
- Piles of Gold (Pirate Booty) by Delonariel
- Piles of Gold Treasures by WiccanDove
- Useable Cash Registers with Gold by FracturedMoonlight
- Piles of Gold by Rythela
- Leaves Mesh (for the Piles of Gold) by SnowStorm
- Golden Lamps by ParsimoniousSims2
- Golden Bed Recolour by obsessisim
- Several White/Gold Objects (piano, chess table, clock, coat rack) by SPOILEDROTTEN165
- Gold Champagne Set by Maylin
- Red and Gold Dining Set by besen
- Red and Gold Living Room Set by besen
- Several White &/or Gold Objects (bed, end table, mirrors) by zillah
- Goldenish Build Items: Columns by Chrissy on TSR
- Goldenish Build Items: Stairs by Chrissy on TSR
- Golden Build Set: Stairs by Parsimonious Artisans Quarter
- Steampunk Items with "Golden" Resources by Steam Punk Sims

MY TEXTURES:
All stephanie b. walls, floors and ground covers included in houses downloaded from MTS2 can be used in lot creations on any free or pay site as long as I receive credit for the textures. Please do not post my textures (walls, floors or groundcovers) or lots on other sites without my permission or reupload them as your own by giving them color face-lifts without giving me credit for the original design. Thank you!

NOT A CARBON COPY:
These lots are creations from my imagination based mainly on excerpts from the books and on-line information. I am basing very little on the movie versions of each place, so don't expect exact replica's of movie versions of the various places in the Magic and Muggle World.

MY VISION FOR HARRY POTTER NEIGHBORHOOD:
My vision for this neighborhood is that the students do not "live" in Hogwarts. I see the school as home to only a few teachers (Dumbledore, McGonagall, Trelawney). Everyone else is spread out in either their family homes or in the Summer Houses.

MY SOURCE:
I used the floorplans found on the Harry Potter Lexicon site as inspiration. For extensive Potter INFORMATION, checkout the HP Lexicon here: www.hp-lexicon.org

MY JOURNAL
Be sure to download the entire Harry Potter Collection of lots here at Mod the Sims 2 (as they appear):
http://www.modthesims2.com/member/StephSim

Enjoy the download!
Stephanie

2U



-----------------------------------------------------


Lot Size:
Custom Content Version 5 x 4
NO TREASURES Version 5 x 4
UNFURNISHED No CC Objects Version 5 x 4 (Textures & Roof Only)

Lot Price:
Custom Content Version §361,448
NO TREASURES Version §350,953
UNFURNISHED No CC Objects Version §274,207 (Textures & Roof Only)

Custom Content by Me:
- Rouge Floral Carpet
- Golden Tin Linoleum
- Bold Red Floral Carpet
- Grey Stone Ground Cover
- Gravel Stone Ground Cover
- Moss Brick
- Golden Tin Wall
- Vibrant Texture 4
- Vibrant Texture 5

Custom Content Included:
- Orange Residential Roof by mzcynnamon
- White Edge Smoother by Ailias
- 3 Way Arches (Mesh and Recolor) by Brasstex
- Spring Blossom Tree 2 by Corvidophile2
- "La Gargouille" Ornamental Sculpture by gromit
- Garden Planter Hexagonal by Macarossi
- "Amicus Curiae" Bedroom Set by Kate
- "Golden Goose" Dining Set by Kate
- Out of This World Plant Set by Kate
- Birch Tree Shrubby Larger & Recolour by Khakidoo
- Cypress Based Shrub by Khakidoo
- Boulder Chair & Stone Slab Sofa by Khakidoo
- Lethe Banners by Lethe_s
- Pond Border Rocks by Macarossi
- Pot O' Gold by Worship4Ever0227 by Worship4ever0227
- Treasure Chest by SmithyCPL
- Whomping Willow by XxHalfBloodPrincexX

~*~StephSim's Creations~*~
❤ Welcome to my little space of the Simming Community!❤
As of July 2016, I've decided to reinvent myself (again). Basically, my Sim Creation Renaissance is long overdue! It's time to release the old and move forward, doing things that sustain me in meaningful ways. ◕‿◕
I shall start with a wonderful new Sim Place to call home! And now the Official Unveiling (....drum roll...):
CLICK HERE to experience StephSim's BRAND NEW SIMS 2 WEBSITE called *** Proudly Banished *** !!!
Proudly Banished is my little storage place for a select few of my Sims 2 creations. Since I will NOT be Simming as much, I wanted to provide a small landing pad for random creations I will be sharing. I will on occasion share NO CC/ LOW CC Lots and MTS related recolors here on MTS. However, my CC LOADED Lots will be Housed at Proudly Banished. I've also add the updated Fully Loaded Versions of the American Gothic Mansion. Be sure to click on the Slideshows when available! You will find a few lots, object recolors, clothing recolors and the Regina Mills Sim (from Once Upon a Time)! There should be a little something for everyone!
Take your time and explore the site and be sure to check out *Sherwood Forest* for my PBK Community Goodbyes!
See you there. (。♥‿♥。)
POLICY
All StephSim walls, floors, and ground covers can be freely used in lot creations on any free or pay site. Feel free to use my neighborhood maps/terrains for any and all of your Simming needs. Feel free to use any objects or object recolors shared on MTS or elsewhere in the Sims 2 community in your creations (lots, movies, stories) Feel free to recolor objects I upload and include the mesh. Feel free to use any Sims I create or my lots for your Sim movie making purposes! In using any of my creations. Credit is not necessary, but please do not claim any shared creations by myself,
Sophie-David
,
Jason Duskey
or anyone who I team with as your own.