Clothing

>

Female

>

>

Everyday clothing. This is your Sim's default outfit.
Medieval Female Clothing - Ye Olde Kingdom of Pudding CAS (Update: Pregnancy Morphs Added April 2013!)
MTS has all free content, all the time. Find out how YOU can help to keep it running.
Tell me how...
72,147

Downloads
1,116

Thanks Thanks
205

Favourited
96,304

Views
Uploaded: 10th Feb 2012 at 4:49 PM
Updated: 14th Jul 2013 at 6:08 AM - Update: Pregnancy Morphs Added by monca533 for Both Dresses April 2013
Ye Olde Kingdom of Pudding - Medieval Female Clothing
Two Dresses Made by Robodl95
for The Merrye Makers
Greetings, good gentles/ladies. We are The Merrye Makers - a group of twelve creators spanning all disciplines (clothing, lots, objects, etc.) offering for thy downloading pleasure a collection of medieval things most beauteous from Ye Olde Kingdom of Pudding -- otherwise known as "Simdom Pudding".
The women of the realm of Ye Olde Kingdom of Pudding wore at least one tunic down to their ankles. Many women, if they could afford it, wore a linen under-tunic and a woolen over-tunic, and often a wool cloak over that if they were going outside. On their legs might be woven tights or socks. Colors were plain; they were shades of gray, brown, dark blue, and red. Tailors created clothing for the wealthy in Simdom Pudding, but most of the population made their clothing themselves so that they would never be nude. Meanwhile, hopelessly romantic noblewomen often wore fancy tall hats, some with streamers coming off them. They sometimes plucked the hair from their foreheads to give themselves very high foreheads. The overly emotional inhabitants of Simdom Pudding laughed mightily at them exclaiming such actions were insane. The neurotic thought them beautiful.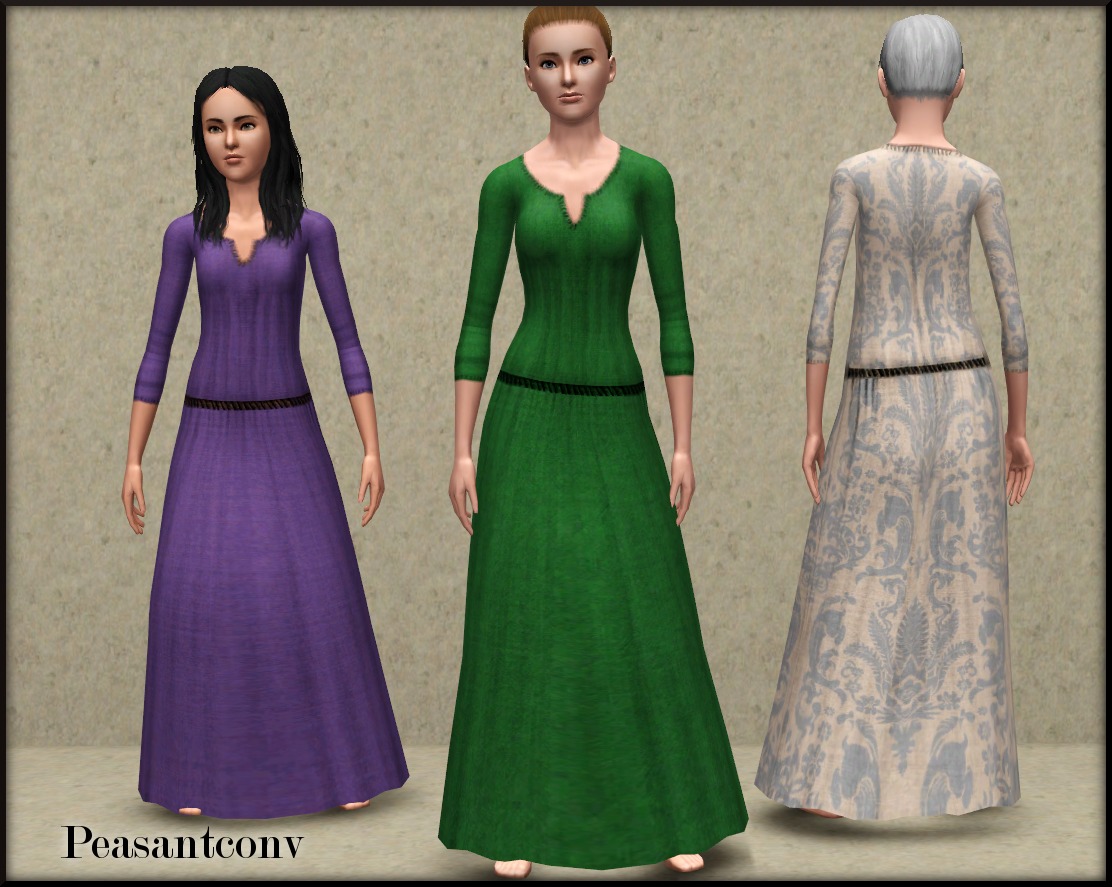 | Item name | Categories | Ages | Game | Channels | Polycount | Thanks to: |
| --- | --- | --- | --- | --- | --- | --- |
| Peasntconv | Everyday; Formal; Athletic | Teen to Elder; Adult Pregnancy Morph | BG | 2 (Dress; Belt) | 3720 | Iosaur |
| Alpha1iamLizConv | Everyday; Formal; Athletic | Teen to Elder; Adult Pregnancy Morph | BG | 3 (Dress; Apron; Belt) | 3720 | Liz |
Pregnancy
There was heavy emphasis on conceiving and child-beringe in Ye Olde Kingdom of Pudding. Pregnancy and fertility was much valued over barainnesse. It was said that one way to tell if a woman was pregnant was to have her drink nectar before she went to bed. If her stomach hurt when she woke up, then she was pregnant. Simdom Pudding pregnant women were expected to follow certain dietary regimens. Spaghetti, apples, and watermelon were highly recommended. There were guidelines for the amount of food, air, exercise, and rest pregnant women should receive as well as recommendations as to how to keep their mood bars high. Remedies, like back rubs, helped with the various discomforts of pregnancy. Pepper was sometimes used to induce labor. Most pregnant women in labor in Ye Olde Kingdom of Pudding were attended to by midwives. Some Simdom Pudding mothers gave birth using a birthing stool. However, most assumed a crouching position.

Sources:
http://www.richeast.org/htwm/mmed/mmedicine.html
http://medievaldisabilityglossary.w...s.com/Pregnancy
http://www.gallowglass.org/jadwiga/herbs/WomenMed.html
Pregnancy Morph Added by monca533 for Both Dresses April 2013
Downloaders must remove adult dress package files and replace with pregnancy adult dress package files to enable pregnancy morph!
Known issue: Clipping of fingers into pregnant belly may occur during certain actions. This could not be corrected and was also noted in some EA pregnancy clothing.
Screenshot credits:
Ladyfrontbum for the
skins
Polygon Counts:
3720
The Merrye Makers
Ahh, wanderers, welcome. Art thou merrye? If thou art not merrye thou art soon to be. What wares hast thou come here looking for? Clothing for thy entire family? Furniture for thy house? Maybe thou art simply in need of a house in general! Well sir, we are most glad to let you know that we have all that and more.
This has been a big undertaking for everyone involved, our skills range from featured creators to never having uploaded anything before. Everyone has enjoyed watching the project grow, meeting new people and learning new skills.
The Merrye Makers would like to thank a number of people for getting us here. First off is the staff of MTS. The staff were so supportive of us and it's definitely no easy matter to get 100+ things approved! There are also numerous other people who were going to participate but, for various reasons, were not able to upload with us. We would like to thank Rylandholmes, Whiterider, dramamine213, hudy777DeSign, Freshprince and Kitty Paine for their feedback and support. Thank you to SimmyRN for providing the narratives found in
italitics
throughout the posts. Thank you to jje1000 for the medieval world in the pictures, Praaven. Find out more about Praaven here:
http://www.modthesims.info/showthre...ghlight=praaven
.
Policy
Please follow the policy provided by the individual creator. Please credit the individual creator and not us as a group.