Sims 3

>

Clothing

>

Male

>

>

Sets with different types of clothing but following the same pattern go here
Medieval Men's Trousers - Ye Olde Kingdom of Pudding
21,605

Downloads
543

Thanks Thanks
85

Favourited
43,295

Views
Uploaded: 22nd Jun 2013 at 3:45 AM
Updated: 27th Jun 2013 at 12:24 AM
Ye Olde Kingdom of Pudding - Medieval Men's Trousers
Converted by Kiara24
for The Merrye Makers
Greetings, good gentles/ladies. We are The Merrye Makers - a group of twelve creators spanning all disciplines (clothing, lots, objects, etc.) offering for thy downloading pleasure a collection of medieval things most beauteous from Ye Olde Kingdom of Pudding -- otherwise known as "Simdom Pudding".
Trousers
Trousers of various design were worn throughout Ye Olde Kingdom of Pudding, especially by males. Generally called brais, trousers varied in length and were often closed at the cuff or even had attached foot coverings, although some Simdom Pudding residents wore open-legged pants. Tightness of fit and length of leg varied by class and geography. Upper-class males sometimes wore two layers of trousers with the under layer eventually being known as "drawers". Later, it became common among the men of the noble and knightly classes in Ye Olde Kingdom of Pudding to connect their trousers or hose directly to their doublet.
Source:
http://en.wikipedia.org/wiki/Trousers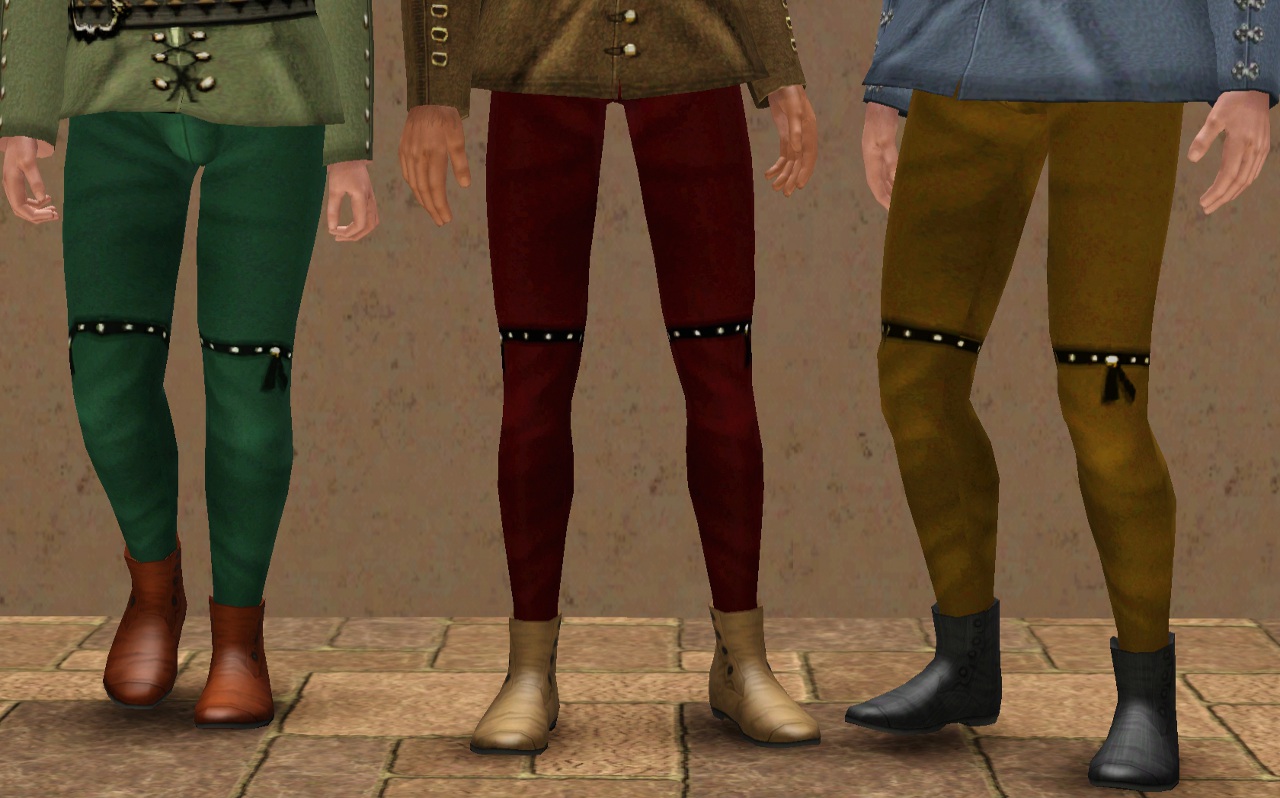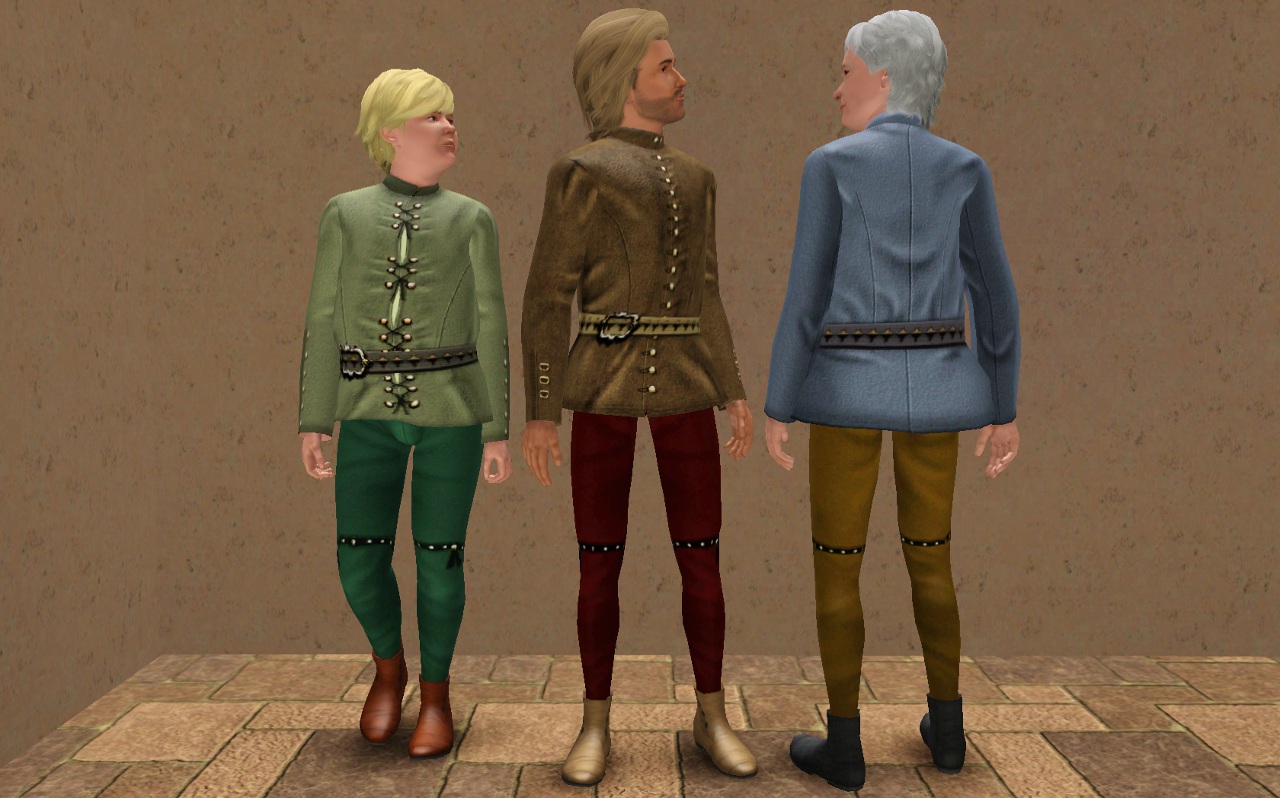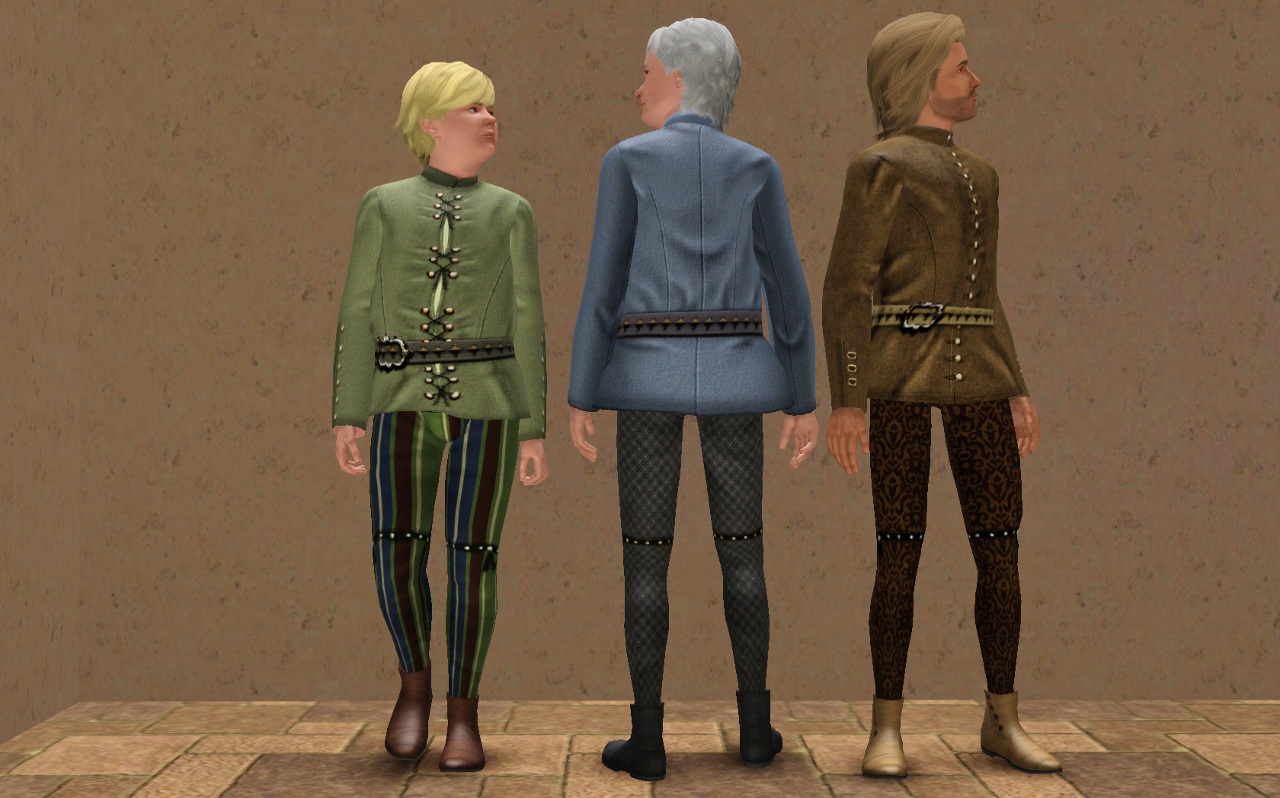 Medieval Men's Trousers Recolors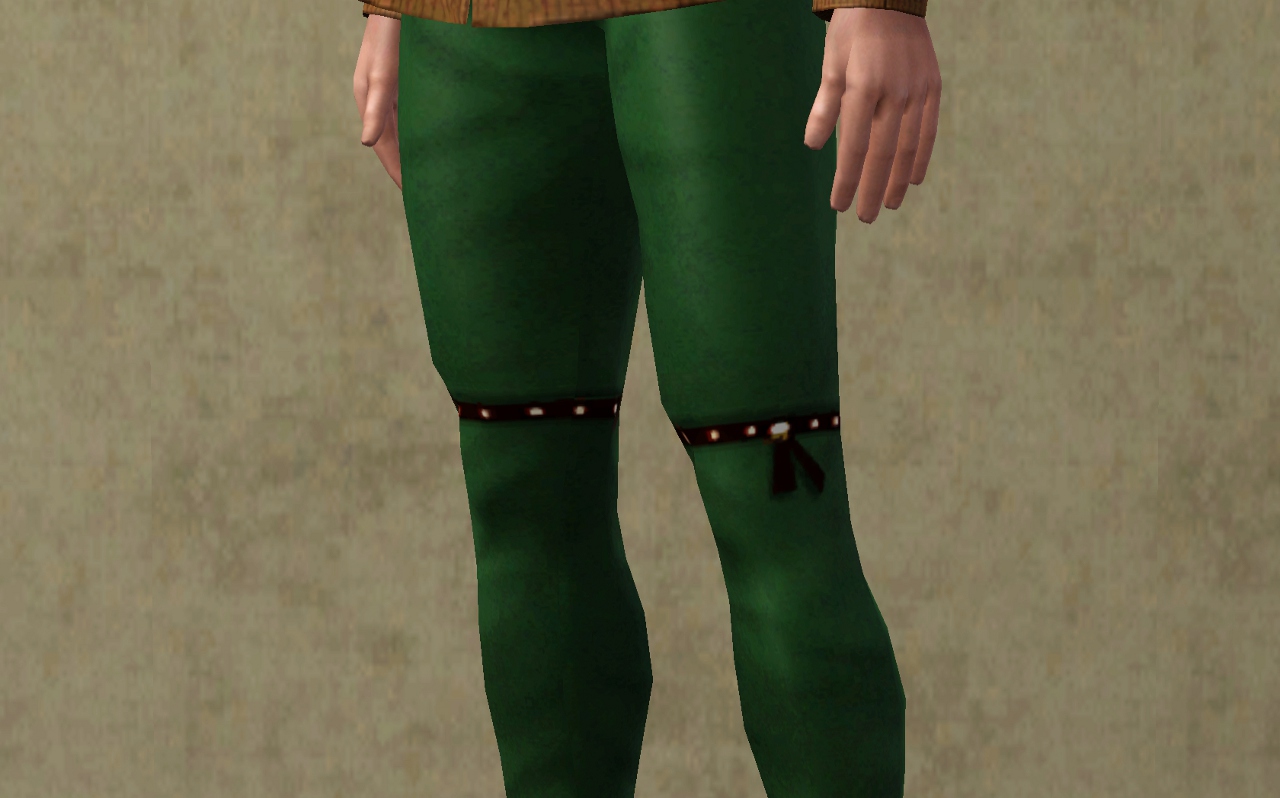 2 Channels - Trousers and Leg Band Stud Bases (Colored red in close up)
Medieval pants conversion by Kiara24
Game:
Base game
Gender:
Male
Age:
Teen to Elder
Categories:
Everyday, Formal and Athletic
Channels:
2 - Trousers/Pants and Leg Band Stud Bases
Polygons:
LOD1 - 774
LOD2 - 438
LOD3 - 217
Download The Merrye Makers Medieval Male Doublets here: http://www.modthesims.info/d/491446
Credits:
A special thanks to Aligeth the creator of the original pants.
One adult model is Arisuka's Ryan Kingsley "medievalized". Get him here:
http://www.modthesims.info/download.php?t=473313
.
Polygon Counts:
See above
Additional Credits:
The Merrye Makers are most grateful for the support of their merrye band of followers and MTS staff.
Packs Needed
None, this is Sims 3 base game compatible!
Other Information
Age
:
– Teen
– Young Adult
– Adult
– Elder
Clothing Type
:
– Everyday
– Formal
Clothing Style
:
– Historial : Historically accurate
Other Type
:
– Not Applicable
Maxis Flags
:
– Not Applicable
The Merrye Makers
Ahh, wanderers, welcome. Art thou merrye? If thou art not merrye thou art soon to be. What wares hast thou come here looking for? Clothing for thy entire family? Furniture for thy house? Maybe thou art simply in need of a house in general! Well sir, we are most glad to let you know that we have all that and more.
This has been a big undertaking for everyone involved, our skills range from featured creators to never having uploaded anything before. Everyone has enjoyed watching the project grow, meeting new people and learning new skills.
The Merrye Makers would like to thank a number of people for getting us here. First off is the staff of MTS. The staff were so supportive of us and it's definitely no easy matter to get 100+ things approved! There are also numerous other people who were going to participate but, for various reasons, were not able to upload with us. We would like to thank Rylandholmes, Whiterider, dramamine213, hudy777DeSign, Freshprince and Kitty Paine for their feedback and support. Thank you to SimmyRN for providing the narratives found in
italitics
throughout the posts. Thank you to jje1000 for the medieval world in the pictures, Praaven. Find out more about Praaven here:
http://www.modthesims.info/showthre...ghlight=praaven
.
Policy
Please follow the policy provided by the individual creator. Please credit the individual creator and not us as a group.