>

Pixel dollhouses/For sims to live their lives in/Nice houses for sims
-Renovate Pleasantview- Lakeside Lane
MTS has all free content, all the time. Find out how YOU can help to keep it running.
Tell me how...
2,852

Downloads
234

Thanks Thanks
61

Favourited
26,870

Views
Picked Upload! This is a picked upload! It showcases some of the best talent and creativity available on MTS and in the community.

Uploaded: 23rd Jun 2013 at 11:36 AM
Updated: 26th Aug 2020 at 9:10 PM


This lot is infected with the
Super Duper Hug Bug
. Make sure you have
No Sim Loaded
and
Smarter EP check
.


The third house in
jones
'
Renovate Pleasantview Contest
was
225 Main Street
. I was right about one of the next houses having to be bigger, and since jones had given us the clue that there would be a bin house, I figure it would probably be a single story house more suitable for the family with the toddler. That meant this house was for the single dad and his daughter.
Will Mason and his 10 year old daughter Elise have been on their own for a year now. They still miss Anne, but have decided it's time to move away from all the painful memories. Will's never been very good at decorating and wants to make sure the house feels like a home. Elise loves purple, pink, and butterflies.
For the contest, I made the family and took lots of pictures of Anne and Elise, but since this house isn't coming with the family, I've removed the family photos. As I did in the
other
three
houses
of this set I've uploaded so far, I've tossed out the budget and the 'no structural changes' rule. I changed a few small things like windows and other things based on the judges comments, but as I tied for second place this round (with
Hencing's
, and behind
Liv's
), there wasn't much to fix. The biggest changes are in the master bedroom, where the small windows were removed, a large painting hung above the bed, less personable nicknacks used, and a balcony was added. I also spent a bit of time on the front porch area, extending it and making the garden more colorful. The kitchen, being judged as too white/boring/plain, now has a more interesting wall paper.
I'd recommend you read my story about the house over in
my entry post
. Almost all of the decorating decisions were based off the family's story so it doesn't make much sense to talk about it here without them. I've redone the house to again be cheerful and its suitable for a young family with a daughter and a cat. Have a look!
Right inside the front door you are greeted with cheery and bright furniture in the kid and cat friendly living room, behind you is the office area where homework and interneting can be done.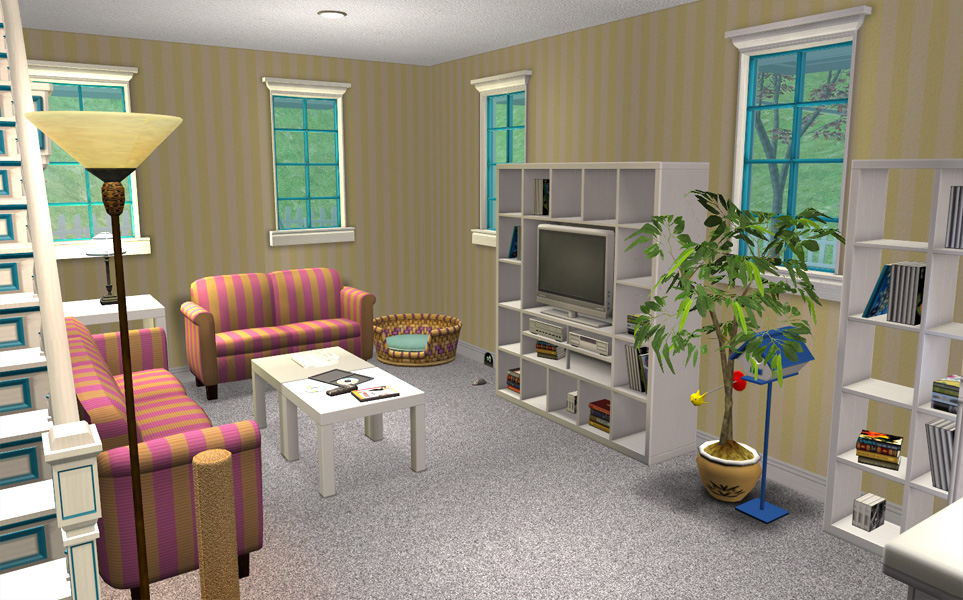 The other side of the house is the kitchen and laundry/half bath. So few houses include laundry rooms because our sims don't need them, but I think its a perfect deco touch to fill up what would otherwise be a large main floor bathroom. The kitchen is clean and bright and has access to the back patio.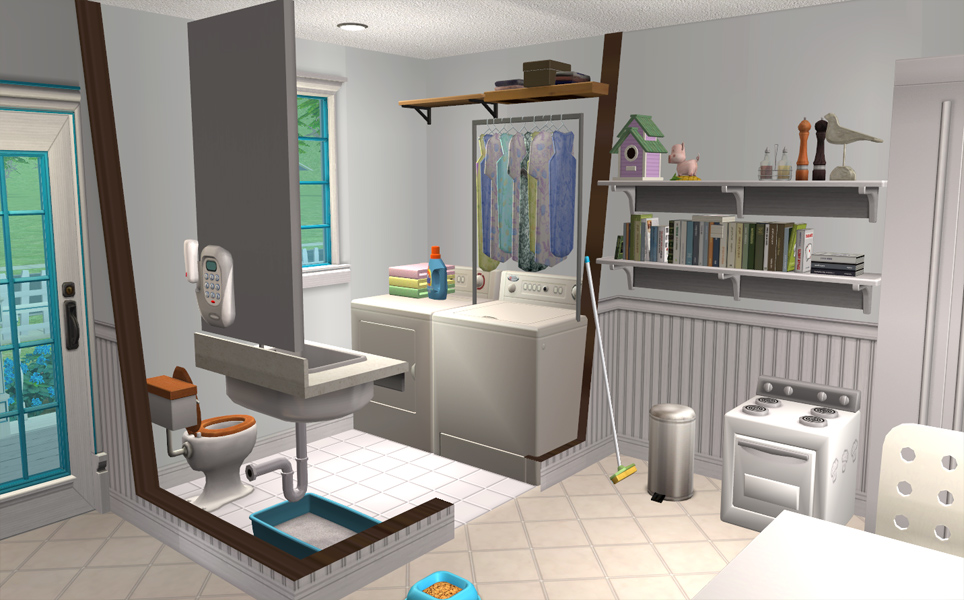 The master bedroom is calm and relaxing and has a balcony to enjoy greeting the sun on, and makes it easier to keep tabs on any kids playing outside while the parents sneak up stairs for a mid-day rendezvous.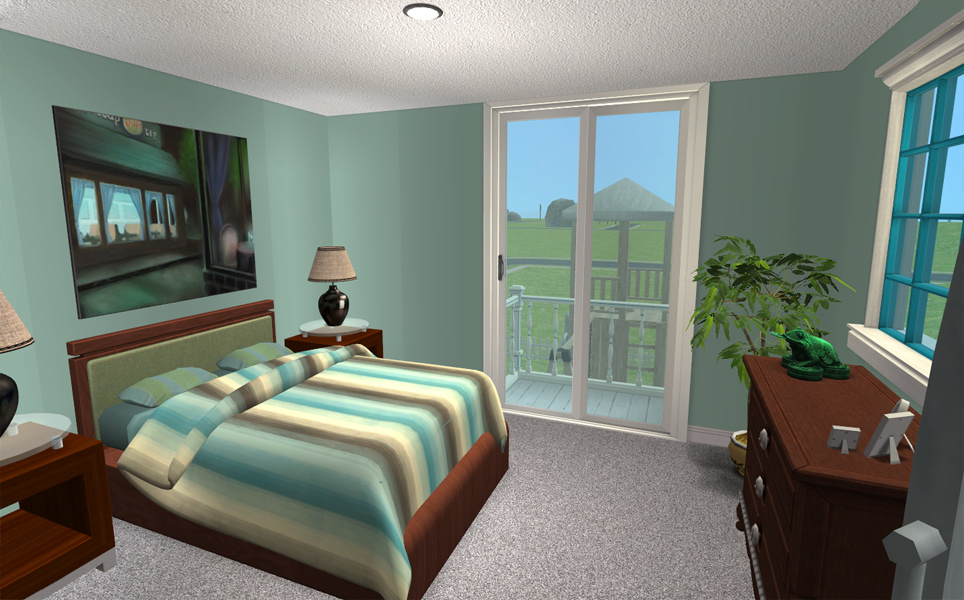 The little girl's room is bright and filled with every kind of toy a girly-girl could want. A tea party is set with all her friends, stuffed animals are all over the room, a doll treehouse is just waiting to be played with, and a butterfly collection is on the story-writing desk.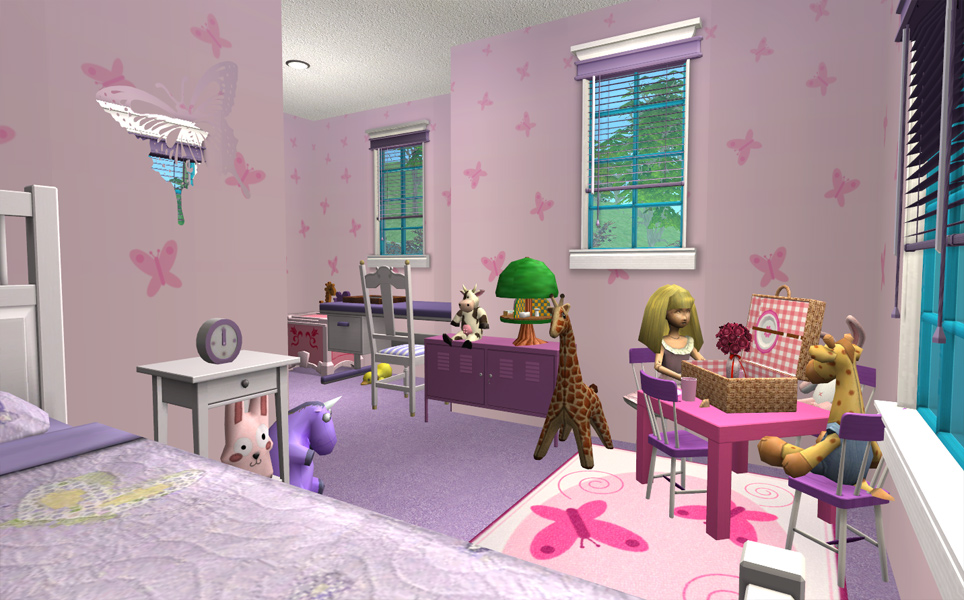 Enjoy!
-Phae
Lot Size:
3x3
Lot Price:
$51,677
Custom Content NOT Included:
- Default White Roof Trim (pictured, but not needed), and Itty Bitty Bird House Master by
Phaenoh
- Crateless Ikea TV Recolor by
hafiseazale
- Purple Butterfly Bedding by
jupiterstar
- Bookcase Book Recolors by
plasticbox
- Kitchen Basic Master by
Buggybooz
Custom Content Included:
From MTS:
- Itty Bitty Birdy Eaves Roof House, "It's All Wood" Climbing Tower, Swingset & two Recolors, and Purple Teak Chair Recolor by
Phaenoh
- ShiftableShelf 1 & 2 and their Recolors, and Walk Through Block & Recolor by
SilentLucidity
- Teddy Bear Bunny, and Pets BedBasket Medium by
Numenor
- Pets NeoQuartzo Upper Cabinet & Recolor by
CTNutmegger
- Child Sized Tea Party Chair and OMSP in Teak by
Rebecah
- Shakerlicious Casserole Dish Small & Round by
Buggybooz
- Belhooven Single & Double Window by
MaryLou
- Stack of Books #4, #5, & # 6 by
leesester
- OMSP_EndTable & Recolor by
Lord Darcy
- Black Vroom Chair Recolor by
Sehana
- White Lounge Chair Recolor by
Ailias
- Mouse Hole Wall Recolor by
Sim_Me
- Plush MooMoo Toy by
Windkeeper
- Blue2 Siding by
Ohbehave
From Off-Site:
- Kitchen Decor Dishes, Modern Line Kitchen Condiments, Gifts for Sims Doll Dining set, Gifts for Sims Dolls Treehouse, Tropezienne Home Cinema Deco, and Hacker's Office CD Boxes by
Sandy
- Interior Designer Clutter, Critter Comfort Shelf, Toiletpaper Clutter, Towels Spyglass, TS3 Bed, and Flamingo Wall Critter Comfort by
Amovitam
- Sims3 Cheap Washer & Dryer Dryer, TS3 PETS Plush Duck, Giraffe, and Unicorn, and Extracted Mop by
Zx_Ta
- Purple IKEA Cabinet Recolor, and Bakonimi Spok Desk Recolor by
hafiseazale
- Expedit IKEA Bookcase and 1 Tile Bakonmi Sprok Desk by
HugeLunatic
- Converted TS3 Ultra Lounge Youth Alarm Clock & Recolor by
HCove
- Pennelle by Top Shelf Toys and Cubic End Table by
Lord Darcy
- EP04 Wall Sculpture Animals & Recolor by
Ndainye
- Maxis Match Striped Loveseat & Loveseat by
Jfade
- Blackfyre Victorian Doll & Recolor by
delonariel
- Books (decorative) 1 & 2 & Recolor by
Shoukeir
- Sims 3 OLS Table Terranium by
TheNinthWave
- Blue Tinged Hydrangea Shrub by
Honeywell
- Bird, Mirror, and Table Lamp by
Cassandre
- Picket's Charge Fence in White by
Sinuhe
- TS3 Conversion Vorn Bathtub by
Marja
- Aqua SSN Shower Recolor by
anna
- BedBlanket 11 by
Jonesi
From Dead Sites:
- Washday Blues Towels and conditioner by
SimplanX
(dead site)
- Kitchen Pots and Pans by
Ogularama
(dead site)
- Spring Blossom Tree by
Corvidophile
- Sitting Teddybear by
Nengi65
- LACK CoffeeTable by
nofrills
Additional Credits:
jones for putting a bit of herself into her contest;
Croutonian, aUserName, and Selly_2009 for really liking my entry this time;
lipe2k
,
HugeLunatic
,
joandsarah77
,
GlorianaGlowbee
,
esmeiolanthe
,
Liv
,
Hencing
,
sharill63
,
MAB-2000
,
RowenaLupin
,
kayls42
,
hogwartsjedi
,
trin250
,
Shaundak21
,
lauratje86
,
karen lorraine
,
godspeed
, and
Evairance
for sharing their fantastic CC links.
Blurb and Updatez:
Please don't reupload my work anywhere else. Just point them back here, I'm not going anywhere! :)
Please ask permission before using my work as a base for your project. I almost always say 'yes' and often times I will help you with your project! :bunny:
If you make something (like a story or a video) and it has something of mine in it, send me the link, I love to see my stuff 'in action'!
Sadly, but honestly, I can't take on requests. You can ask if it's something already related to one of my current projects, but I'm not likely to take on your project for you. MTS has lots of wonderful tutorials ;)