Sims 2

>

>

Bon Voyage type lots/Such as hotels and camp grounds/Home away from home
Out Of Africa
2,395

Downloads
450

Thanks Thanks
27

Favourited
36,116

Views
Picked Upload! This is a picked upload! It showcases some of the best talent and creativity available on MTS and in the community.

Uploaded: 24th Apr 2008 at 1:10 AM
Out Of Africa (Adventure Hotel)
Category
: Lodging
lot size
: 5x4
Neighborhood
: twiki island
lot type
: seaside
furnished
: totally
tested
: yes, as usual i've tested a clone
compatibility
:
Lot is tested with and without freetime ep
, it's not necessary freetime ep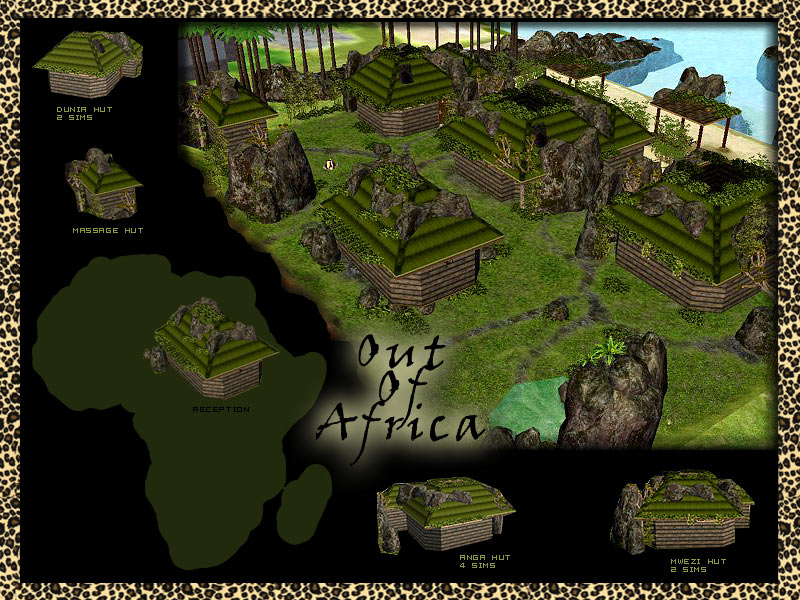 Wildlife bungalows for wild sims

Out Of Africa is an african village- warning:
1. natives speaks only swahili simlish
2. wild beasts roam around at night : )
3 bungalows:
MWEZI HUT
(most confort hut, for 2 sims)
"mwezi" in swahili means "moon"
ANGA HUT
(bigger hut, for 4 sims)
"anga" in swahili means "sky"
DUNIA HUT
(little hut, for 2 sims)
"dunia" in swahili means "earth/ground"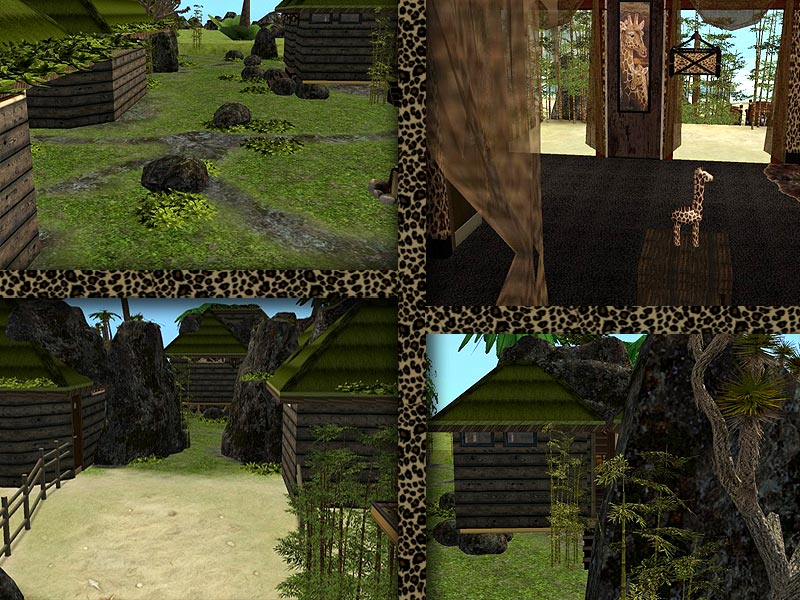 IMPORTANT: Bungalows are built for playing in FRONT VIEW.
I wished to play in a bungalows with large seaview (as it shown in upper image, top-right pic), that is, look at the sea-panorama when I play in it.
Then, play with front view
following the direction of the yellow arrow
:
the bungalows in front (reception and massage hut) are built on purpose on platforms, so, when you play in bungalows, they disappear (being at "first floor")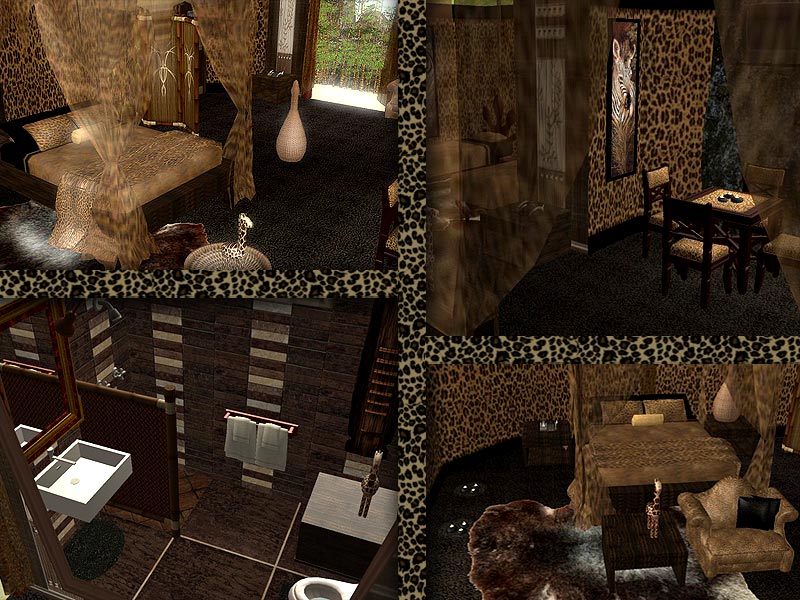 Furnishing of huts: african, airy, expansive style
Each hut has a terrace (remember to download niol's fence with the link i provide, otherwise other sims could enter in your hut)
with front view, huts appear
this way (click to see pic of Anga Hut with wall down)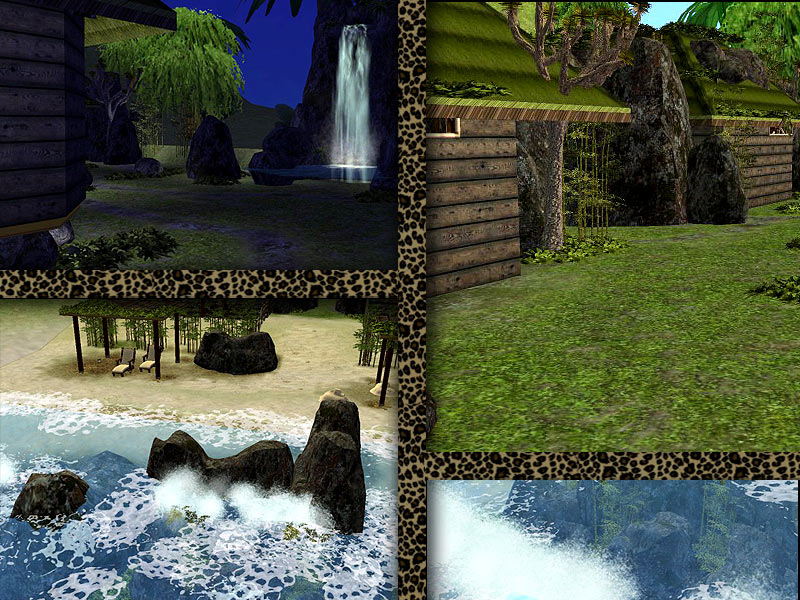 this pic show all village facilities
so, be wild and happy mapumziko(holiday)


CUSTOM CONTENT NOT INCLUDED:

IMPORTANT:
niol
's fence click here
http://modthesims2.com/showthread.php?t=219292
and download the fence i used (i think it's Moi_Fence_TreeBamboo.rar, but i'm not sure because my sims2 is italian and plants are called in different way, u can see in my images the fence i used for the terrace)

bedding are by
luslipz73
download them
here
Lot Size:
5x4
Lot Price:
161,000
Custom Content Included:
- Jope_bath1_sink by
Jope at SimplyStyling.de
- carpet morea black by
Miss Piggi @ www.piggis-sims.de
- Cambio wall by
by DOmiNICZKA @ mts2
- Cambio 6 wall by
by DOmiNICZKA @ mts2
- Cambio 7 by
by DOmiNICZKA @ mts2
- Takeo Kitchen Plant Large recol by
Moune999 @ mounes-neighbourhood.110mb.com
- Takeo Kitchen Plant Large by
Made by Moune999 @ mounes-neighbourhood
- Jope_living2_decobasket2 by
Jope at SimplyStyling.de
- Waterfall Matching Rock by
marvine @ mts2
- Waterfall Matching Rock 3 by
marvine @ mts2
- Waterfall Matching Rock 5 by
marvine @ mts2
- Waterfall Matching Rock 9 by
marvine @ mts2
- Waterfall shower by
marvine @ mts2
- dream-giraffe by
by Steffor for Avalon
- wooden wall by
made by Nofrena ;-)Wood for Sims
- FIJI_Dark wall by
by *Holly* @ mts2
- NuMica Folding Card Table by
CTNutmegger @ mts2
- k8fwothecaptainsquarters by
parsimonious @ www.parsimonious.org
- * * lamp by Steffor * * by
steffor @ Meshkiste
- Drift Pebble Candle by
buggybooz@MTS2
- Leafy Green Shrub by
Khakidoo @ mts2
- Leafy Green Shrub rec by
Khakidoo @ mts2
- Charmed window scarf for double windows. by
luslipz73 @ mts2
- PlatformBedFull by
CTNutmegger @ mts2
- Window_Scarf_2 recolour by
luslipz73 @ mts2
- vorhangorientrecol1 by
luslipz73 @ mts2
- PlatformBedFullrecol1 by
luslipz73 @ mts2
- PlatformBedTablerecol1 by
luslipz73 @ mts2
- Deco Bedspread by
luslipz73 @ mts2
- bedspread recolour leopard by
luslipz73luslipz73 @ mts2
- Dees Poster Chair by
luslipz73 @ mts2
- Dees posterChair recol lepoard by
luslipz73 @ mts2
- Dees Deco Bed Pillows by
luslipz73 @ mts2
- Deesposterdecobedpillowsrecollep2 by
luslipz73 @ mts2
- Deesposterdecobedpillowsrecolleporad by
luslipz73 @ mts2
- Recolour of Numenor's recolourable modular stairs by
Numenor @ mts2
- Living 5 - rug by
by Delphine @ simsinparis
- QtsunQmun wall by
QtsunQmun @ mts2
- recolour of rug by
jasmine-simsinparis @ reflexsimsforum
- Modular Stairs by
Numenor @ mts2
- Recolour of justmoi painting - giraffe by
bluesoup @ mts2
- Recolour of justmoi painting - lion by
bluesoup @ mts2
- Recolour of justmoi painting - zebra by
bluesoup @ mts2
- "Paisagem Urbana" de OlÃ*via Pyntora by
justmoi @ mts2
- wall_31ef6860 by
made by Nofrena ;-)Wood for Sims
- WfS2 Africa Dining Chair recolour black by
made by Nofrena ;-)Wood for Sims
- WfS2 Africa Dining Chair by
made by Nofrena ;-)Wood for Sims
- WfS2 Africa Dining Table rec black by
made by Nofrena ;-)Wood for Sims
- WfS2 Africa Dining Table by
made by Nofrena ;-)Wood for Sims
- WfS2 Africa Ceiling Lamp rec black by
made by Nofrena ;-)Wood for Sims
- WfS2 Africa Ceiling Lamp by
made by Nofrena ;-)Wood for Sims
Additional Credits:
thanks to
luslipz73
for her great inspiration
thanks to Jonesi @ reflexsimsforum for confirming that all objects in reflexsims forum (with the exception of Albans designs and Ellasims designs) are file share friendly, and for confirming that i can include reflexsimsforum objects in my lots-
Packs Needed
| | Base Game |
| --- | --- |
| | Sims 2 |
| | Expansion Pack |
| --- | --- |
| | University |
| | Nightlife |
| | Open for Business |
| | Pets |
| | Seasons |
| | Bon Voyage |