>

The eyes are the windows to your soul. Get the eyes you think your Sim deserves.
Nukapei's RealEyes - 10 colors + defaults!
MTS has all free content, all the time. Find out how YOU can help to keep it running.
Tell me how...

Created by Nukapei View Policy / About Me View Downloads Home
Uploaded 23rd Sep 2008 at 1:37 AM
I know it may come as a surprise, but I like the in-game stuff that Maxis gave us with the games. I think that photo-realistic genetics and clothing just looks odd, and prefer the more "computer-generated" look of the defaults.
However, I also think that sometimes Maxis needs a boost up, and so that's what I've done with these eyes. It's actually very simple what I've done -- I took the original textures and added a realistic-looking shadow. But as you can see below, that shadow makes a big difference: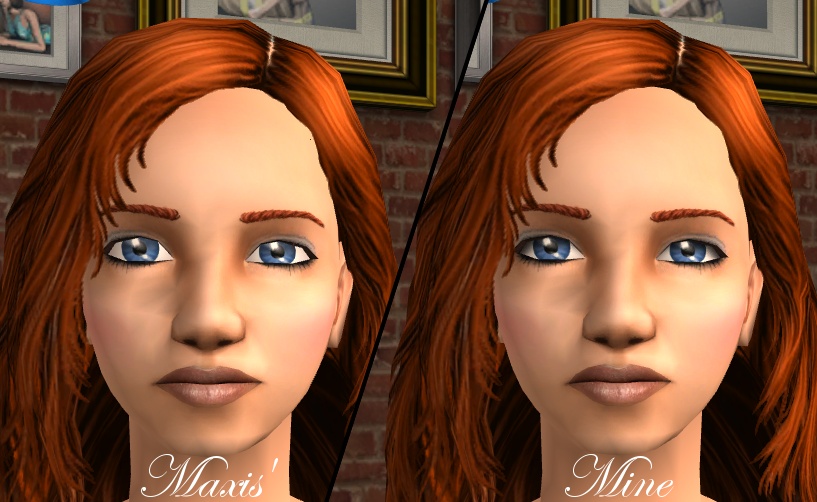 I've included two sets, one of which has two versions. The
Basic
set comes with the Maxis colors - grey, green, dark blue, light blue, and brown. This set also comes in two versions -
genetic
will show up in BodyShop just like any other custom eye will, while
default
will actually replace the default colors in your game! The
Extra
set comes with a few extra colors, some natural and some fantasy - gold (Copper Moon), purple (Amethyst Dream), a lighter (but still natural) blue (Country Sky), red (Bloodlust), and a very, very light blue that's almost white (Icy Blue).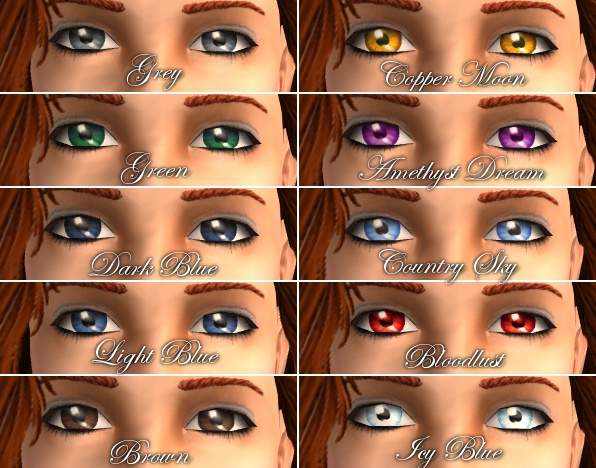 A note about the default eyes: If you don't want them anymore and want to revert back to the original Maxis eyes, all you have to do is delete the package.
I hope you enjoy using these in your game as much as I will! XD
Eye Type: Custom Default Geneticized Townie Friendly
Eye Style: Human Fantasy Maxis-Match

Tags: #eye, #eyes, #maxis match, #shadow, #fantasy, #alien, #vampire, #zombie
About Me & My Policies
Hello, and thank you for taking an interest in me and my creations!

I've been a fan of the Sims franchise since the very beginning, especially of how versatile user-created content made it. Sure, the game is awesome, but making stuff for it, seeing your creation in the game, really made the difference.

So, without further ado, my policies:

I do accept requests, but reserve the right to reject them. FYI, I'm always up for a good real estate challenge. :)

Please do use my creations in your own game, to any extent you want. Use it as-is, change it around, add to it, take stuff away, whatever.

Please do recolor and/or otherwise edit my content significantly, and upload it to be downloaded with credit and a link.

Please do not upload any recolors or other edits to the Exchange, or to a pay site. If people are paying to download your stuff, then that means you're good enough to make your own.

And, here's the big one, please, do not, under any circumstances, upload any creation of mine and claim it as your own.

Thanks, and enjoy! :)