>

Pixel dollhouses/For sims to live their lives in/Nice houses for sims
Cozy Cape Cod Cottage
MTS has all free content, all the time. Find out how YOU can help to keep it running.
Tell me how...
Picked Upload! This is a picked upload! It showcases some of the best talent and creativity available on MTS and in the community.
Created by iCad View Policy / About Me View Downloads Home Tumblr
Uploaded 3rd Dec 2010 at 4:05 AM
I tried to make a no-CC lot. I really, truly did.
I failed. Miserably. I don't know how you people manage to make decent-looking Maxis-only houses. I can't do it for the life of me, probably because of my insistence on exterior elements that match or that at least coordinate reasonably well. However, even though my original mission for this lot failed, I ended up really liking the house anyway, from a playing standpoint. Then I used a pic of it as an example house in my upload of the set of siding from which this house's siding comes, and since then I've had a surprising number of people asking me where they can download the house. So, I am finally caving to "demand" and uploading it. So here it is: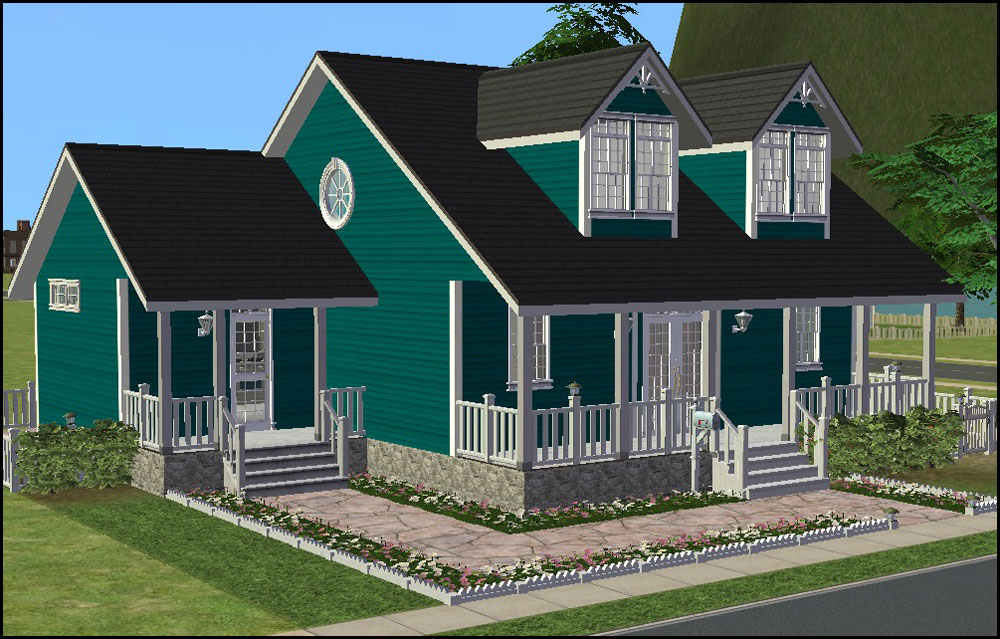 This is a small house in classic Cape Cod style in a rather un-classic color. It sits on a 2x2 lot and eats pretty much all of it, so you won't be able to expand its footprint, as is.
However
, the house expands nicely and logically if you put a bit of thought into it and use
Mootilda's Lot Adjuster
to make the lot bigger. Or, if you fear the Lot Adjuster, the upstairs can be finished fairly easily, which adds quite a bit of space. With a combination of both of those things, I have expanded/enlarged/remodeled this very lot to create a monster 6-bedroom house on a 4x4 lot that can easily accommodate a family of 12.
But "out of the box," this is what you get:
The front: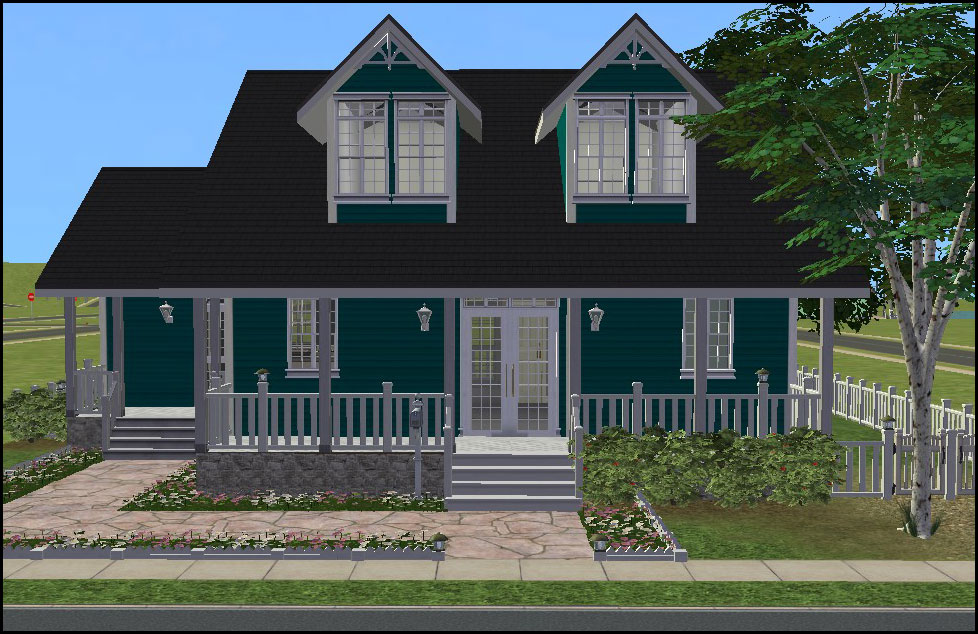 The back: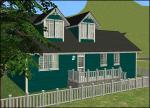 Inside there are:
2 bedrooms of about equal size. Either or both will accommodate a double bed. So, this lot as is will very comfortably house a family of 3. Or 4, if you have the kids share the second bedroom.
1 bathroom
A small-but-adequate living room
An eat-in kitchen that's partitioned from the living area with half-walls and that will comfortably seat 4
All CC shown in the pics is included EXCEPT the small round window in the gables, which is from
Phoenix_Phaerie's Georgian add-on window set
. It requires another of the Georgian windows to function, so I deleted it from the house as packaged. Many people already have this set, I'm sure, but if you don't and you want the round window, then you'll need to go download the set that it comes in separately. Sorry about that! Then, to place that window as shown, you'll also need to temporarily raise the pitch of that individual roof in order to make the gable walls tall enough to place the window, then place the window, and then lower the roof pitch back down again. I
think
it's a pitch of 40, perhaps 35. If you have no idea how to do the above, feel free to PM me, and I'll give you detailed step-by-step instructions.
Other things you might want know before downloading:
1) The bathroom and the kitchen are fully fitted-out with counters/fixtures/appliances, and the bathroom has a mirror. There is at least one light fixture in each room, mostly ceiling fixtures. There is a phone.
THERE IS NO OTHER FURNISHING AT ALL.
Why? Because I totally suck at interior decorating. Plus, my feeling is that people like to put their own stamp on that sort of thing anyway.
2) There is no driveway on this lot because I play what I build, and I rarely give my Sims cars. However, if you must have a driveway, one will just fit in front of the smaller front porch, although I believe you would have to use "move_objects on" because the steps of the porch will sit on the front-most tiles of the driveway. The driveway should still work fine because I've done similar things before without a problem. And of course you'd have to remove the flags/flowers/border currently occupying that space, and that won't, IMO, look very nice.

3) Speaking of flowers: This lot has a fairly high number of flower squares and 2 Maxis birch trees that will need maintenance, but it's all Sim-maintainable and is not SO much that you'll need a gardener. However, I should mention that the one CC tree included is NOT Seasons-enabled, so it won't drop leaves and turn color in the fall, and snow won't sit on it in the winter. This doesn't bother me at all, but if it will bother you, by all means change it out or delete that file from the package before you install the lot. I like that tree because it's realistic-looking and TALL, unlike Maxis's things-that-pretend-to-be-trees, none of which is taller than a little 1.5-story house like this one. *rolls eyes*
4) The price of the lot is $31,381, once you add in the two round windows in the gables on either end of the main roof. (Or $30,931, if you don't add those windows back in.) Which is pretty darn steep for a small, unfurnished house! *laughs* That said, there are
many
things that you could delete/change on this lot to get it down to "$20,000 starter house" levels, if that's what you'd rather that this lot be. For a start, you could delete the very-pretty-but-$500-apiece gable decorations, for a savings of $2000, and/or you could delete the rear dormers entirely without sacrificing the Cape Cod look from the front.
5) The white-edged roofs shown
aren't
CC and therefore aren't included. Instead, I have
Phaenoh's white-trimmed default replacement roofs
in my game. If you haven't/don't want to replace your roofs, then this lot will have the standard yucky grey-edged roofs. When I put this lot into my otherwise CC-free testing neighborhood, it really,
truly
wasn't a pretty sight at all. The white-edged roofs make the lot, really. So please, for the love of Mike, do yourself a favor and default-replace your roofs.

All that said...Enjoy! And I hope that those of you who wanted me to upload this lot aren't disappointed with it.

Lot Size:
2x2
Lot Price:
30931
Custom Content by Me:
- Deep Teal Clapboard Siding with Right Trim
- Deep Teal Clapboard Siding with No Trim
- Deep Teal Clapboard Siding with Left Trim
Custom Content Included:
- Lush Grass Terrain Paint by
4 Ever Simfantasy
- Recolorable Deck Stairs by
Numenor
- Chrome Edition Shower/Tub Duplex by
eris3000
- Stones Terrain Paint by
HabboArwen
- Limber Timber Deck Flooring, White Recolor by
Reyn
- Gable decoration for 2 tiled roofs by
Marina
- Independent Expressions Double Privacy Window by
MaryLou
- Ash Tree by
Murano
- Outdoor Lantern by
Numenor - MTS
- Small Shrubby Shrubs by
HystericalParoxysm
- Deck Stairs White Recolor by
Patty3428
- Wood Fence #13 by
Piggi
- Craftsman 1-Tile Door by
tbudgett
- Craftsman 2-Tile Door by
tbudgett
- Pensive Sky Paint by
Danikat
- Aura Interior Paint with Crown in Granite by
reflects
- Aura Interior Paint with Crown in Mysterious by
reflects
- Aura Interior Paint with Crown in Schooner by
reflects
Number of bedrooms: 2 Bedrooms
Custom Content Included: Build and Buy Mode Content
Furnishings: Fixtures Only
Special Flags: Not Applicable

Tags: #cape cod