Sims

>

>

Big eyes and blue hair/All the boys look like they're girls/DESU DESU YO
Bonehilda from The Sims 3
MTS has all free content, all the time. Find out how YOU can help to keep it running.
Tell me how...
24,662

Downloads
459

Thanks Thanks
186

Favourited
81,359

Views

Uploaded: 28th Feb 2015 at 7:24 PM
Updated: 22nd Jun 2018 at 5:11 PM - Updated for Seasons
UPDATE JUNE 22 2018:
Added new .zip file which enables Bonehilda's outfit for the Seasons patch's 'Cold Weather' and 'Hot Weather' categories. If you are installing this sim for the first time, please also download the 'Bonehilda - Updated for Seasons' .zip file and let the two enclosed package files overwrite the two old ones that were in the original
zip
file. If you already have this sim, then just download the Updated
zip
and let the two packages inside it overwrite your old ones. Then go into Full Body outfits in the Cold and Hot Weather categories and click on Bonehilda's outfit, and then into Shoes for the Cold and Hot Weather categories and click on the Null Feet item, to make sure they're both enabled (check the new picture, Updating Bonehilda For Seasons). TBH, though, she looks quite cute in the default Seasons outfits the game automatically puts her into in those categories, because although she reverts to a 'human' body, I made it extremely skinny with a bone-coloured texture, so she still looks sorta skeletal but wearing a colourful new outfit. Your choice!
UPDATE NOVEMBER 2017:
Still OK with this month's patch (for Cats & Dogs) which apparently messed up the arms on many custom clothing meshes/body meshes. This item is still working as normal.
UPDATE March 3 2016:
I've now been able to remake Bonehilda's head to include hat chops, so that she can wear hats. (Scroll down to 2nd composite picture below for examples.) I made this sim back in the early days of TS4 and didn't include hat chops, which resulted in her head changing to a human head when the game would automatically switch her into a hat for career or other purposes. Now she will no longer have that problem. If you already have this sim, please re-download and copy the new version of Bonehilda_Head (dated March 3 2016) into your Mods folder, letting it overwrite the old version.
~ ~ ~ ~ ~ ~ ~ ~ ~ ~ ~ ~ ~ ~ ~ ~ ~ ~ ~ ~ ~ ~ ~ ~ ~ ~ ~ ~ ~ ~ ~
Here's a conversion of that lovely and demure, if a little skinny, gal from The Sims 3. In TS4, she is a regular sim and doesn't function as a maid/nanny, but with the Master Chef, Neat, and Family-Oriented traits, she can still be pretty handy around the house.
She comes with three sets of recolours for her dress and headband, as below: Red outfit, black outfit, pink floral outfit; black headband, red headband, hot pink headband. All of her various body parts are DISABLED for Random, so none of your townies should show up wearing Bonehilda bits.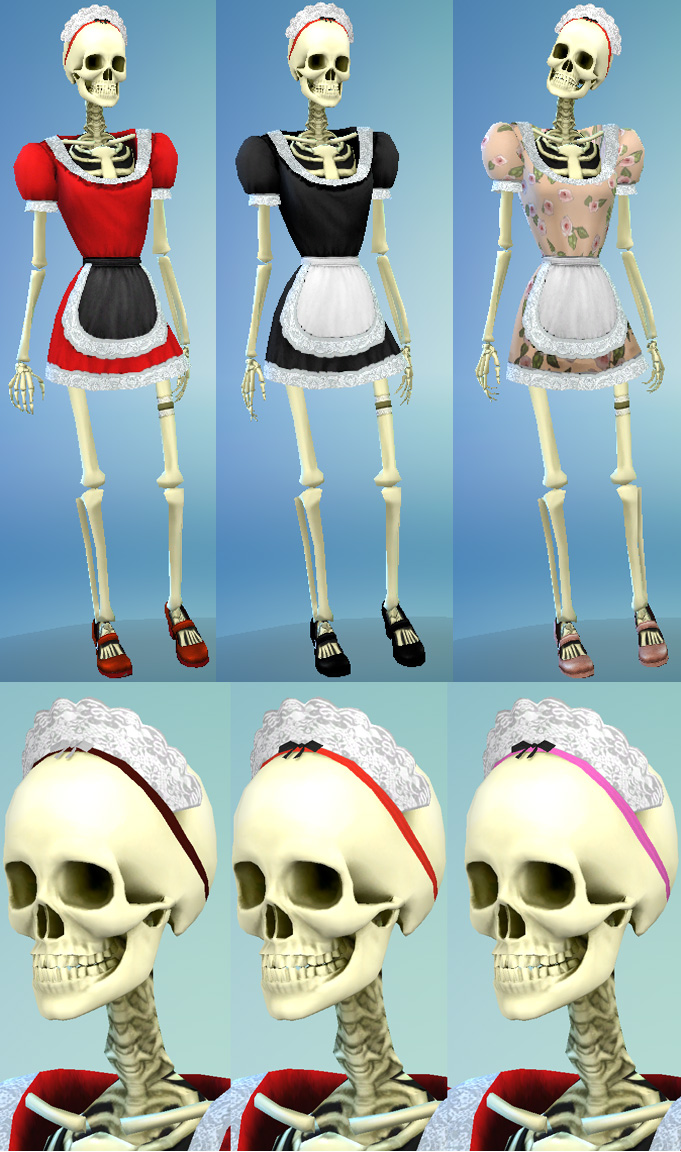 She should appear in CAS looking as she does here, but if not: Her 'head' is in the Hair section, and her 'body' is in the Full Body outfit section, both items having a thumbnail of a full length pic of Bonehilda. She needs Null Feet, in the Shoes section, to make the human feet invisible. You may need to click the red X filter in CAS if all items don't show under all categories. She uses a custom skin overlay, found in the Skin Details section.
When first installed, she will appear in CAS wearing default earrings and a default bracelet (as seen in below pic, top left) - this is so that you can click the earrings to bring up the Head Accessories menu, or click the bracelet to bring up the Full Outfits menu, because as you may know, most custom heads and bodies don't respond to clicking on in CAS and won't bring up the menus.
But this way, clicking the earrings will enable you to change her headband colour or add a hat, and clicking the bracelet enables you to change her outfit colour. When you've finished assigning your choices of headband and clothing colour, maybe adding a hat to an outfit or two if wanted, you can remove the earrings and bracelet.
She does not retain her skeleton body in the bath, although her custom head (hair) stays on. I considered combining her head and body as a hair mesh as I did with my Servo and Mr Skeleto sims (so that their custom bodies stay on in the bath), but decided that Bonehilda wearing her dress in the bath would look too odd and that it would be better to make a skeleton-textured Skin Detail overlay for her underlying nude human body, as in the below pic.
And as per the above March 3 2016 update, I've made a new version of her head in which she can wear hats, as depicted below. Her hatchops work well with TS4 hats (although her headband stays on under the hat due to the head's mapping), but NOTE that this does not work with hats that 'take over' the whole head such as helmets, the Star Wars stuff and the bath towel - she will revert to her underlying human head in those cases.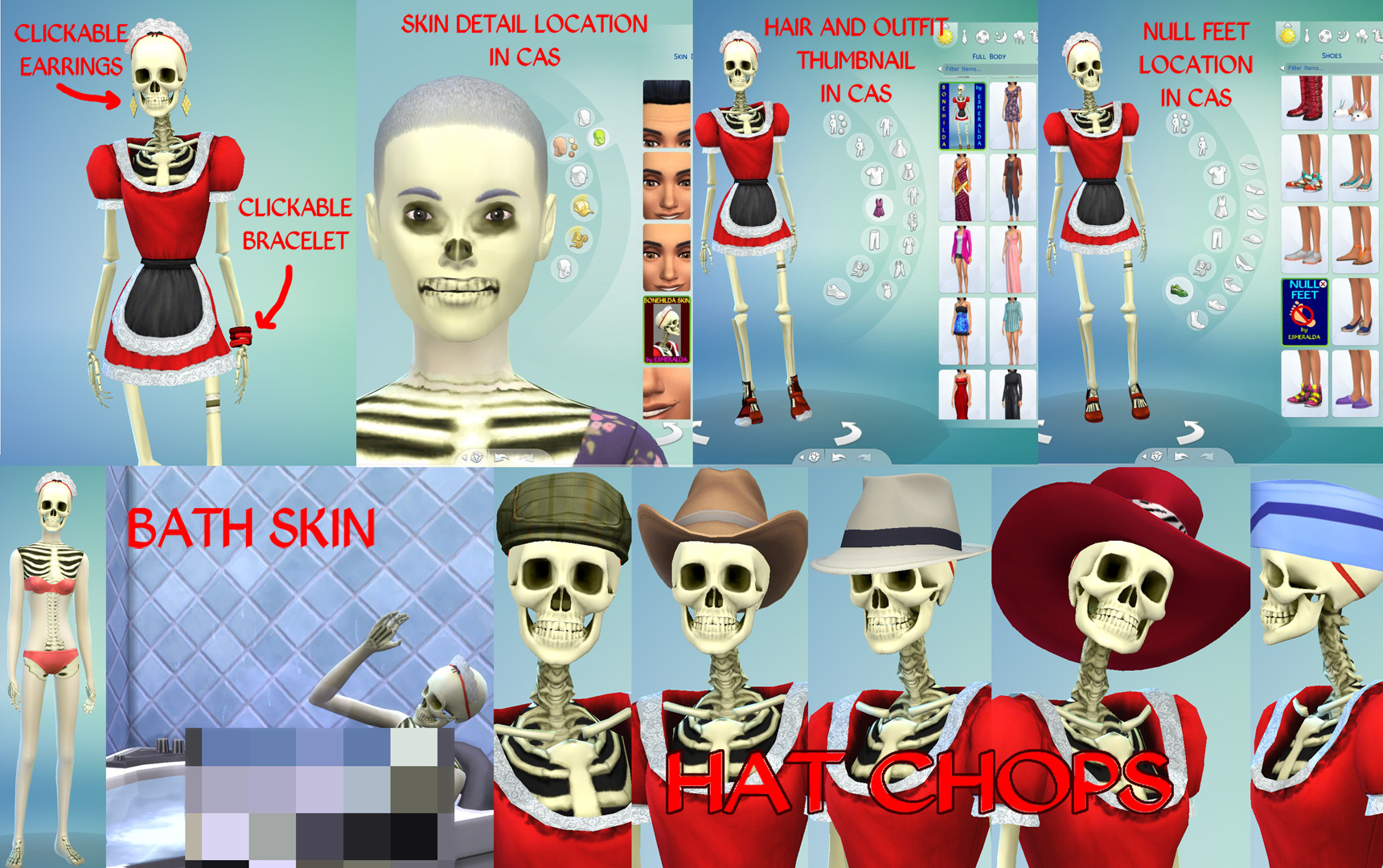 TRAITS
: Young Adult, Master Chef, Neat, Outgoing, Family Oriented.
In-game, I move her into my Roomies household, where she shows herself to be a dab hand with the cupcake machine: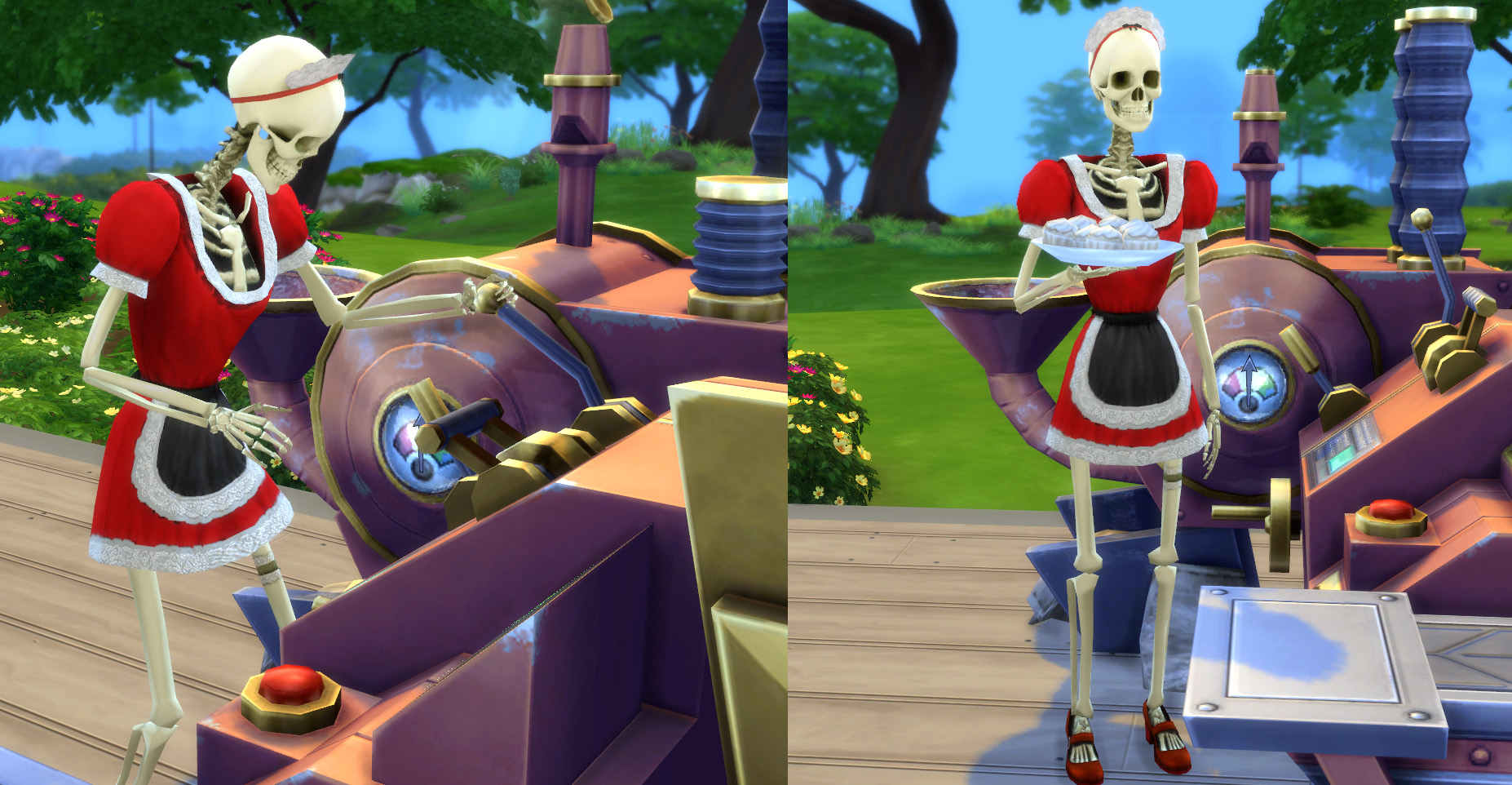 And she also finds true love - someone to make beautiful music together with: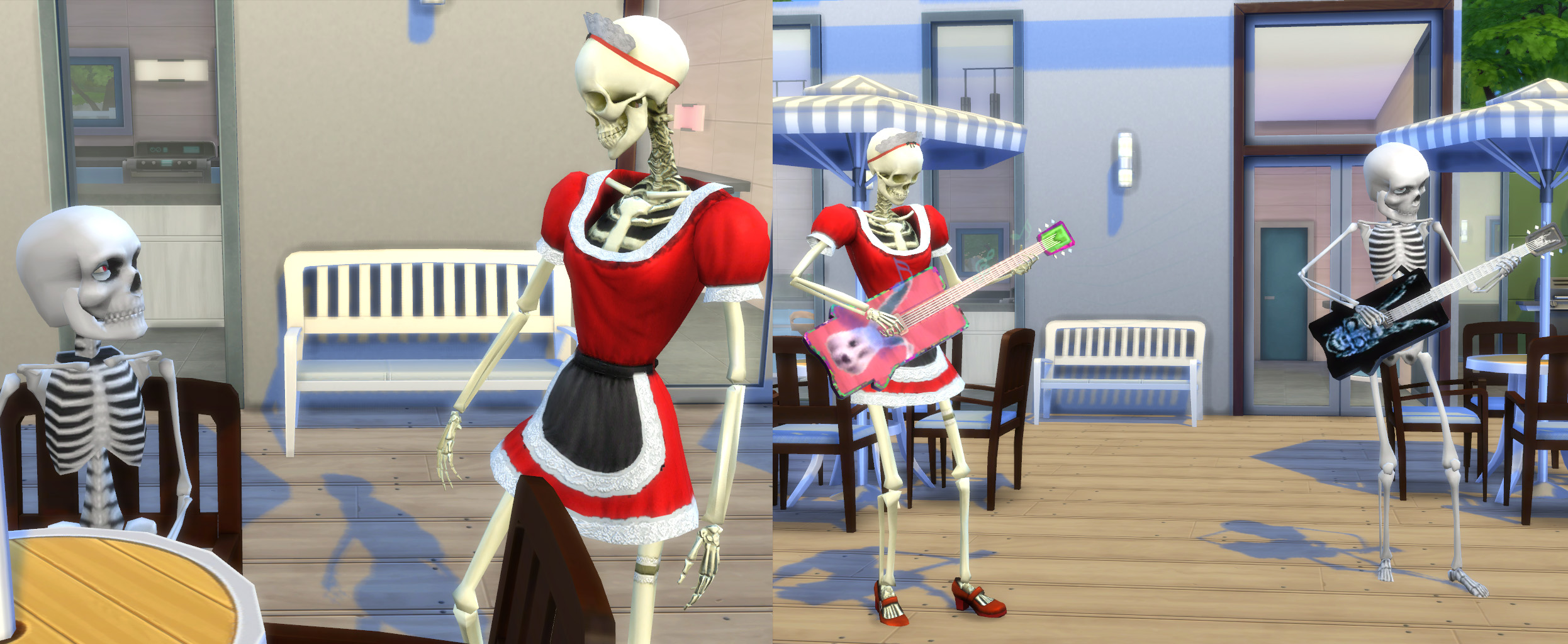 Thanks for looking, hope you'll find her a fun character to play with.
INSTALL INSTRUCTIONS:
Download the
zip
file and unzip it. Move the .package files (which contain the head, body, null feet, and bath skin) to your Documents\Electronic Arts\The Sims 4\Mods folder. Then copy the five files inside the folder called 'Bonehilda Tray' (which contains the sim) to your Documents\Electronic Arts\The Sims 4\Tray folder.
Custom Content by Me:
Bonehilda Head: 3864 polys
Bonehilda Body: 3445 polys
Null Feet: 1 poly
Additional Credits:
Made with S4 CAS Tools and Sims 4 Studio.
About Me
~Retired Creator~
Retired to move to Fallout 4 creation but I'll still check here for questions, comments or PMs. Thank you to those who liked my Sims stuff, love all of you. Most of my Fallout stuff is on Nexus
https://www.nexusmods.com/fallout4/...?tab=user+files
and there are some more of my Fallout creations and Sims creations at
https://colorfulcommonwealth.proboards.com/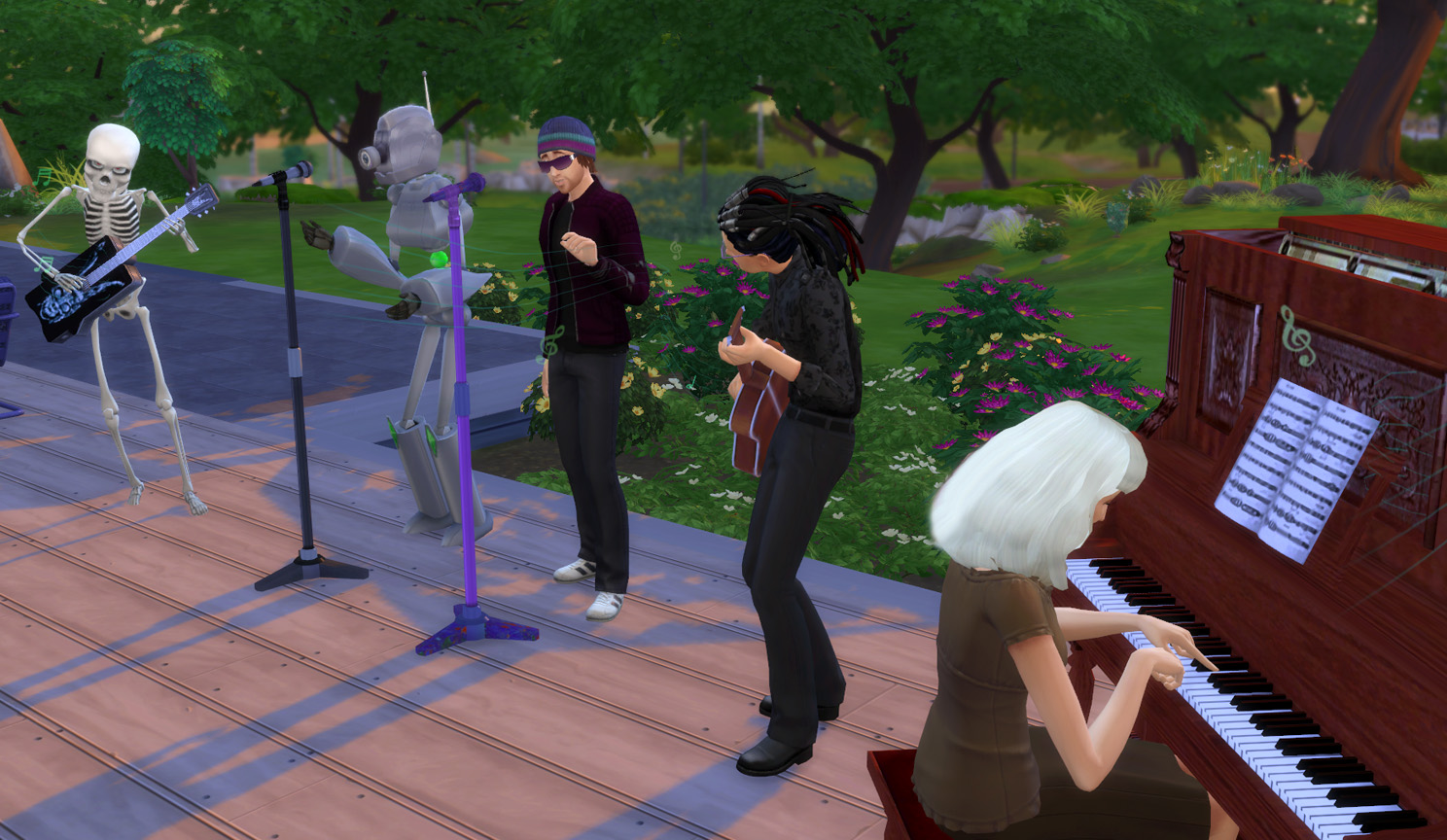 MY POLICY:
I'm pretty easygoing, please just don't steal or copy my work.
You may recolour my meshes, just please credit me and give a link back here to the item(s).
You may include my creations with your sims, lots, storytelling, etc - just please credit me and give a link back here to my item(s).
Don't claim my creations to be your own work.
Don't re-upload my stuff to The Gallery, paysites, adfly sites, or any other commercial sites.