Buy Mode

>

>

Dining chairs, living chairs, recliners, sofas & loveseats, beds & bedding, barstools, and park benches.
A Bed for your Vampires - Sims 2 Conversion
MTS has all free content, all the time. Find out how YOU can help to keep it running.
Tell me how...
19,193

Downloads
1,144

Thanks Thanks
174

Favourited
99,233

Views

Uploaded: 26th Mar 2010 at 5:56 PM
Updated: 20th Dec 2015 at 12:25 PM - Just some changes to text
UPDATE 19th OCTOBER 2011: Updated with new file fixed to work with patch 1.26/Pets, thanks to Grant Hess's RigFix. The new file is on the Download page, with a filename beginning with PETS. The new file is NOT backwards-compatible, so if you don't have Pets or are not going to update with the 1.26 patch, please use the old version.
UPDATE 13 NOVEMBER 2010: I've now installed Late Night and this bed works fine with the new vampires. You can choose to have them sleep in it instead of the Late Night coffin bed - they sleep inside it like a regular sim (just like depicted below) rather than levitating over it like they do with the Late Night beds. So you now have a choice between two different vampire beds and styles of sleeping, according to your preference. I have both beds in my vampire family's house for variety!
Here's a nice bed for your Vampire simmies.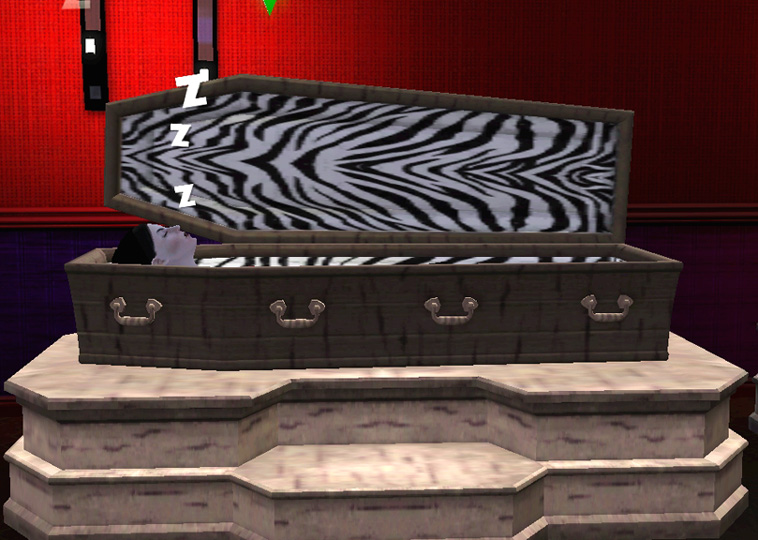 It's a conversion of the vampire coffin bed from The Sims 2. It will be found under Bedroom, Beds and costs 900 simoleons.
It has two recolourable channels: the interior lining, and the coffin exterior and platform. The coffin shell comes out much darker than the platform, so gives the impression of the two items being two separate colours. (
ETA:
At the time I made this item, which was my first-ever object, I was unaware of how to make three separate colour channels. In CaST, only the first 2 channels are used for this item, the other two are non-functional.)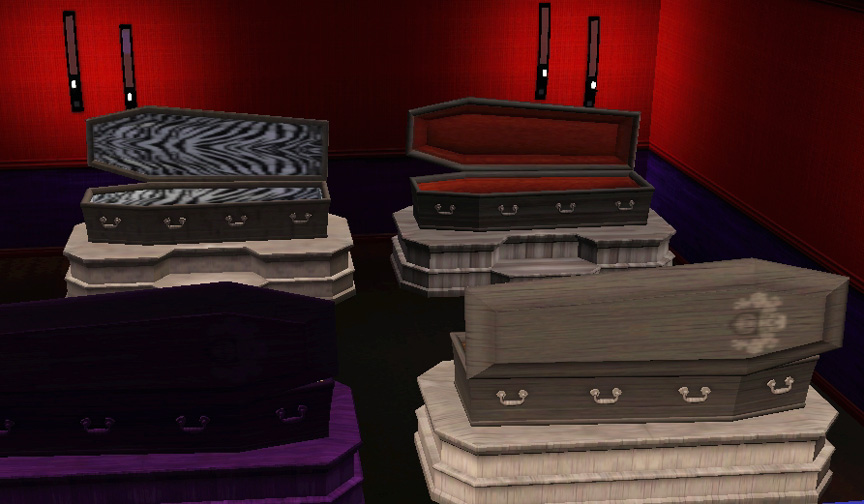 ISSUES:
Being a conversion of a Sims 2 item of a non-standard size and shape that The Sims 3 is not coded to accommodate, some clipping will occur in two circumstances:
When the sim makes the bed, their feet will clip through the platform, as seen in the first shot in the pic below. The bed must be placed against the wall or else the sim may also try to make the bed from the lid side and end up clipping through the lid as well as the platform. But it can't go directly against the wall - it must be positioned with a gap, as shown in the second shot, or else the lid will clip through the wall.
Also, because there are no blankets or bedspreads, the sim's body is visible when it sleeps, and it does some pretty strange distortions with its feet and arms during sleep, so it's best not to look from above, as in the third shot.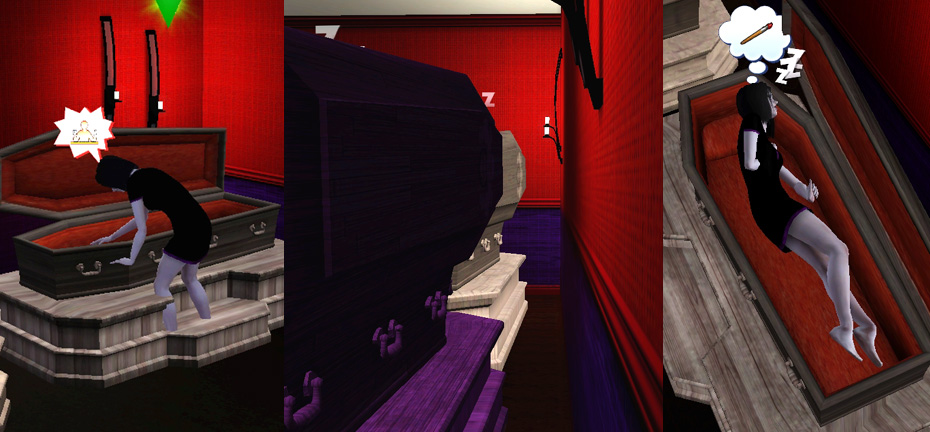 It also goes without saying that the lid doesn't close, as there is no animation for that in The Sims 3.
Aside from those small points, the bed looks great and makes a really nifty resting place for your vamps. Just be sure to remove all windows in the bedroom to prevent sunlight getting in!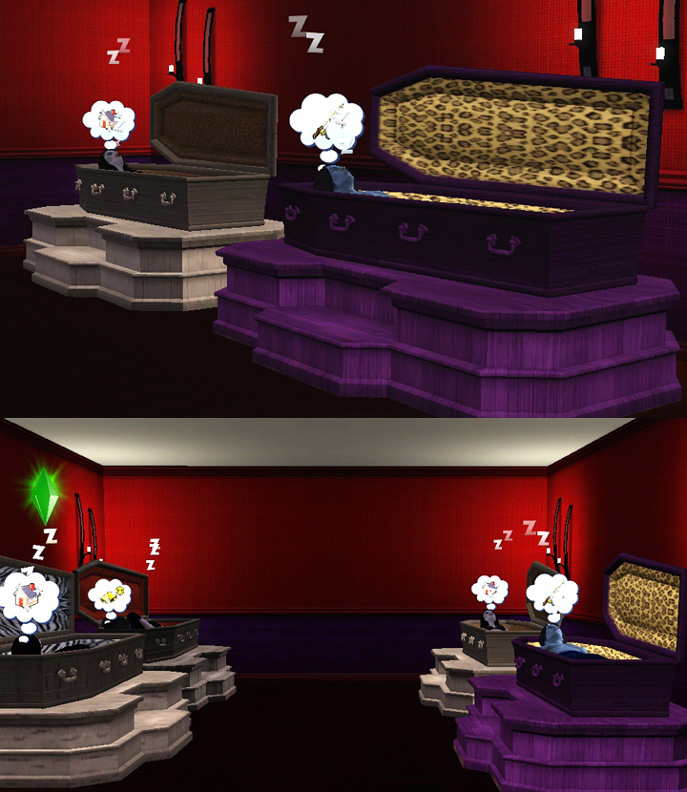 INSTALL INSTRUCTIONS:
Unzip the .zip file, and copy the .package file to your Mods\Packages folder. If you don't have a Mods\Packages folder and/or don't know how to install .package files, please see full instructions here:
http://www.modthesims.info/wiki.php...g_Package_Files
Polygon Counts:
2860
Additional Credits:
An enormous THANK YOU to HugeLunatic for helpful advice on joint assignment for this oddball item, so that the bed would no longer disappear as soon as the sim used it! All working nicely now with no more levitating sims.
Made with s3oc,
S3PE
and Sims 3 Object Tool.
Tested with Delphy's
Sims 3 Dashboard
for 'Blue Lot Syndrome' and came up clean.
~ * ~ RETIRED CREATOR ~ * ~
Retired to move to Fallout 4 creation but I'll still check here for PMs or questions. Thank you to those who liked my Sims stuff, love all of you.
My Fallout 4 creations on Nexus: www.nexusmods.com/fallout4/users/38171995
More of my Fallout 4 items + also TS4 and TS3 items not uploaded here: http://colorfulcommonwealth.proboards.com/
~ * ~ POLICY ~ * ~
I'm pretty easygoing, please just don't steal or copy my work.
You may recolour my meshes, just please credit me and give a link back here to the item(s).
You may include my creations with your sims, lots, storytelling, etc - just please credit me and give a link back here to my item(s).
Don't claim my creations to be your own work, don't re-upload my stuff to paysites, adfly sites or similar, or to The Gallery.
And, please don't copy my work and upload it here. I learned that's allowed when someone duplicated my Sims 2 Servo conversion and got Featured for it. But, as happened with that person, you'll be disrespected by other Simmers for copying. Because of that, I now ask that if you choose to duplicate my work, you must credit me for having done it first and give a link to my item.
Thanks!