Sims 2

>

Buy Mode

>

>

Surfaces, decorative, plumbing, appliances, electronics, and miscellaneous.
EmberRise Magazine Racks ( 2 Recolors for Deluxe Magazine Rack)
2,521

Downloads
92

Thanks Thanks
10

Favourited
6,264

Views

Uploaded: 4th Jun 2015 at 3:00 PM
EmberRise is an active city with charming and friendly people. In most cases, EmberRise is known by some for it's celebrities, food, and main attractions. If your Sims can't reach the EmberRise city, why not let them check it out through the resources?
These Magazine Racks show some of the things that go on in EmberRise. Here is what your sims will see.
1. Seconds Meals Magazines- These magazines are supposedly cooking magazines where the seconds family share some of their experimental recipes.
2. Bloom Bubble- Magazine filled with EmberRise Fashion and Cosmetics.
3. Kids! Mag- A magazine for kids keeping them active, goal oriented, and promoting an imagination.
4. EmberRise Living- A magazine that gives clear guidance and information for sims who are planning on settling in EmberRise.
5. Archie Comics and Puzzle Books- Although these aren't from EmberRIse, The people of the city sure don't mind entertaining themselves with these books. EmberRise Elders seem to snatch crossword puzzles to keep their minds and eyes sharp. As for the Archie Comics, tweens and kids love them.
Further Details: These Magazines Racks are RECOLORS. I have also made them meshes just in case I am capable of creating the actual EmberRise magazines for the near future. Look forward to those.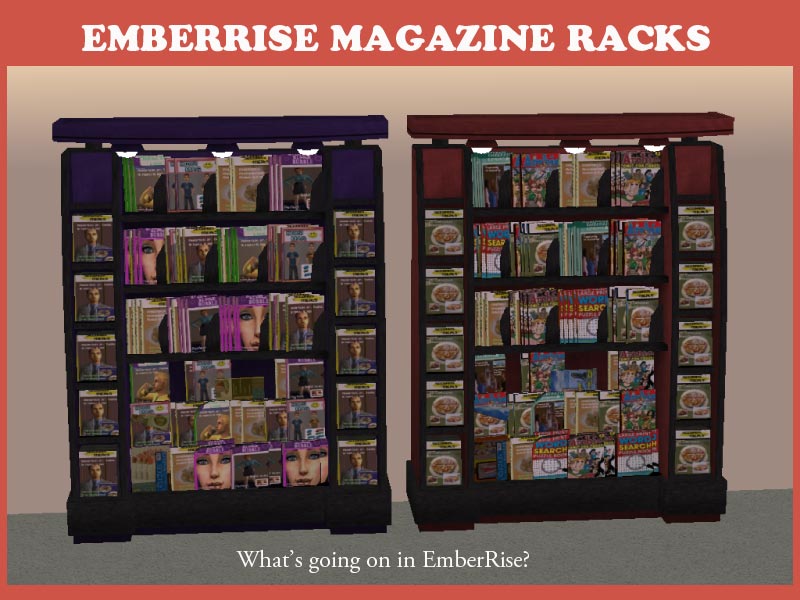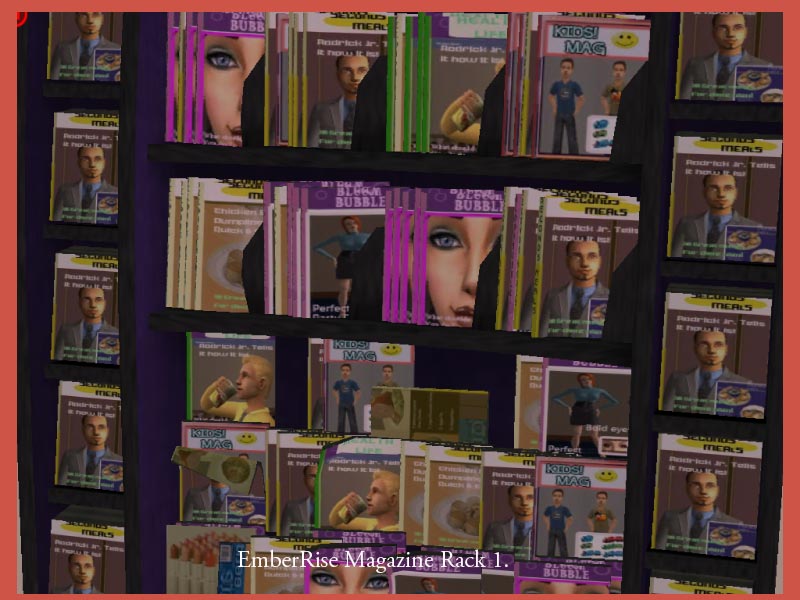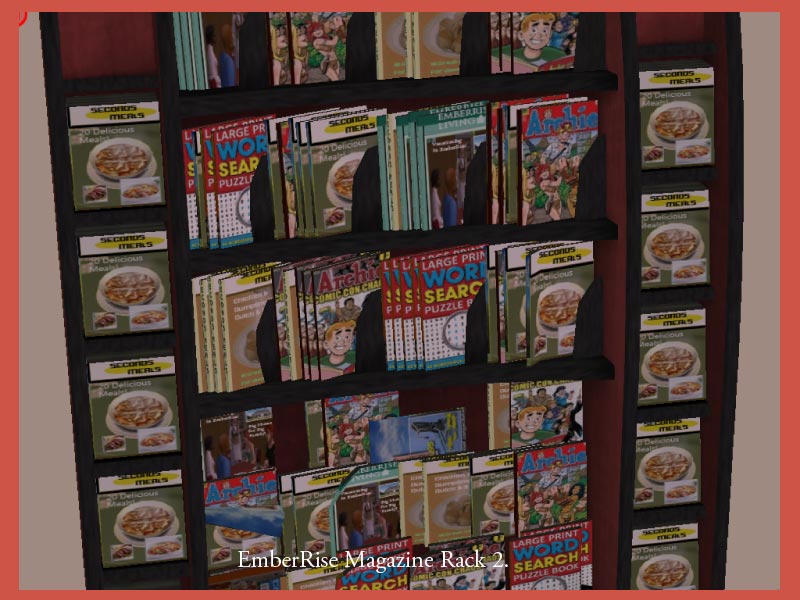 Additional Credits:
Additional Credits go out to Yahoo images, SimPE, adobe Photoshop, and Archie Comics.
Welcome To Flare's Cove
Requesting Status: Not Accepting Any At This Time

Hi and welcome to my profile. I've been interested in the sims for some time now. Playing the sims can be challenging, entertaining, and sometimes it can get a bit dull. The only time it can get dull for me is if I'm tired of using certain items. Back then, I didn't know that there were sites that had people who created custom content stuff. I was thrilled about uploading.


**Rules and answers about using my meshes**

My MTS page welcomes all who are interested in my works. As of now, I have quite a few food meshes that might not be the best of the best. I will admit that I do take pride in the time that I put into creating meshes. I expect for others to understand the notion of respecting a person's work. If you would like to create custom foods from my meshes, you may ask to do so. Just like any other artist, I will always want credit for my effort and time I put into my works. Creating meshes isn't always easy. I do believe in respecting the time and effort people put into their art or just work period. It will be best to show your respects by not posting my meshes on any other site except for MTS. You are permitted to change the UV mapped textures or tweak the mesh how ever you like. You can also use any of my meshes how ever you like with any possible sims games)

I do take requests:

On my behalf, I do love to take on a challenge every now and then. As for requests, It will have to be a food requests. I don't mind doing a recolor. However, my signature is providing custom foods to the sims 2. To make a request, you are welcomed to send me a personal message. The message should contain the following below.

1. Name of food
2.Culture the food originated from (If possible)
3.At least one or two pictures of the food to give an idea of what you might expect.
4.A description on how it is prepared and cooked. (You can also post a link to the recipe if possible)

Things have changed with the number of requests a person can give. After AF requests 19 is posted, each person who desires to send a request is allowed to submit only two and that's it. If you like, don't be shy to join my Sims2 food creator club.

Thanks!