Sims 2

>

Pets

>

>

Man or sim's best friend/Plus some kitty cats too/And some that are bears.
Raccoon From the french West Indies
2,370

Downloads
71

Thanks Thanks
17

Favourited
16,345

Views

Uploaded: 5th Aug 2015 at 12:12 AM
Updated: 15th Jan 2016 at 1:08 AM - Pictures, because the quality needed improvements, and the file and description, because I have improved the pet and used credits.
Hello !

This is my first upload on this website cause I'm a newbie in creation. So I made it simple. I wanted to create a raccoon for the theme "World" of July, because if you travel in some french tropical islands, you may meet raccoons and there are quite a symbol there. I'm too late for the theme, because it was such an Odyssee to understand how to upload for the first time !!!. But I'm not too late to share !
So, it's a big rodent that has the surprising habit of washing the fruits that it's going to eat (
In the game actually a species made out of a sim cat with cat-like behaviour - so no food washing in the game !

). There is black around its eyes and black strips on the tail.
I have managed to make a quite realistic (or at least self-satisfying) fur but I can't change the cat-like morphology, so I've give my best even though it's not much and I hope you'll like it !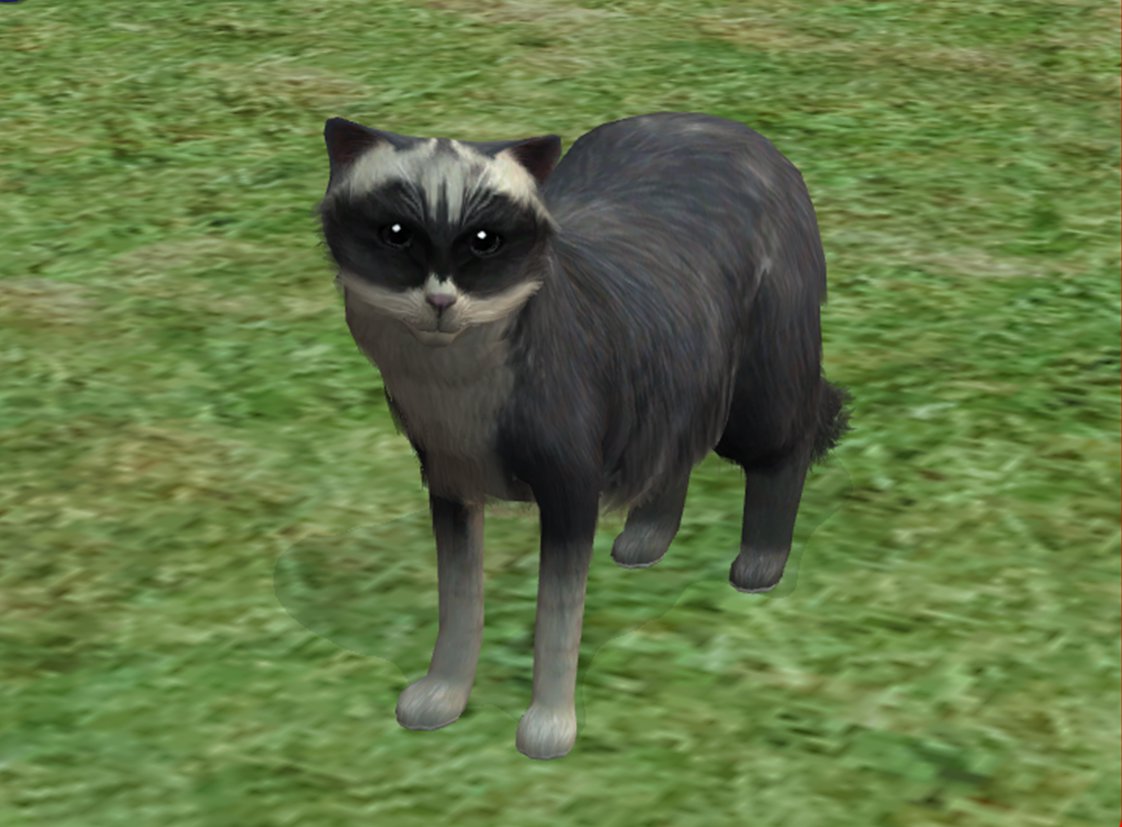 IMPORTANT
: The eyes in the pics are default and they're not mine, they are
Maranatah's Onomatopea - Pet Eye Defaults Edited
.
I have made an edited one out of them to keep only the black default eyes, so that I can still have Maxis cat eyes in my game. Even if it's less realistic, you can play the raccoon without the default eyes.
The download contain
just a pet
and it should be
pet required only
, please tell me if it's not. It should be a male adult (it's made in CAS, then extracted as a new species).
P.S : sorry for my bad english ...
CREDIT : the default eyes are
Maranatah's Onomatopea - Pet Eye Defaults Edited
Packs Needed

For a full list of packs with names, see the Packs Needed popup.
Packs Needed
| | Base Game |
| --- | --- |
| | Sims 2 |
| | Expansion Pack |
| --- | --- |
| | Pets |
My Policy / About Me
You can do whatever you want with my creations and post it as yours, ONLY IF :
- you don't forget to credit me for the original work,
- you don't claim money for it
- and you don't repost it without any change from you.
I'm very understanding because what I wish to create is often improvements of existing CC objects, even if it's just to translate it in french ... And also, I'd like to know about your creations inspired by mine, if you can : I'm quite curious !

What kind of creator am I ?
I'm very interested in modding and I can't mesh, unhappily. However, as I'm new in the Custom Content world (since summer 2013 !), I'll improve slowly but surely ! Or I hope so ...