Buy Mode

>

By Room

>

>

Complete bedrooms with matching and coordinating items.
Ethan Allen Colonial Bedroom Set
MTS has all free content, all the time. Find out how YOU can help to keep it running.
Tell me how...
51,824

Downloads
3,298

Thanks Thanks
219

Favourited
238,753

Views
Featured Upload! This is a featured upload! It showcases the best talent and creativity available on MTS and in the community.

Personal Picked Upload!
This is a personal favourite of the creator!
Uploaded: 28th Nov 2008 at 5:16 PM
Updated: 14th Mar 2009 at 1:45 AM by AmberDiceless - Server asplodied! Fixed files.
When I was a little girl, I had a lovely single bed and dresser made by Ethan Allen that had belonged to my grandmother. When I got older, my parents found a matching bed and nightstand to add to the set. The nightstand was lost in a move, but my daughter now sleeps in one of the beds and I still use the dresser.
I've been unable to find a similar set for The Sims 2, so I've spent the past three months creating a full bedroom set based on my beloved furniture.
---

1/14/09: If you have experienced the 'Exploding bedding' bug
with the beddings from this set, or if the beddings have just shown up as solid white for you, please try replacing them with the alternative versions I have added and let me know whether this fixes the problem. I cannot reproduce the problem and have no way to test them myself, so I am counting on downloaders to let me know!

If you have not experienced this bug, there is no need to download the 'NoShine' beddings.
---

This set includes twenty new objects: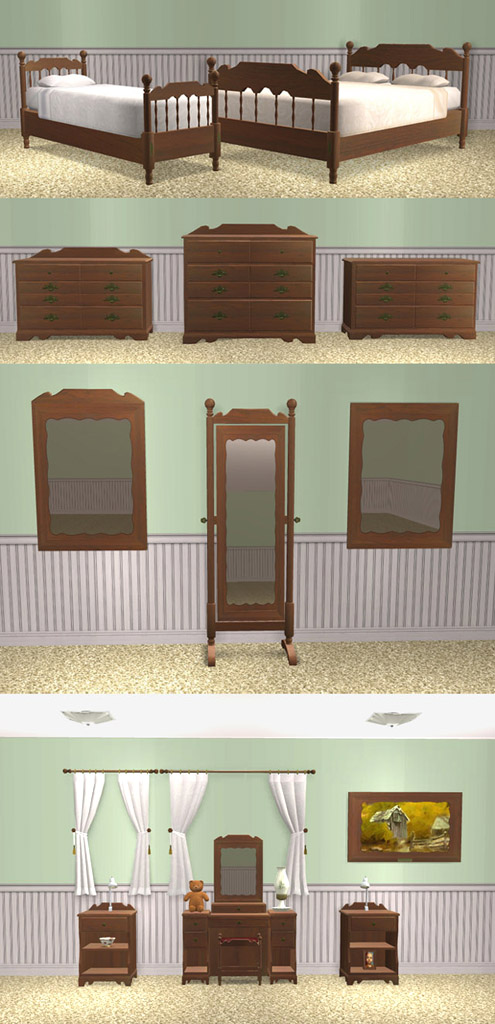 - Single Bed <-- Comfort rating 7, Energy 6 (for real!!) This is a repository object and is
required
for the set to function! To recolor the primary wood texture for the set, recolor this object.
- Double Bed <-- Comfort rating 7, Energy 6 (for real!!)
- Nightstand
- Tall Dresser
- Low Dresser - Plain <-- This object can be used alone or with either of the wall mirrors. If the mirror is set against a wall, the moveObjects cheat is not needed. Otherwise you must turn the cheat on to position the mirror on the dresser.
- Low Dresser
- Floor Mirror
- Wall Mirror <-- This is a repository object and is
required
for the trim on all the mirrors and pictures in the set to function! To recolor the trim on the mirrors and pictures, recolor this item.
- Wall Mirror Plain <--This is included for the sake of completeness. The dresser I actually own has a mirror like this one.
- Vanity
- Painting <-- Designed to hang over the double bed.
- Square Glass Ceiling Lamp
- Table Lamp <-- Sits on all the dressers and the vanity as well as the nightstand!
- Short Maxis-bedding-match curtains for single and double windows (includes diagonal meshes)
- Headboard Lamps (L and R) <-- Can be placed on either bed for reading!
- Decorative Huggy Bear, Picture Frame and OCR Ribbons Bowl <-- Just a few random shinies to put in those nifty slots.

Also included are ten or so recolors of the various items in the set, three bedding recolors based on bedding I own (curtains will also pick up the textures!) and a collection file, which should be placed in your Collections folder. All files have been squished with jfade's Compressorizer.
---

Compatibility:
This set *requires Numenor's CEP*.
Get It Here
- The entire set should work with any EP from Pets through Apartment Life.
- Thanks to Lord Darcy's expert assistance, base game-compatible versions of the beds and mirrors are included. This makes the bulk of the set usable with the base game through OFB, with the following exceptions:
- Table lamp, double curtains and headboard lamps require NL or higher.
- The two low dressers require OFB or higher.
- The vanity requires at least one EP installed.

IMPORTANT: If you do not have Pets or a later EP installed, you must use the base-game versions of the beds and mirrors included in the separate .rar file. USE ONLY ONE VERSION OF EACH OBJECT.
Please report any issues you may encounter.
---

Poly Counts:
Due to the large number of curved surfaces, several of these meshes (particularly the single bed) are fairly high-poly objects. Please forgive; I did try to keep them down as much as possible without losing an unacceptable amount of detail.
---

Recoloring:
- The Single Bed and Wall Mirror (the decorated, not the plain one) are both repository objects and are needed in order to recolor the other objects AND for the rest of the set to function!
- Due to inherent Maxis limitations, the painting, the photo and the vanity stool cushion *can* be recolored, but in order to do so you must make a full recolor of the single bed texture.
- For similar reasons, only some of the brass accents are recolorable, so it's probably better not to change them when making recolors. Sorry :/
- The table and ceiling lamps, the teddy bear and the decorative bowl are independently recolorable.
- Headboard lamps draw their recolors from the Maxis "Watt Is This" table lamp and will pick up any recolors of that lamp.
- The curtain fabric and ties draw their textures from the Colonial Ironwood Bed (the standard Maxis bedding) and the curtain rod and tassles, from the Cornerstone Victoriana Velvet Drapes. The curtains will pick up recolors of either of these items.

nengi65 at Sims Crossing has made a nice white recolor of this set:
Ethan Allen Colonial Bedroom - White
---

Slots:
- Thanks once again to the help of the generous and talented Lord Darcy (
http://modthesims2.com/member.php?u=159869)
, all three dressers in the set have three fully-functional slots on top. Thank you Lord Darcy, you're my hero!
- The vanity includes SIX usable slots! (Press M to move objects around between them. Only very small objects will look right in the two bottom ones.)
- Nightstand now includes three slots.
- Headboards on both beds include two slots each.
---

Known Issues:
- The animations on the dressers do not closely match the handles; if anyone knows how to fix this and would like to take a stab at it, please do! I'd be very glad to give you credit and a link to your site or profile.

- When using a wall mirror with the low dresser, there is very slight clippage when using the 'Gussy Up' interaction. Not too noticeable.
- Slight problem with the drawer shadow on the fancy low dresser. Not sure how to fix this; any advice would be appreciated.
- Minor glitch with the vanity mirror reflection when viewed diagonally from the far left or right.
---

My Policy:
- Recolor all you like, using my textures or your own; just please do keep it tasteful. Credit and a link would be appreciated.
- I welcome any helpful additions, fixes or enhacements from other modders and would happily share credit, but please upload them to this thread and none other.
- Please don't upload my work anywhere else without my permission.
- Do not upload recolors to pay sites.
Polygon Counts:
(Faces/Vertices)
Double Bed: 6598/5553
Single Bed: 6269/5348
Vanity: 5146/7961
Fancy Low Dresser: 2395/4058
Tall Dresser: 2320/3795
Plain Low Dresser: 2239/3845
Floor Mirror: 2004/2652
Curtains, All: 1530/2052
Table Lamp: 1499/1366
Huggy Bear: 1264/1040
Nightstand: 994/1859
Ceiling Lamp: 829/746
Headboard Lamps: 786/620
Ribbons Bowl: 669/481
Fancy Wall Mirror: 330/509
Picture Frame: 108/200
Plain Wall Mirror: 94/175
Painting: 84/177
Additional Credits:
Special thanks to
Lord Darcy
for enabling the slots in several of these objects, providing the base game compatible versions and fixing an assortment of minor issues I never would have caught.
Thanks also to all the incredibly talented people who have written tutorials for object creation and modding here on MTS2 or kindly shared their expertise with me while I worked on this set.
Please Note:
Greetings from the Simmer formerly known as AmberDiceless!

Feel free to spindle, fold, mutilate and share any of my creations, but please give credit, and DO NOT UPLOAD MY STUFF TO PAYSITES.

Anyone who would like to convert any of my TS2 creations to TS3 has my permission to do so (if I haven't already) provided they give credit. However, I reserve the right to convert them myself even if someone else has already done so.