>

Bon Voyage type lots/Such as hotels and camp grounds/Home away from home
Le fleurs (du mal) HOTEL
MTS has all free content, all the time. Find out how YOU can help to keep it running.
Tell me how...
Picked Upload! This is a picked upload! It showcases some of the best talent and creativity available on MTS and in the community.

Created by Black0rchid View Policy / About Me View Downloads Home
Uploaded 8th Oct 2007 at 11:51 AM · Updated 14th May 2009 at 1:44 AM by Black0rchid
Le fleurs Hotel is a restructuring of an old inn, where
Charles Baudelaire
slept once

Now this Luxurious hotel accomodates art's lovers from all over the world.
Category
: Lodging
lot size
: 3x3
furnished
: entirely
played/tested
: yes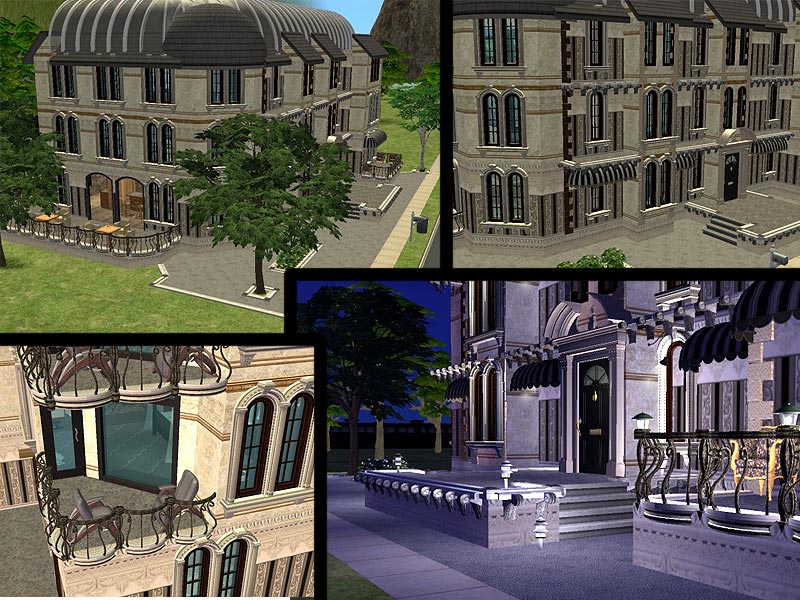 Located in Paris, Le Fleurs Hotel has bar&restaurant, music&reading room, portraitist's garden.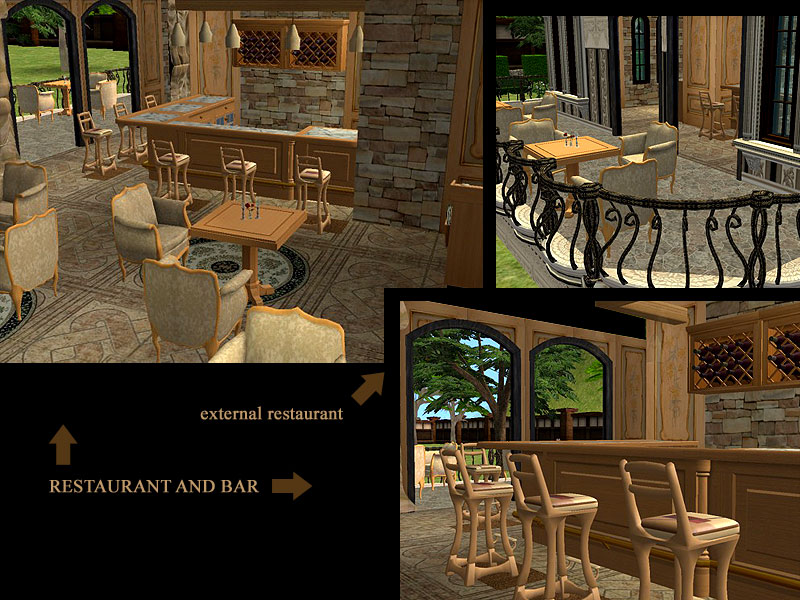 Elegant furnishings: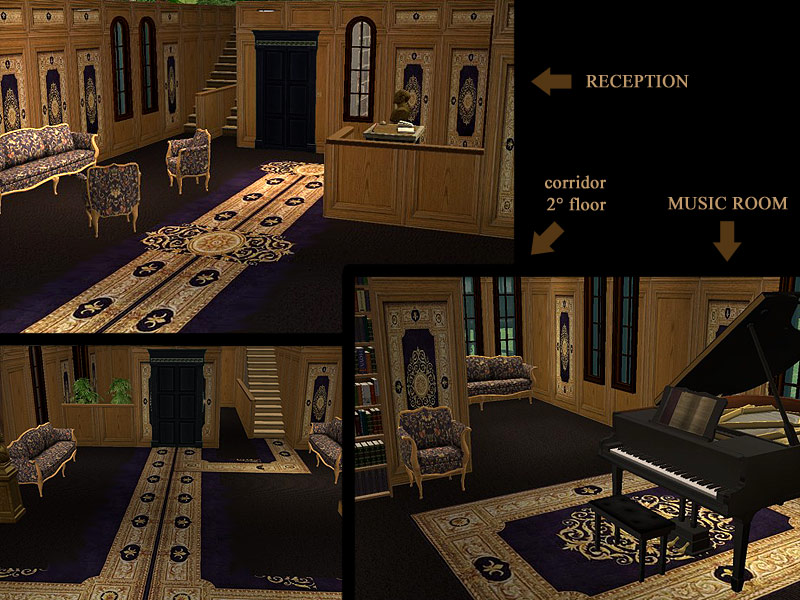 4 suites: two blue and two rose-blossom.
An easel and a computer for writing romances are included into the two suites at the 1st floor.
This lodging is at 100% vivible, with simple vision of room with wall down (no objects hidden, no objects one behind another, no going mad with mouse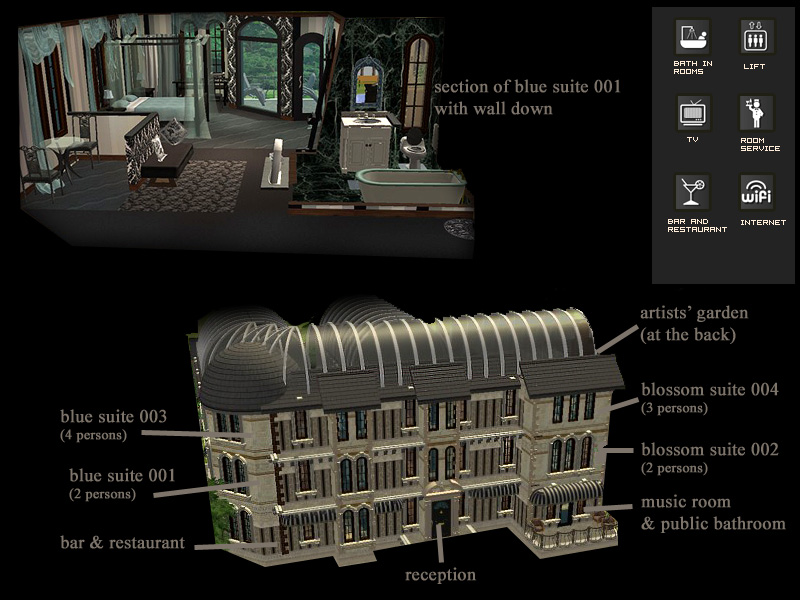 IMPORTANT CUSTOM CONTENT NOT INCLUDED:

and necessary for the right visualization
LAURANA Fences Part III by 11dots at
http://www.11dots.com/
download it
here
Other custom content not included:
- reflex gift5 curtain by jasmine@simsinparis at reflexsimsforum.com
(the blue curtain in the blue rooms)
http://www.reflexsimsforum.com/showthread.php?t=8467
- light wood recolour of barstool by Ellis at sims2ellis
http://sims2ellis.narod.ru/new_recolors3.htm
Lot Size:
3x3
Lot Price:
275.000
Custom Content Included:
- carpet by
jendea at jendea.net
- marble wall by
By Carol at avalon
- royal floor1 by
Komosims at komosims.net
- royal floor2 by
Komosims at komosims.net
- royal floor3 by
Komosims at komosims.net
- royal floor4 by
Komosims at komosims.net
- royal floor5 by
Komosims at komosims.net
- royal floor6 by
Komosims at komosims.net
- royal floor7 by
Komosims at komosims.net
- rosefloor1 by
Komosims at komosims.net
- rosefloor2 by
Komosims at komosims.net
- rosefloor3 by
Komosims at komosims.net
- rosefloor4 by
Komosims at komosims.net
- rosefloor5 by
Komosims at komosims.net
- carpet noir by
Komosims at komosims.net
- tiled floor by
Komosims at komosims.net
- floor by
Komosims at komosims.net
- floor by
Komosims at komosims.net
- floor tiled by
Komosims at komosims.net
- carpet black by
Komosims at komosims.net
- biancafloor by
Komosims at komosims.net
- biancafloor by
Komosims at komosims.net
- biancafloor by
Komosims at komosims.net
- biancafloor by
Komosims at komosims.net
- biancafloor by
Komosims at komosims.net
- biancafloor by
Komosims at komosims.net
- biancafloor by
Komosims at komosims.net
- biancafloor by
Komosims at komosims.net
- grey wallpaper by
Thealein at MTS2
- pattern wallpaper by
Thealein at MTS2
- white wallpaper by
Thealein at MTS2
- royal wallpaper by
Komosims at komosims.net
- royal wallpaper 2 by
Komosims at komosims.net
- panel wood wallpaper by
Komosims at komosims.net
- panel wood wallpaper2 by
Komosims at komosims.net
- marble black wall by
by Simona at www.simscri2.com
- Mediterranean Balcony by
macarossi at MTS2
- Arched Window 1 Tile by
macarossi at MTS2
- 2 Tiled Arched Window with Stone Surround by
macarossi at MTS2
- 1 Tile Window with Surround by
macarossi at MTS2
- 1 Tile Window with Surround by
macarossi at MTS2
- 2 Tile Window With Stone Surround by
macarossi at MTS2
- Lap of Luxury Dining Chair by
MsBarrows at MTS2
- wall floral by
parsimonious at www.parsimonious.org
- Gauze Curtains recolour 1 by
nanisim at MTS2
- Gauze Curtains recolour 2 by
nanisim at MTS2
- Paper Moon Ceiling Light by
Ailias at MTS2
- ATS Ashley - Bedroom - Bed by
By Sandy @ Around the Sims 2
- ATS Bed Curtain by
By Sandy @ Around the Sims 2
- ATS Loveseat by
By Sandy @ Around the Sims 2
- ATS Ceiling Light by
By Sandy @ Around the Sims 2
- ATS End table by
By Sandy @ Around the Sims 2
- ATS Sideboard by
By Sandy @ Around the Sims 2
- Black Rec of Bed by
By Sandy @ Around the Sims 2
- Blue Rec of bed curtain by
By Sandy @ Around the Sims 2
- Black rec of loveseat by
By Sandy @ Around the Sims 2
- creme rec of loveseat by
By Sandy @ Around the Sims 2
- Black Marble Floor by
simona at sims2cri
- vertigo carpet by
holysimoly at holysimoly.com
- carpet by
jendea at jendea.net
- Decorative Beam of wood (2) by
-Maylin- at MTS2
- dresser by
Delphine at simsinparis
- "The Cushion" by
by Kate @ www.parsimonious.org
- "The Cushion 2" by
by Kate @ www.parsimonious.org
- Pedimentary, My Dear! by
phoenix_phaerie at MTS2
- Black recolour of the door of Pedimentary by
phoenix_phaerie at MTS2
- Stone recolour of the door pedimentary by
phoenix_phaerie at MTS2
- curtain volup1 by
nanisim at MTS2
- Recolour of courtain by
nanisim at MTS2
- nanisimquoinleft by
nanisim at MTS2
- quoinin'every wall by
nanisim at MTS2
- Smart Living TV by
Funny2401 at pimp-my-sims
- Curved Glass Door by
By Helena at Pixel Sims
- Black rec of Curved Glass Door by
By Helena at Pixel Sims
- Diagonal Curved Glass Door by
By Helena at Pixel Sims
- Curved Middle Window by
By Helena at Pixel Sims
- Black rec of Curved Middle Window by
By Helena at Pixel Sims
- "Non-Reflective" Window by
By Helena at Pixel Sims
- Mini-Pediment in Stucco by
macarossi at MTS2
Number of bedrooms: 4 Bedrooms
Custom Content Included: Build and Buy Mode Content
Furnishings: Fully Furnished

Tags: #paris, #artist, #art, #luxury, #hotel, #europe, #baudelaire