>

Pixel dollhouses/For sims to live their lives in/Nice houses for sims
Harry Potter Collection: The Burrow (2 Versions)
MTS has all free content, all the time. Find out how YOU can help to keep it running.
Tell me how...
2,385

Downloads
205

Thanks Thanks
19

Favourited
37,491

Views


Uploaded: 9th Oct 2007 at 8:34 PM
Updated: 16th Sep 2011 at 5:46 PM - MTS2 House Information Update
WELCOME TO THE WORLD OF MAGIC: Harry Potter Collection of Lots!
This set includes both residential and commercial lots. There are a total of 25 download pages (with 34 individual files to download) in this collection.
NOTE:
There are 2 versions of The Burrow on this page. One version is on a 4 X 5 Lot and the other on a 3 X 5 Lot.
*~*~*~*~*~*~*~*~*~*~*~*~*~*~*~*~*~*~*~*~*~*~*~*~*~*~*~*~*~*~*~*~*~*~*~*~*~
Harry Potter Collection: The Burrow (Home of the Weasleys)
LARGER VERSION OF THE BURROW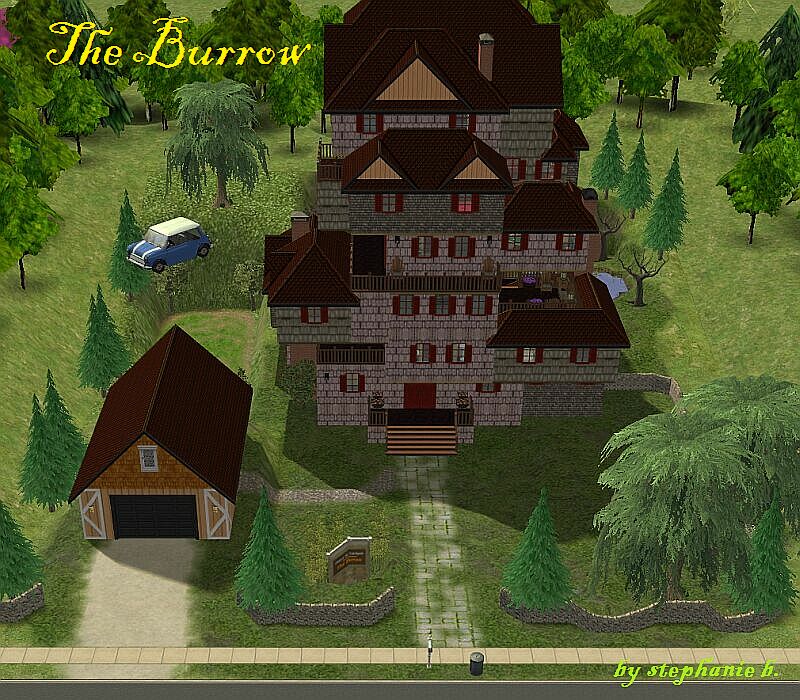 LOT INFORMATION
This version of the Weasley home "looks as though it is held together by magic...as it probably is". The lot includes a wild garden full of weeds, a lake and garden gnomes. To the left of the lot there is an old orchard where Ginny and her brothers like to practice Quidditch and a shed where Mr. Weasley keeps his Muggle treasures. After Ron and Harry lost the Ford Anglia in the Forbidden Forest, Mr. Weasley repurposed a Mini Cooper to fly - Alright I just added the flying car for pizazz! This lot was the one I most anticipated creating. I added a few Chudley Cannons' poster walls for Ron's room beneath the attic and a few Holyhead Harpies poster walls for Ginny's room. It was great fun pulling it together and I think Harry himself would be proud!

I hope you enjoy the download!
NOTE:
The Blue Mini Cooper Car can be found here at MTS2. The link for the car and the mesh are below under "Additional Downloads".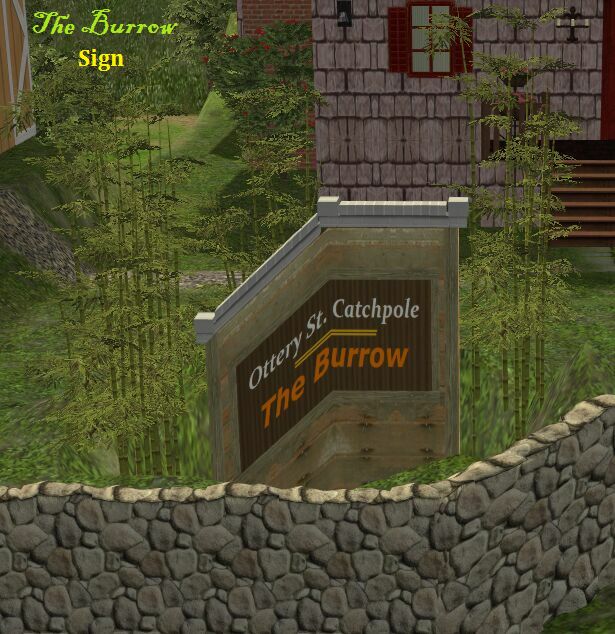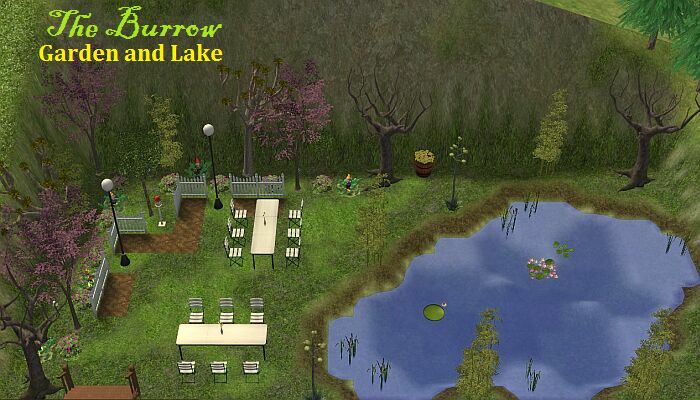 Lot Data
RESIDENTIAL LOT / 4 x 5 Lot / §293,524 / FURNISHED

/ 7 Bedrooms / 7 1/2 Bathrooms / 7 Levels
Ground Floor
:
The Burrow, An Orchard, A Shed (Garage), A Garden With A Lake, An Entry Hall, A Coat Closet, A 1/2 Bath, Small Office, Parlour, Kitchen
1st Floor
:
Molly and Arthur Weasley's Bedroom, Ginny's Bedroom (With Holyhead Harpies Posters), Full Bathroom, Stairwell Hall
2nd Floor
:
Percy's Bedroom (Facing The Garden), George and Fred's Bedroom, 2 Full Bathrooms, Stairwell Hall
3rd Floor
:
Reading Room, Game Area, Full Bathroom
4th Floor
:
Bill's Bedroom, Charles' Bedroom, 2 Full Bathrooms, Stairwell Hall
5th Floor
:
Ron's Bedroom, Full Bathroom, Stairwell Hall (Also Leads to the Attic)
Attic
:
The Attic where the Ghoul resides.
*~*~*~*~*~*~*~*~*~*~*~*~*~*~*~*~*~*~*~*~*~*~*~*~*~*~*~*~*~*~*~*~*~*~*~*~*~*~*~*~*~*~*~*~*~*~*~*~
SMALLER VERSION OF THE BURROW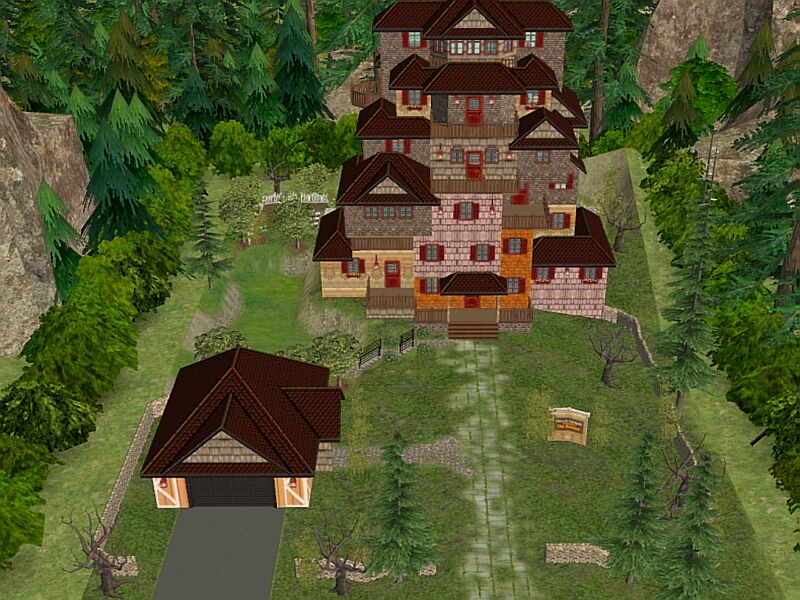 104,257 simoleons / includes
Maylin's
Lantern and
Mia's
Chimneyless Fireplace / Lot Size 3x5 / 5 Stories & Attic / Garden / Apple Orchard / Pond / Garage
*~*~*~*~*~*~*~*~*~*~*~*~*~*~*~*~*~*~*~*~*~*~*~*~*~*~*~*~*~*~*~*~*~*~*~*~*~*~*~*~*~*~*~*~*~*~*~*~
Other Information
:
THANK YOU!
Thank you to the following artists for helping to bring a little "magic" to the Sim World:
pfish
and
Mia
. Be sure to browse the links at the end of the post for other fabulous downloads by each artist!
ADDITIONAL DOWNLOADS!
Although the following items are NOT included in the download, I thought it would add a little authenticity to this lot:
The Weasley Clock by
Dumbledore's Army
can be found here in the 4th Comment Post:
http://www.modthesims2.com/showthread.php?t=145882
The Invisible Driveway by
WitchyWoman
can be found here:
http://www.modthesims2.com/showthread.php?t=244021
The Mini Cooper Car Mesh by
DBCAB
can be found here:
http://www.modthesims2.com/showthread.php?t=101349
The Blue Mini Cooper Car Recolor by
Crystali
can be found here:
http://www.modthesims2.com/showthread.php?t=101533
MY TEXTURES
:
All stephanie b. walls, floors and ground covers included in houses downloaded from MTS2 can be used in lot creations on any free or pay site as long as I receive credit for the textures. Please do not post my textures (walls, floors or groundcovers) or lots on other sites without my permission or reupload them as your own by giving them color face-lifts without giving me credit for the original design. Thank you!

NOT A CARBON COPY
:
These lots are creations from my imagination based mainly on excerpts from the books and on-line information. I am basing very little on the movie versions of each place, so don't expect exact replica's of movie versions of the various places in the Magic and Muggle World.
MY VISION FOR HARRY POTTER NEIGHBORHOOD
:
My vision for this neighborhood is that the students do not "live" in Hogwarts. I see the school as home to only a few teachers (Dumbledore, McGonagall, Trelawney). Everyone else is spread out in either their family homes or in the Summer Houses.
MY SOURCE
:
I used the floorplans found on the Harry Potter Lexicon site as inspiration. For extensive Potter INFORMATION, checkout the HP Lexicon here:
www.hp-lexicon.org
MY JOURNAL
Be sure to download the entire Harry Potter Collection of lots here at Mod the Sims 2:
http://www.modthesims2.com/member/StephSim
*~*~*~*~*~*~*~*~*~*~*~*~*~*~*~*~*~*~*~*~*~*~*~*~*~*~*~*~*~*~*~*~*~*~*~*~*~*~*~*~*~*~*~*~*~*~*~*~
Enjoy the Burrow!
Stephanie

2U
LARGER BURROW
Lot Size:
4 x 5
Lot Price:
§293,524
SMALLER BURROW
Lot Size:
3 x 5
Lot Price:
§104,257
Custom Content by Me:
- Inspired Floor 8
- Gravel Stone Terrain
- Moss Brick Terrain
- Golf Grass Terrain
- Dark Stone Wall
- Harry Potter Brick 9
- Harry Potter Shrieking Shack A
- Weasley Home Wall Set (10 Walls)
Custom Content Included:
- Invisible (Walnut) Door by
pfish
- Gentrific "Flame-O-Rama" Fireplace WITHOUT CHIMNEY by
mia86
- Red Roof Shingles by
mia86
- Red Lantern (Mesh) by
-Maylin-
Additional Credits:
Mia and Pfish for openly sharing their wonderful objects! This makes designing lots a lot easier for us Sim builders!

~*~StephSim's Creations~*~
❤ Welcome to my little space of the Simming Community!❤
As of July 2016, I've decided to reinvent myself (again). Basically, my Sim Creation Renaissance is long overdue! It's time to release the old and move forward, doing things that sustain me in meaningful ways. ◕‿◕
I shall start with a wonderful new Sim Place to call home! And now the Official Unveiling (....drum roll...):
CLICK HERE to experience StephSim's BRAND NEW SIMS 2 WEBSITE called *** Proudly Banished *** !!!
Proudly Banished is my little storage place for a select few of my Sims 2 creations. Since I will NOT be Simming as much, I wanted to provide a small landing pad for random creations I will be sharing. I will on occasion share NO CC/ LOW CC Lots and MTS related recolors here on MTS. However, my CC LOADED Lots will be Housed at Proudly Banished. I've also add the updated Fully Loaded Versions of the American Gothic Mansion. Be sure to click on the Slideshows when available! You will find a few lots, object recolors, clothing recolors and the Regina Mills Sim (from Once Upon a Time)! There should be a little something for everyone!
Take your time and explore the site and be sure to check out *Sherwood Forest* for my PBK Community Goodbyes!
See you there. (。♥‿♥。)
POLICY
All StephSim walls, floors, and ground covers can be freely used in lot creations on any free or pay site. Feel free to use my neighborhood maps/terrains for any and all of your Simming needs. Feel free to use any objects or object recolors shared on MTS or elsewhere in the Sims 2 community in your creations (lots, movies, stories) Feel free to recolor objects I upload and include the mesh. Feel free to use any Sims I create or my lots for your Sim movie making purposes! In using any of my creations. Credit is not necessary, but please do not claim any shared creations by myself,
Sophie-David
,
Jason Duskey
or anyone who I team with as your own.