Funtango Fencing Set 1 - Patrician Balustrade & Mini-Pediment Collection
6,927

Downloads
692

Thanks Thanks
46

Favourited
31,194

Views

Uploaded: 12th Apr 2008 at 8:07 PM
Funtango Fencing Set 1
I built the Funtango Fencing Sets so I would have a better variety of fencing to choose from when building and I thought I would share with all of you. I figured that I would add to my Maxis Mixes Collection with a cool new project – Funtango Fencing. What Funtango Fencing does is bring together some cool concrete styles that I created to match some of the Maxis Brick and Stone already in the game.
The first Funtango Fencing set that I bring to you is the Patrician Balustrades and Mini-Pediments collection in a variety of concrete styles.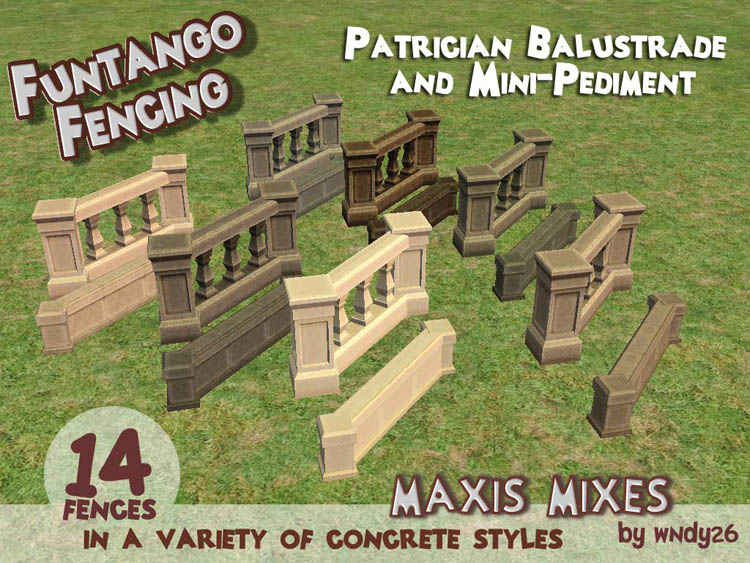 Hey all, thought I would request something new from you, the downloader. I love to see how my build sets are being used so I thought I would ask if you would post a link in the comments section to an in-game screenshot of how you're using this content in your game and be sure to click the "Thanks" button!
File Details
Funtango Fencing Set 1 includes 14 concrete fences in Patrician Balustrade and Mini-Pediment styles. The concrete in these fences were created to match the concrete found in other Funtango Fencing sets. These were cloned from University fencing: Mini-Pediment in Discreet Concrete and Patrician Balustrade in Discreet Concrete. Be sure to collect them all!
Here is a list of the concrete styles you will find in the Funtango Fencing Set 1 – Patrician Balustrade & Mini-Pediment collection:
Bright Cream Concrete, Cream Concrete, Grey Stone Rustic Concrete, Grunge Concrete, Pink Concrete, Richardsonian Concrete, and Rustic Concrete
Game Info
Funtango Fencing Set 1 requires at least one expansion pack for the fencing to show up. The fences were built with all expansions and stuff packs installed, then tested with Numenor's AnyGameStarter. This specific set contains the Maxis Mesh files from the original fencing. Fences cloned from University Expansion Pack – Patrician Balustrade in Discreet Concrete and Mini-Pediment in Discreet Concrete, each of these have identical polygon counts to their Maxis mesh – nothing has been changed except for the GUID and textures.
Funtango Fencing Usage Policy
Please post in the comments section or private message me with any issues or problems you encounter while using Funtango Fencing in your game. As with all custom content, use at your own risk, I am not responsible for any lost data due to usage of any of my custom content. All content has been play-tested and show no problems with all expansions and stuff packs installed.
Note to user: the matching brick/stone walls DO NOT come with Funtango Fencing packs. You may end up downloading a brick or stone fencing without a matching brick or stone wall because the matching walls/fencing mesh may have been included with another expansion that you do not have. Be sure to read over the collection details regarding expansion packs at the top of this page should you download something and not find its match/content in-game.
Funtango Fencing may be included in any lot you upload to any free site except the exchange so long as a link back to my page is provided along with the lot. Please do not distribute the fences on any sites unless you are uploading a lot – but feel free to share them by linking to my page from anywhere on the web. These fences can also be used in any movie or story you upload - no credits needed unless you feel the need or are asked.
Polygon Counts:
All of these fences have identical polygon counts to their original Maxis mesh – nothing has been changed except for the GUID and textures.
Additional Credits:
I'd like to thank EA/Maxis for the meshes, Numenor and Quaxi for their tutorials on cloning/recoloring fences, Numenor again for his AnyGameStarter and CEP, HP and Delphy for assisting me via chat, the makers of SIMPE, and MTS2 owners and staff.
Packs Needed

For a full list of packs with names, see the Packs Needed popup.
Packs Needed
| | Base Game |
| --- | --- |
| | Sims 2 |
| | Expansion Pack |
| --- | --- |
| | University |