Sad Animations Hack
MTS has all free content, all the time. Find out how YOU can help to keep it running.
Tell me how...
27,872

Downloads
1,112

Thanks Thanks
140

Favourited
105,754

Views
Personal Picked Upload!
This is a personal favourite of the creator!

Uploaded: 4th Nov 2010 at 7:39 PM
Updated: 12th Dec 2010 at 4:32 PM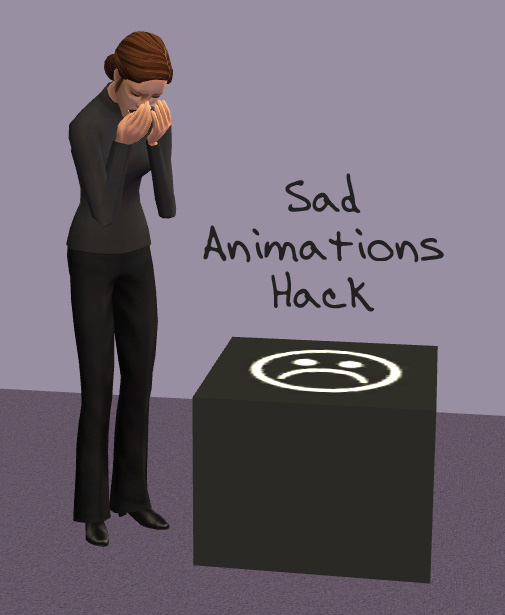 This hack is for storytellers and moviemakers, who are cruel (like me

) and like to see their Sims break down and cry.

For teens to elders, it pulls sad, crying and otherwise morose in-game, base-game animations, categorised as follows:
Cry:
Wail, cry, sob
Sad:
Snuffle, sigh, sad
Worry:
Shake head, wring hands, look around
Distressed:
Worried, cringe, can't look
Console:
Being consoled – accepting, being consoled – rejecting, consoling – being rejected
Embarrassed:
Embarrassed, abashed, mortified
Pining:
Big sigh, pining, whimper

Each animation has two options, "play once" and "loop". With "play once", the animation – you guessed it – plays once and then stops. The loop, on the other hand, runs until you cancel it, or until your Sim's motives are all in the red and he/she doesn't want to play any more.

For all the animations except the "console" ones, the Sim can either sit or stand, but you'll need to decide which before you run the animation since the Sim won't change positions once the animation has started. The "console" animations are stand only; if you run the animation sitting, the Sim will promptly jump to his/her feet, and then sit back down when he/she is finished.
Just to be on the safe side, in case the animation won't cancel for some reason (even though that shouldn't happen and also hasn't happened in my testing), there is also a "force end" option, that will reset the Sim and snap him/her Sim out of the animation he or she is doing. Try only to use it in case of emergency, though.

I've checked that this download requires University, but that isn't quite true. The hack does require at least one EP,
but it doesn't matter which one
– it can be UNI or AL or anything in between. (I've checked University because it's the lowest EP, and because it also wouldn't be true to claim that the hack doesn't require any EPs at all.)
The hack won't crash your game if you run it with only the base-game installed (or at least it didn't on my base-game-only computer), but it will behave a little oddly: Once you select an animation, the animation will start playing immediately, you won't get to choose if you want it to loop or just play once (which one plays depends on which the game thinks is the first option). The action can still be cancelled, though. (Note that this happens
only
if you only have the base-game installed – if you have an EP, any EP, the hack works as it should.)
I have tested this hack in my full game (with all EPs) and in AnyGames with different EP configurations, as well as on a computer where the base-game is the only thing that's ever been installed. Except for the base-game thing mentioned above, I haven't run into any problems, but this hack should still be considered
in testing
. After all, I'm just one person and I'm not infallible (shocking, I know

) – I might have missed something.
You'll find the box under Hobbies -> Misc. and it costs all of zero Simoleons.
Image Credits:
Hair by Dustfinger, make-up by Bruno, outfit by me, walls and floors by Maxis
Additional Credits:
- Jasumi at Sim Oasis for her
posebox tutorial
- Echo for her
custom BHAV tutorial
-
Decorgal
for all her poseboxes
As always, if you like my work, hitting the "thanks" button is a quick and easy way of showing it.

Happy Simming!

Terms of Use

With Credit and a Link, Please DO...
...recolour my meshes and include them with your recolours
...include my Bodyshop items with your Sims and my objects with your lots
...modify and/or use parts of my Bodyshop meshes
...clone my objects
...convert my items for The Sims 3
...use my custom content in screen shots, stories, movies, etc.; credit is always appreciated, but by no means required.

But Please DON'T...
...claim my work as your own
...upload my items as is or with only v. minor changes (such as renaming them, but changing nothing else)
...convert my items for The Sims 4
...upload my items or content based on my items to paysites, including Patreon and sites that use ad.fly, or to TSR. (Sites that ask for voluntary donations through ko.fi, PayPal and the like are fine, though.)
[size=+3]But as long as it is for your own game,
you may of course do whatever you please![/size]
~~~~~~~~~~~~~~~~~~~~~~~~~~~~~~~~~~~~~~~~

[size=+2]I'm no longer active at MTS, but I am still active in the Sims community.

I am NOT retired and my downloads here are NOT abandonware!
My terms of use still apply.[/size]