Sims 2

>

>

Glasses, necklaces, earrings, and anything else you want to decorate your Sim's face with - get them here!
*REQUESTED* Rank insignia for Starfleet cadets, as seen on "Star Trek"
562

Downloads
145

Thanks Thanks
10

Favourited
19,623

Views

Uploaded: 3rd Dec 2007 at 5:12 PM
Updated: 4th Jul 2011 at 10:52 PM
As far as I know, rank insignia for cadets have only been seen in "The First Duty" (TNG) and briefly in the VOY episode "In the Flesh" (I know, that was really Species 8472, but they seemed to have done their homework pretty thoroughly otherwise) - Starfleet seems to have done away with them later on. I like them, though, and I've got requests for them, so here I give you: Starfleet cadet's rank insignia, for teens and young adults (and for adults, since the game didn't want to show them otherwise and I couldn't find away around it). Of course, they will only appear for young adults if you have University; if you don't, you'll only have them for teens (and for adults, as stated above).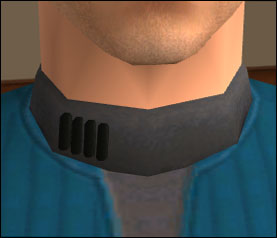 Just as my other rank insignia, these can be worn together with other accessories and they will appear together with everyday and formal wear, and with outerwear if you have Seasons. As usual, they're supposed to be worn together with my body meshes, so they might look odd if you use them together with other meshes – for example, a mesh with a large collar might "swallow" them, while it might look as if they're floating in the air together with a mesh with no collar at all. Just so you know that this isn't an error; it's impossible to make rank insignia that look good with any and all body meshes, so selfish creature that I am, I've sure they look good together with
my
stuff.

A side note: When I was taking the screenshots, I noticed that the insignia are slightly reflective. I wish I could take credit for it, but I can't - it's a carry-over from the glasses I used as a base. It looks quite cool, though.

Polygon Counts:
MESH_nixnivis_cadetonebar.package: polys=62, vertices=19
MESH_nixnivis_cadettwobars.package: polys=122, vertices=35
MESH_nixnivis_cadetthreebars.package: polys=182, vertices=51
MESH_nixnivis_cadetfourbars.package: polys=242, vertices=67
Additional Credits:
- Tiggerypum, HystericalParoxysm and Dr Pixel, whose excellent tutorials have taught me everything I know about meshing for TS2 in general and accessory meshing in particular
- Wes H for the Unimesh plugins
- Quaxi and all the other
SimPE
developers
- The Milkshape team
Oh, and while you're waiting for the file to download, why not make a creator happy and take a moment to hit the "thanks" button?

Happy Simming!
Packs Needed
None, this is Sims 2 base game compatible!
Other Information
Age
:
– Teen
– Young Adult
– Adult
Maxis Flags
:
– Not Applicable
Terms of Use

With Credit and a Link, Please DO...
...recolour my meshes and include them with your recolours
...include my Bodyshop items with your Sims and my objects with your lots
...modify and/or use parts of my Bodyshop meshes
...clone my objects
...convert my items for The Sims 3
...use my custom content in screen shots, stories, movies, etc.; credit is always appreciated, but by no means required.

But Please DON'T...
...claim my work as your own
...upload my items as is or with only v. minor changes (such as renaming them, but changing nothing else)
...convert my items for The Sims 4
...upload my items or content based on my items to paysites, including Patreon and sites that use ad.fly, or to TSR. (Sites that ask for voluntary donations through ko.fi, PayPal and the like are fine, though.)
[size=+3]But as long as it is for your own game,
you may of course do whatever you please![/size]
~~~~~~~~~~~~~~~~~~~~~~~~~~~~~~~~~~~~~~~~

[size=+2]I'm no longer active at MTS, but I am still active in the Sims community.

I am NOT retired and my downloads here are NOT abandonware!
My terms of use still apply.[/size]