Sims 2

>

>

Pixel dollhouses/For sims to live their lives in/Nice houses for sims
Touch of Retro
1,304

Downloads
53

Thanks Thanks
17

Favourited
11,017

Views
Uploaded: 7th Nov 2017 at 11:27 PM
Updated: 11th Nov 2017 at 8:44 PM - Fixed a dead link, and some grammar.
This all started with a WCIF. KaterMikesch77 was looking for a mid-century house on a 2x2 lot. At first I thought, "There MUST be quite a few of these! Are they that hard to find? Impossible!"
Unfortunately, KaterMikesch77 was correct. There really are very, very few of these out there. I certainly had a hard time trying to find one! I have no idea whether this was the time frame KaterMikesch77 wanted, but I had a great time making this lot anyway!
For a long time, I wanted to make a lot based on this plan:
https://www.flickr.com/photos/42353...57622229110201/
. This WCIF gave me the impetus to give it a try.
This is not an exact representation. Part of the reason was that I had to squish the floor plans, which meant rearranging rooms and leaving certain areas out. The timeline for this house would fall between 1963-1965.
In addition to containing some resemblance to the picture that inspired this lot, this house also has aspects of my own life. I recently had to sell my family's house, and admittedly, have been getting a little nostalgic, looking at old photos and reminiscing. This lot is NOT the type of place you'd find in a glossy, stylish house and garden spread, but one owned by an ordinary family, and everything may not necessarily have been brand new or ultra-stylish at the time. My mother loved yellow kitchens and Dutch doors; hence, a yellow kitchen and a Dutch door. I hated playing with dolls at the time; hence, a fine willow tree to climb and a swing set. The bar area is a nod to my aunt's and uncle's old rec room. (I'm probably dating myself with that term.)
I used some colors from the color palette here to help me refresh my memory:
https://www.us.kohler.com/us/Color-...or-timeline.htm
.
No burglar alarm (back then, people in my part of the world felt that if you wanted a burglar alarm, you got a dog!), but I did go somewhat anachronistic and put smoke alarms in the kitchen and outside. Celebkiriedhel's oven hood hides the kitchen one, and I hid the outside one under a Maxis mask. Memories are all very well and good, but I don't want to roast Sims in the process.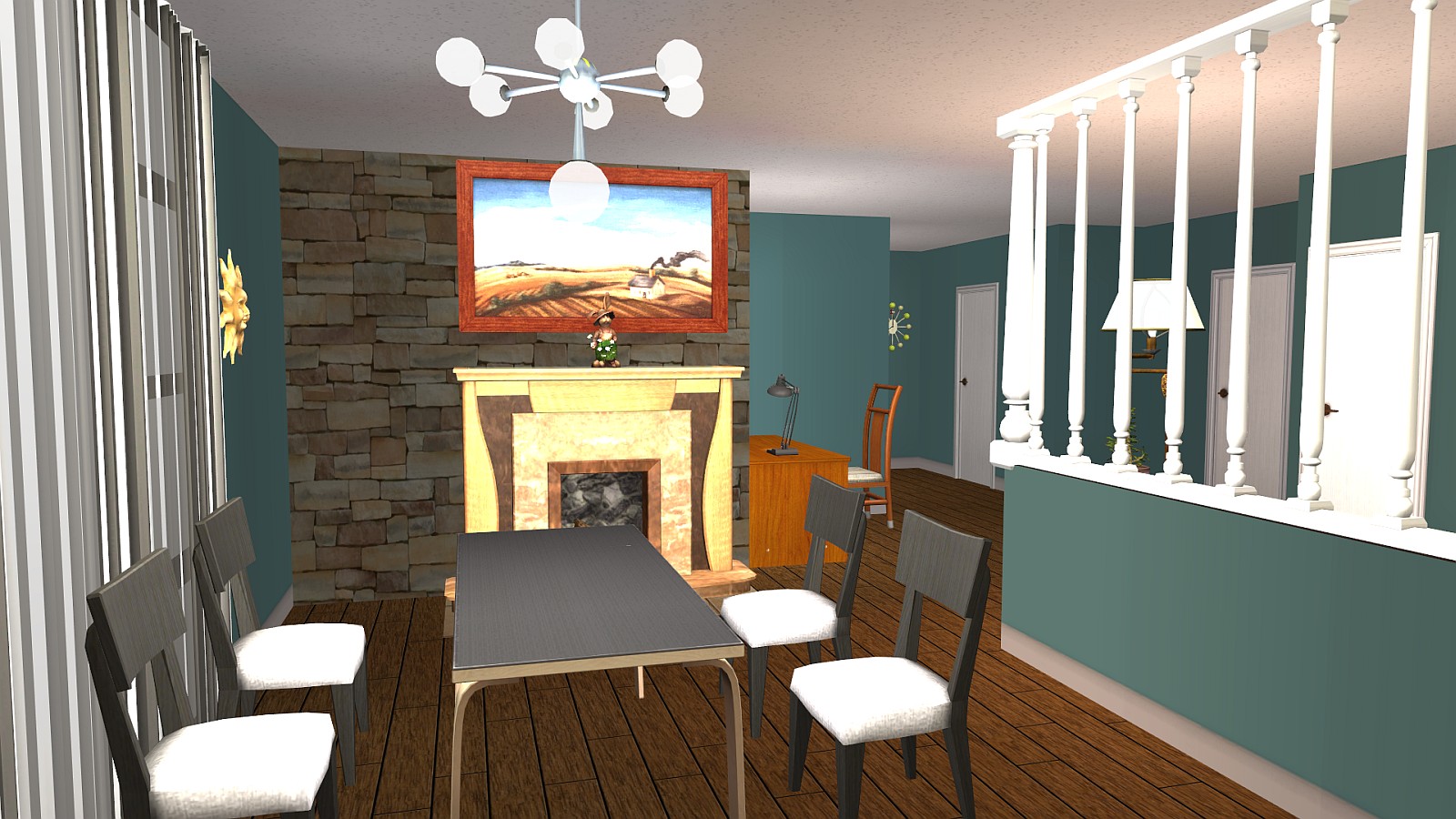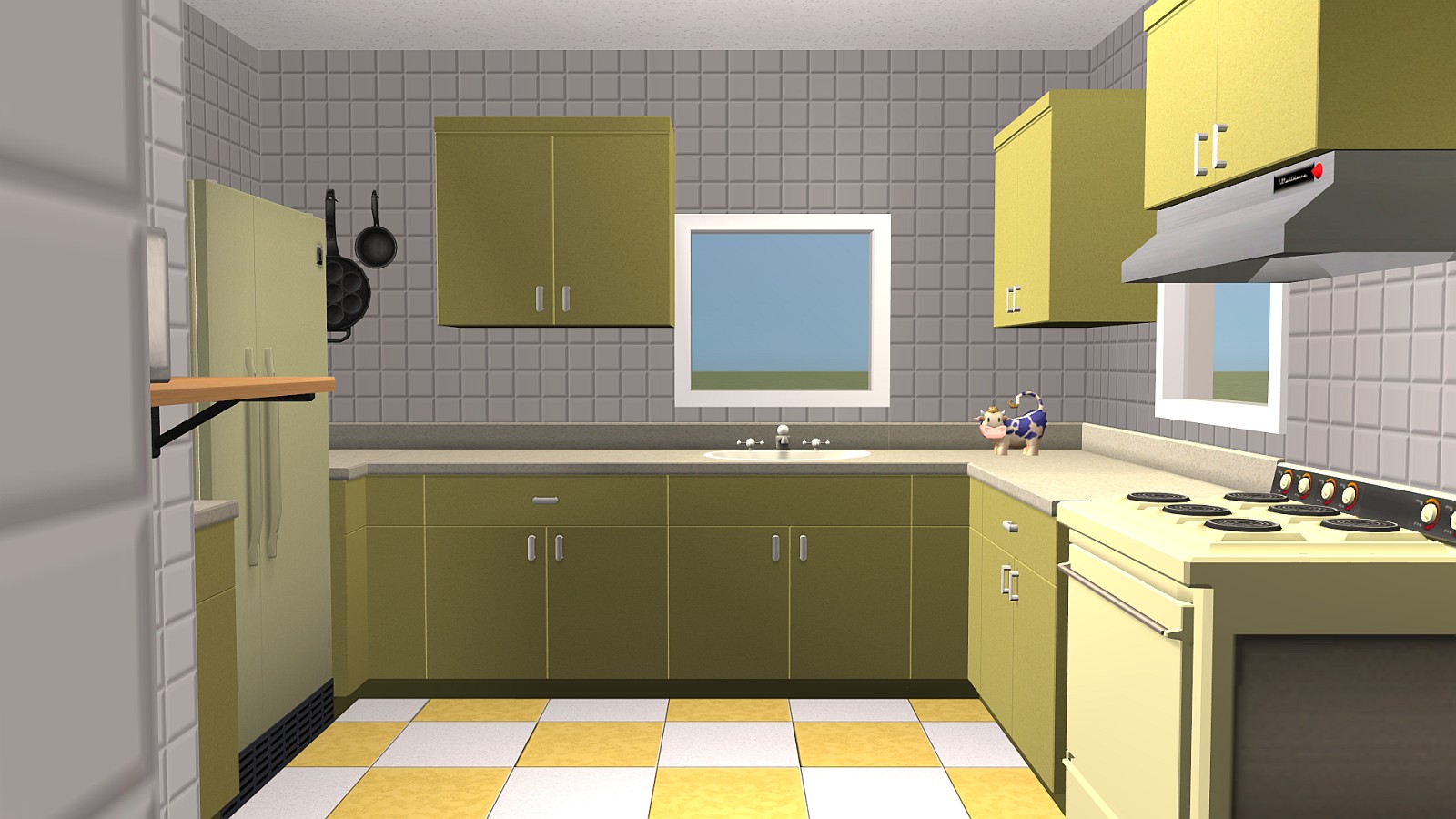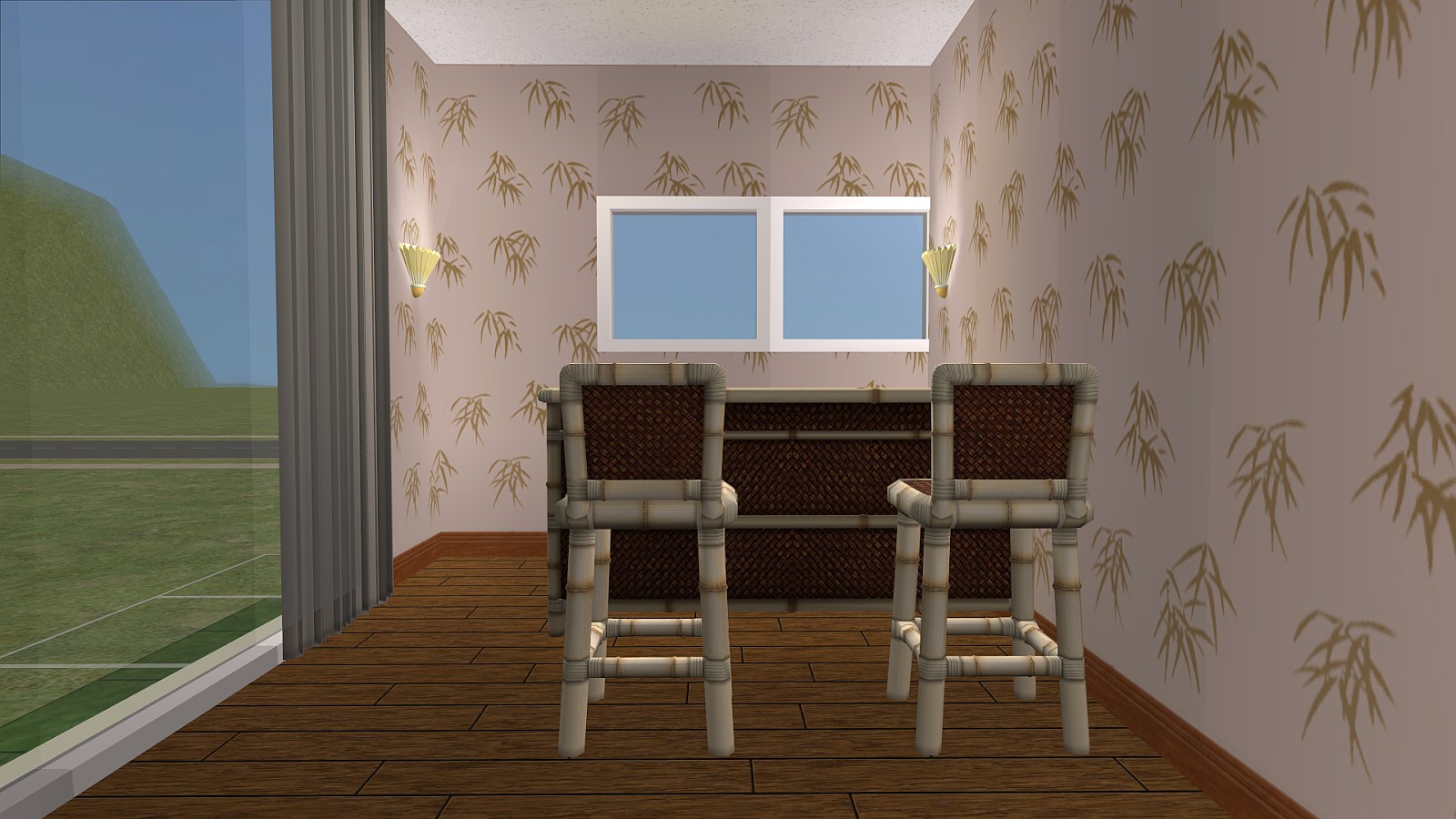 I made this lot in a fresh game created just for lots only. No Sims have set foot near this house. A copy of the lot was tested in my actual game for several human days. Made in a game with CEP. CC files have been Compressorized. If you wanted non-Compressorized files, please use the CC links in this description.
Two bedrooms, one bathroom (many families at the time had to use one bathroom between them ... The Brady Bunch house in the 70s wasn't that inaccurate!). A living room/dining room area, bar area, and kitchen.
I have all EPs and SPs on discs.
Recommended CC:
CEP
by Numenor :
http://modthesims.info/d/92541
Fireplaces - Recolorable by Huge Lunatic:
http://www.modthesims.info/download.php?t=434757
Recolors by Kimsie:
http://modthesims.info/d/283437
(part of the Uni recolors)
There is a very small line of brick under the top of the chimney that I cannot get rid of. It's pretty minor, but if it bothers you, this Huge Lunatic mod and Kimsie's recolor will help. Find the color closest to the stone, recolor that tiny spot and you'll barely notice the problem unless you squint real hard!
No Sim Loaded by Boiling Oil:
http://www.leefish.nl/mybb/thread-1665.html
Smarter EP Check by Cyjon:
http://cyjon.net/node/323
No matter how clean the lot (I check mine vigorously), no matter WHO the creator, this is a must in your game. Every game should have these two mods. Now. Period.
Special Thanks:
KaterMikesch77 for getting my butt in gear
Peni Griffin, justpetro, joandsarah77, simsample, ScaryRob and my daughter for putting up with constant inquiries of "Does this look right? Does that?" in the Creator thread
MTS for putting up with me in general
All who contribute new creations for Sims 2 and by doing so, keep this game alive
Bozlove, wherever you are
Ethan (SportSuburban) for posting the photos of the house at his Flickr:
https://www.flickr.com/photos/42353480@N02/
Kohler for the color palette
Chris Hatch for the Orb
My husband for verifying that the time frame for this house is roughly where I wanted it
Lot Size:
2x2
Lot Price (furnished):
63,308
Custom Content Included:
- Value Wall Cabinet by
CTNutmegger @ MTS2
- Contempo Curtain (washed white recolor) by
HugeLunatic
- Contempo Curtain by
HugeLunatic
- Value Range Oven Hood with Built-In Smoke Alarm by
celebkiriedhel
- Metro Window Set window1-1 straight-SLAVE by
Tiggy027
- Metro Window Set window1-2 straight-SLAVE by
Tiggy027
- Metro Window Set window1-straight-MASTER by
Tiggy027
- Metro Window Set window13-straight-SLAVE by
Tiggy027
- Metro Window Set window3-straight-SLAVE by
Tiggy027
- Metro Window Set window4-straight-SLAVE by
Tiggy027
- Metro Window Set window9-straight-SLAVE by
Tiggy027
- Metro Window Set windows-glass-white by
Tiggy027
- Metro Window Set windows-white by
Tiggy 027
- By My Side - Horizontal siding (Chocolate) by
Poppet
- Long Island Door 2 by
windkeeper
Packs Needed








+
9 SPs
For a full list of packs with names, see the Packs Needed popup.
Other Information
Number of bedrooms
:
– 2 Bedrooms
Custom Content Included
:
– Build and Buy Mode Content : Furniture, decorations, etc.
Furnishings
:
– Fully Furnished : Lot is completely decked out in furnishings
Special Flags
:
– Not Applicable
Packs Needed
| | Base Game |
| --- | --- |
| | Sims 2 |
| | Expansion Pack |
| --- | --- |
| | University |
| | Nightlife |
| | Open for Business |
| | Pets |
| | Seasons |
| | Bon Voyage |
| | Free Time |
| | Apartment Life |
| | Stuff Pack |
| --- | --- |
| | Happy Holiday |
| | Family Fun |
| | Glamour Life |
| | Celebration |
| | H&M Fashion |
| | Teen Style |
| | Kitchen & Bath |
| | Ikea Home |
| | Mansion and Garden |