>

Individual objects with customized pie menus and options.
SpaceDoll's Further Adventures in Tattoos that Really Stick!!!
MTS has all free content, all the time. Find out how YOU can help to keep it running.
Tell me how...
Picked Upload! This is a picked upload! It showcases some of the best talent and creativity available on MTS and in the community.

Created by SpaceDoll View Policy / About Me View Downloads Home
Uploaded 9th Jan 2008 at 12:28 AM
After much hemming and hawing, quite a few broken promises, and a good deal of procrastination, I finally present my third set of tatoos! TAA-DAA!
Okay, enough of that. I decided this time to grant the wishes of a few posters in my original threads and do a few smaller tattoos for those less daring Sims. Originally I planned on doing very traditional stuff, but after a lot of browsing at Deviant Art for inspiration, I tweaked my original, more traditional subject matter into something more akin to my own personal style. The tatts are very colorful, and quite cartoony. I created them while experimenting with vector art, so the original works are quite large and lost some detail when I resized them for this project, but here are the original designs: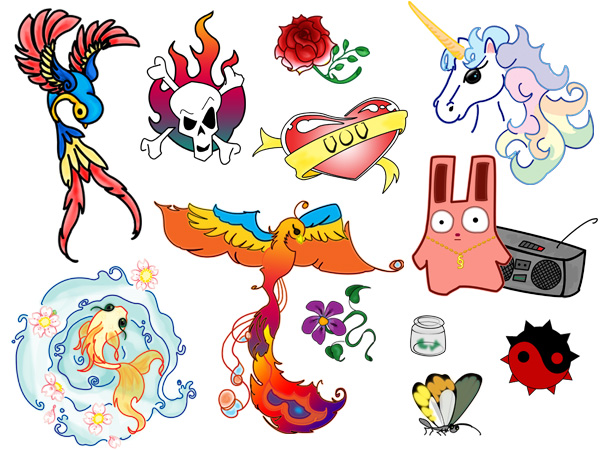 The female tattoos include a swallow on the left shoulder blade, a koi and cherry blossoms on the middle of the back, a rose on the left chest, a unicorn on the left belly, and a single option that includes two tattoos, a butterfly on the right hip and flower on the right ankle. You could say these are all pretty traditional tattoos, just in a more modern style.
The male tattoos include a skull with flames on the right chest, a yin yang symbol on the left bicep, a phoenix on the right shoulder blade, and a heart with the simlish for "Mom" on the right bicep. These are also pretty traditional tattoos.
While trying to decide what to do for the fifth male tattoo, I contemplated for quite awhile what tattoos are popular with guys. I realized that I see a lot of cartoon characters, especially Looney Toons. But, I hate to put anything so not Simmy into my game, so I tried to think of some cartoon that was more appropriate. Then I remembered freezer bunny! I remember seeing a guy with a rapping Bugs Bunny tattoo once, so I decided to design the Freestylin' Freezer Bunny! It's located on the left bicep.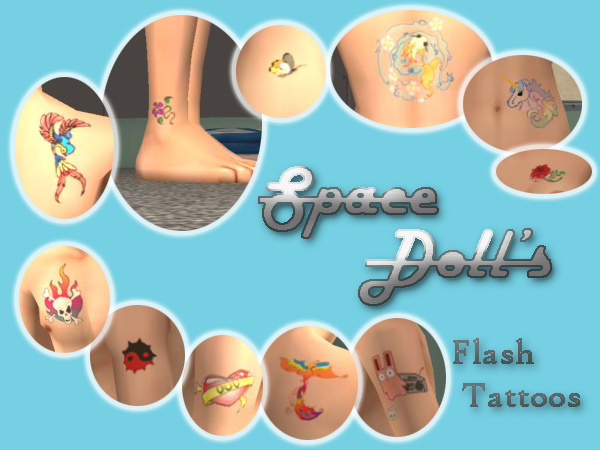 Now, remember, everyone, Morague is the true Genius behind these overlays, so go and thank her, and don't share her work around as if it was yours. As for my work, I don't mind at all what you do with it. Print it up, wrap it around you, and roll in the mud. I don't care. In fact, if you find any of my colors or details particularly obnoxious, pm me and I will send you the png files so you can edit them to your hearts content; just let me see the final results! I might want it in my game, too.
Oh, and a great big thanks to all the many many talented artists at Deviant Art. Browsing the designs there inspires me all the time. In fact, when looking for some inspiration for my swallow design, I found these beauties by Ezekielsdoom:
http://ezekielsdoom.deviantart.com/...lows-1-55701217
I just knew that no one, and certainly not me, could make anything prettier than that, so, as you can see, I was HEAVILY influenced by his beautiful work. I thanked him there, and I thank him here.
Now, on to my next project; body hair, maybe? And maybe I won't take sooo long this time!
Tags: #tattoo, #overlay, #permanent, #freezer bunny
You Likee?
My creation policy is whatever. Do as you please. Take it and mutilate it. Chew it up and spit it out. Just show me what you did, please. I like See Food! However, I have modified the work of others, and if you mess with them, I will cry!