>

Mods that replace game resources other than the script core.
[24/10] WA Vacation objects + Newspaper + Pizza "Buyable at Grocerystore" (Compatible with Patch 1.63-1.67)
MTS has all free content, all the time. Find out how YOU can help to keep it running.
Tell me how...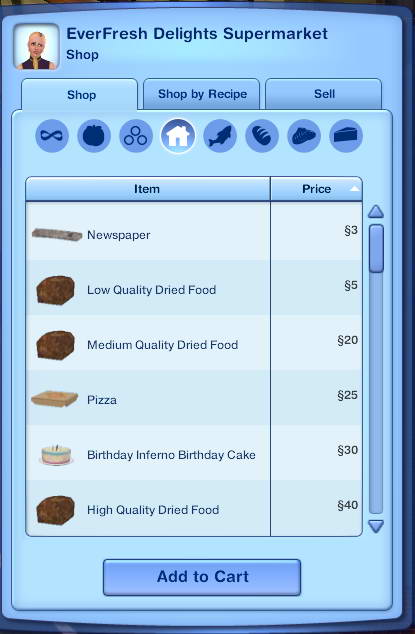 Created by anak_ponti View Downloads Home
Uploaded 27th Dec 2010 at 7:24 PM · Updated 13th Apr 2014 at 8:28 AM by anak_ponti : Added note about Easel
Update:

24-10-2013

Compatible with Patch 1.63.
=================================================================================================
Recently I noticed that at the grocerystore, the Home tab always shows only 4 items (birthday cake, ducky, bubble bath & candle). So I think, wouldn't it be great if it has more items for sale, like newspaper or pizza. So I began searching and found this Shopping XML file that control which items can be sold in Home tab at the grocery. At first I began with adding Newspaper and it worked (but the price is $0, so I also modified Newspaper OBJD file and changed the price to $3). Later I try to add WA exclusive vacation objects (these items usually found at the general store in vacation world) and this also works too. At last, I also add pizza (the price is changed to $25).
Here are the list of WA vacation objects that I include:
Dried Food (LQ, MQ, HQ)
Shower In A Can
Tent (Cheap & Expensive)
Camera (Cheap, Medium, Expensive)
Snake Charming Basket
Fireworks Big Boom
Incense Holder (China, Egypt, France)
teddy Bear Mummy
Scooter
Bicycle (Adult & Child)
Fortune Cookie Maker (Placed in Family Inventory)
Training Dummy (Placed in Family Inventory)
Board Breaker (Placed in Family Inventory)
Treasure Chest (China, Egypt, France) (Placed in Family Inventory)
Nectar Maker (Placed in Family Inventory)
Nectar Rack (Cheap & Expensive) (Placed in Family Inventory)
Death flower, money tree seed & omni seed (separate version)

Adds number of objects buyable in grocery store -->
BaseGame: Easel, Laptop & Picnic Basket
GEN EP4: Canes (caneBall, caneLlama), Data Disc Storage & Camera Video (Cheap, Expensive), Sleeping Bag
PET EP5: Hay Stack
SHT EP6: MP3Player
SSN EP8: Snowboard (Adult, Child), Umbrella (Rain Disruptor)
I tested this mod in Sunset Valley and other EA worlds as well, and so far no problem for me.
Install:
Just put the package into your Mods\Packages folder.
Note:
For this mod, I modifies the Shopping XML file, Newspaper OBJD & the FoodPizza OBJD file, so it will conflict with any mod that modifies these same files.
If your screen is different from mine (notice the additional tabs), that's because I also use the Cooking Overhaul mod.
In order to use the easel in inventory, you must use
this mod
(also from me). This mod enable you can drag the easel (empty or not empty) in or out the inventory. All this time I don't aware of this issue, because I always use all my mods. And also no one report this issue until someone did (Thanks to instantmagic who report this)
Thanks:
The author of S3PE.
Enjoy!
Type: