MTS has all free content, all the time. Find out how YOU can help to keep it running.
Tell me how...


Stranda
by
Volvenom
Posted 8th Jan 2014 at 4:38 PM - Updated 4th Jun 2015 at 9:00 PM by Volvenom
418
Thanks
Thanks
205
Favourited
Picked Upload! This is a picked upload! It showcases some of the best talent and creativity available on MTS and in the community.
Lofoten is a peninsula in Northern Norway with lots of little Islands. It's well known for it's beauty, fishing and wild life. It's above the arctic circle, closer to the north pole than most of us has ever been. Røst is an island in this landscape well known for it's bird mountain. I wanted to make the mountain and then have lots of flat land around it.
I have put a lot of effort into finding the right terrains and mixing them to make it look smooth with the steep terrain. One of my passions are lot building and interior design, I have used this project for a lot of testing. I like doing different kind of things though, but I still kept to my original theme of a realistic, but beautiful Røst Island with the architectural style of Scandinavian and Norwegian modern to traditional. The last one is new builds though, just in a traditional style. Some lots has a themed style, that would be realistic on a modern Island.
Main focal points in making this world.
I have been putting a lot of effort into some of my community lots, if you can see one cooherent style you're a really good one

Here is everything from a cave themed brown bar, a ultry modern white with lots of colored lights waterpark, a very funky chocolate live entertainment venue, and a Chinese themed entertainment venue. A world can be really complicated when it comes to gameplay though, so there may be lots of things I didn't understand along the way. This world should be top for entertainers with all 5 lot types from Showtime. Make the Theater a big show venue when needed, that will make it into a rabbithole though, not much fun in that

Another one of my main plans was wildlife. The mountain has walkable routes all the way to the top. You will have to look for the routes in the terrain though, I decided against pathways because I couldn't make them look right, and they ruined all routing. It was much easier without. The flat land also has some very nice strolling areas and lakes, beaches. You can swim almost everywhere as I can think of, unless there is a lot in the way. The backside of the mountain though may not be that easily accessible, but that was a part of my plan. You may swim there as well. Helleren is an area full of snakes and nasty things hopefully

In my country winter can be very nice with sports and making snowangel's or igloo's, these days it's mostly a big sad miss though. Stranda is very much made to look good in winter as well, and has wintersports at Skredkollen.
Tourisme was another focus of mine, so the socalled campsite in this world is much bigger than usually, with lots of tiny rooms, but still lots of fun. You will find the golf course there too. I have used it with Twallans mods several times and it was full of people, but I never travelled with the mod. The harbor in this world has a ferry, but it does not seem to travel off with your Sims, sorry about that. You will have to own it probably. This world has 3 harbors, 2 leisure types with lots of boats big and small, a few houseboats on both sides of the lighthouse and the ferry harbor. I've always been very much into functionality though, so items or buildings without any functions I have left out. The harbor for that reason doens't look like you imagine most harbors does, but with Island Paradise houseboat options I got some real functional cafe and boatable ferry instead. You may make it residential instead if you like the thought of being a ferryman.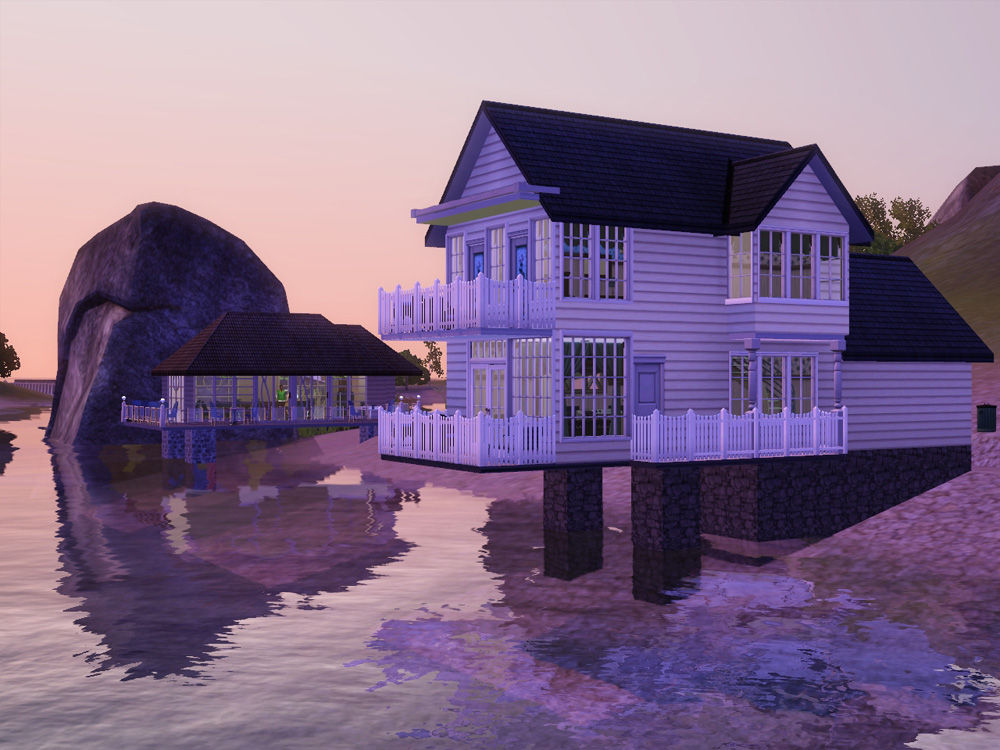 Areas in this world
The world has a beach behind the mountain where you can build a cave if you like. It's in the mountain side and you need to make a
backup
in case you disturb the ground too much. The top of the mountain has a martial arts center and a fusion restaurant Italian type, you can probably swim in the lake at the top of the waterfall, or fish. The middle basin of the big waterfall has a very wet tropical garden where you can fish as well. The bottom of the waterfall is also swimmable. The mountain side has a couple of houses hanging, a big and a small.
Below the mountain on the inside, Skredkollen, I have a waterpark for summer, a season's park without the festival, and the big traditional wooden Lodge. Just below it is the city center with the main park and festival site. It has another one of Luna's fabulous domed ceilings. I have lit it up inside with some colored lights. It doubles as a wedding venue and just lots of fun park. It's also a very good Resort in the city center, if you set everything on full, you earn lots of dollars.The main livingareas for this Island is along the coast. I have quite a few small houses, and some bigger one's to move into, a few with boat mooring.
The more affluent nabourhood is at Flatland with Flatlandsneset. It's a nature reserve kind of place with a great beach, but it's also very much the focal point for the world's nightlife. From the Skogen lot on the little hilltop you can hear the entertainment just enough to have fun, but not being disturb. The Arts and Concrete house on the other side is just in the middle of all the partylife and probably can't give you much sleep, but that's not what it's furnished for either. Flatland has a great leisure harbor with boats you can buy and a modern houseboat with a pool at the top. Not quite the place for a naked swim though, as you may be seen.
On a peninsula between Holsøyan lakes and strolling, area and the Ramsvika stadium and beach is the Havly community. It has some houses of different size and style, and Aquarium with PetShop. I don't have the Pet Shop from the store though, but the bar still serves you pizza and coke. Here is also the Chocolate entertainment venue with bar and bistro. If you like playing instruments this might be a good target.
The Saubukta and Langøra area has houses as well, and close to Flatland I bet it's a nice place for collecting butterflies in the morning, then you can go diving, and in the evening go out for more fun at Flatland. Adventure gaming isn't something I enjoy making though, so the dive lot is the only one and I left one chest for you there. I got the impression it will reproduce itself each time you open it. I did leave some sea lots some places for you as well if you like to expand the dive lot experience.
The Lighthouse ins't easily accessible for normal people considering it's location close to the criminal hideout, and the Storfallet graveyard and foggy marschland on the other, but there is a route up there, bring your own chair. The harbor area on the other side of the criminal hideout is a great location if you like the hassle and buzzle of the fisherman and the ferry harbor. Here is the cheap hostel, and the junkyard along with a very nice, but down to earth Fishingmarket, now bar with elixirshop. This is also where the diner and grocery store is. The only NightLife entertainment venue with a small band stage is here as well, along with the firestation. The criminal bar has a blackjack table if you can be bothered to download it.
Technical focal point
Expansions gameplay should make this world full of fun, and as mentioned before functionality always is a key for me. I have tried putting down all the spawners I can think of. I even had a vision of a Kraken at some point. Island Paradise is the last one of the exp needed for this world, I have tried it without Pets and some stuff packs though and it did install without the Equestrian Center, but with ITF and Uni. That way the farm area is likely to have some reduced gameplay. One of my testers didn't have Ambitions though, and that made a serious problem for him.
There is two different water passage ways, one from the lighthouse around the Flatland area to Helleren and one from the lighthouse to the cliff in the water by the waterfall. I have left some port lots on both sides. You have to carry your boat across, but that shouldn't be a problem

To the mountain I have a subway, only the one station from the city center consignment store lot.
I am a lot builder at heart and this project came out of the need for a world to show them off. For that reason some of the houses are very complicated, but frankly most are very simple. However the game does not handle steep slopes as well as I hoped, so some of my dreams had to go. Most of the flat land is all routable, but putting down a lot may make the game route in a way that does not work. On the slopes on the other hand replacing a lot even the same size as the original might not be possible. You can just delete the house and keep the lot.
Some of the flat land is very flat, but most has some sort of elevation to make it possible to run around. The colors, sun and light here is from basegame. I tried to make some default ini files, but you can download mods now to make the athmosphere more tropical if that's your love, or perhaps you like it Alien instead? I have tested
Brntwaffles
and changing between them worked very nice. There is also a weather mod here on mts.
Stranda V2 Finished Nature
by
Volvenom
, on Flickr
The road to the mountain took a lot of work and is dug out from the surrounding countryside as you can see. There is a few pathways painted lightly in the terrain from the road down to the town.
I have made so many pictures from this world and uploaded on Flickr, but it's a development as well. The set on Flickr is made for the finished version and doesn't include lots of building and testing pictures:
http://www.flickr.com/photos/795949...57637732206566/
Making this world I also discovered the art of making characters. Above is Torstein Digre. He's from the very influential Digre family and the house is his own Skogen house.
The always visible shiny metal ceiling from Luna. It's a big focal point on the night sky, take a trip to Garman park if you like to see it up close. The stage's shows are just about visible below it.
Technical Information
Download versions
Populated: Download the "pop" version if this is what you want.
Unpopulated: This is the default Stranda world
DIY: If you just want the map and build houses yourself download the DIYcl file. Please read the notes about slope tears and world objects. This file does not need any stuff packs, only the expansions listed on the file downloads page.
If you don't know how to open a multipart download with rar, I have found a tutorial for you. It looks short and to the point:
http://www.youtube.com/watch?v=y8CQur8JSI0
File updates:
3 april 2014: Replaced corrupted pop version file. Thanks for letting me know.
15 may 2014: If you still can't make the pop file work, here is the hole file on mediafire:
http://www.mediafire.com/download/m...orld_V2_pop.zip
01. dec 2014: Uploaded recommended items for the world from Lunasimslulamai
02. june 2015: Customsims seems to be gone. I have uploaded the one townhall rug from Jynx needed for this world.
LOTS AND HOUSES
| Type | Amount |
| --- | --- |
| Residential | 43 residential houses built |
| Community | 43 community |
| Rabbitholes | 16 rabbitholes |
Empty Lots:
Built Lots:
REQUIREMENTS for Houses:
This world does NOT contain sims3pack, you HAVE to get what you want yourself. If you don't want to download anything you will still have a great world to play in, just be prepared for some fixing yourself. For the population you NEED the skins or the faces will be black.
POPULATION
I have given most of the residents some starter level in their career and some skills. I have also included some rewards and moodlets. On top of that I have made lots of townies and NPC's. The last group are made for the jobs they are suppose to fill. The townies do whatever job the game gives them. Altogether it ends up on 209 Sims.
The Rams family
owns the modern spectacular Cliffhouse. They have been running this place in constant fighting for power with the Digre family for ages. The Rams have chosen a modern path with modern houses, and going into roles like business and art. They have the hole world as their playground these days. Perhaps they will let the Digre family run this little island from now?
The Digre family
still lives on the same site as always, but their old house burnt down in the same fire as everyone elses house. They built a modern house in traditional materials on the same site. It's fairly basic in decoration, because the old father wouldn't have much changes. They can now take the more traditional jobs in the community almost without rivals. Traditional jobs like medical, political, law and science.
The Amir Ibn Salim
: He moved here to escape prosecution in his home country. He took 4 wifes with him and naturally he can't keep them all as wifes. Who will he keep, and what will the others do? The game will ask if you would like to separate them, you can choose to say no on that. Sometimes they stay together, sometimes they don't.
The Anker family
runs the big farm. The Anker brothers are really mean, but at least the oldest boy married a good farm girl and raised a proper farming family, unlike the Røstland boy. The youngest brother still lives on the farm when he's home.
The Røstland family
runs the little farm on the island. He married a useless city girl, what useful can she do with her life. Perhaps with so many kids she doesn't need to.
The Helleren family
is the poor family keeping mostly to themselves struggling to make ends meet. Perhaps the father can slip them a few coins without his wife noticing?
The Hope family
consists of a mother and 2 adult kids and a boy. They live at a mining lot made by LMFAO, it has a digger and with your help they may get rich, or perhaps the Rams at the Cliffhouse kick them out?
Liljedal
They didn't really have that great a start in life and the brother is a bit of a loner. Johanne on the other hand has got some very influential friends.
The Flood family
has a very nice big family house at Flatland. The father Kåre works as a firefighter, and together with Mathilde he's looking forward to a long life full of kids. His 5 kids is equally well established in the local more affluent part of town, but is this the way it will always be?
REQUIREMENTS for Sims:
For the Sims you NEED the skins, or have tons of black sims. All downloads are package files. If you do not download the other makeup you will have 200 Sims with default makeup. If you do not download the sliders, you will have 200 default EA puddingfaces in your game. You won't need to wait for the game to inhabit the world though, and you will still have a startingpoint and the storylines.
Makeup:
Skin:
These are NEEDED:
Specialeffects
:
Sliders:
That was all I hope. Required detail pics of 5 houses, 5 community and 5 sims will be in the comment section. I have tried to make it easy to read by working on it on my blog. You can check out more info there if you like:
www.volvenomtullarask.com
This is a multi-part download:

This is a multipart download, make sure you get all the files needed for the version you selected.
Download files
Filename
Size
Downloads
Date
Jynx_RugCityHall-PetsFix.zip


Size: 18.8 KB · Downloads: 2,000 · 2nd Jun 2015

Luna.zip |

Items for the world made by Lunasimslulamai


Size: 16.20 MB · Downloads: 2,414 · 1st Dec 2014

Stranda World V2 pop.part3.rar


Size: 36.14 MB · Downloads: 3,485 · 3rd Apr 2014

Stranda World V2 pop.part2.rar


Size: 40.00 MB · Downloads: 3,533 · 3rd Apr 2014

Stranda World V2 pop.part1.rar


Size: 40.00 MB · Downloads: 3,588 · 3rd Apr 2014

Stranda World DIYcl_V2.part2.rar


Size: 23.39 MB · Downloads: 2,459 · 8th Jan 2014

Stranda World DIYcl_V2.part1.rar


Size: 40.00 MB · Downloads: 2,802 · 8th Jan 2014

Stranda World V2.part3.rar


Size: 10.08 MB · Downloads: 3,666 · 8th Jan 2014

Stranda World V2.part2.rar


Size: 40.00 MB · Downloads: 3,644 · 8th Jan 2014

Stranda World V2.part1.rar


Size: 40.00 MB · Downloads: 4,089 · 8th Jan 2014
Key: - File was updated after upload was posted
Tip: You can click the magnifying glass to see the archive contents
Need help with downloading or installing content? Click here!
76 Comments / Replies (
Who?
)
Users who thanked this download also thanked: