12 Basic/Generic Friendship Cards for MogHughson's Postal System
MTS has all free content, all the time. Find out how YOU can help to keep it running.
Tell me how...
1,018

Downloads
100

Thanks Thanks
11

Favourited
8,750

Views

Uploaded: 11th Feb 2017 at 11:54 PM
Updated: 13th Feb 2017 at 9:21 PM
Amidst the few Valentines Day projects I have been working on,
Goldenbtrfly
and I have been working on some really awesome new sets of cards for
MogHughson's Postal System
where previous card choices have been lacking. What originally started out as a request from Goldenbtrfly for a larger variety of Friendship cards, turned into a partnership as we both worked on different aspects of this
twelve card project
. While she worked on some of the awesome catchy phrases and heartfelt messages, I did more of the technical and design work. I hope all of you enjoy this as much as I have enjoyed working with Goldenbtrfly on this new set of Friendship Cards for MogHughson's Postal System. Because as Golden puts it, "friends are the butter on the bread of life."

Mog's Postal System
For those of you who are unfamiliar with
MogHughson's Postal System,
it is a mod that allows your Sims to write, send, and receive cards via their mailbox. It is by far my favorite mod because not only can my Sims send cards, but once received, I can display them in my house! And since every household has a mailbox, it is the perfect add-on to your Sims game. The cards I have made here (and in the past) are cards that work with this particular mod.
(MogHughson's original upload post has plenty more information about this if you are curious)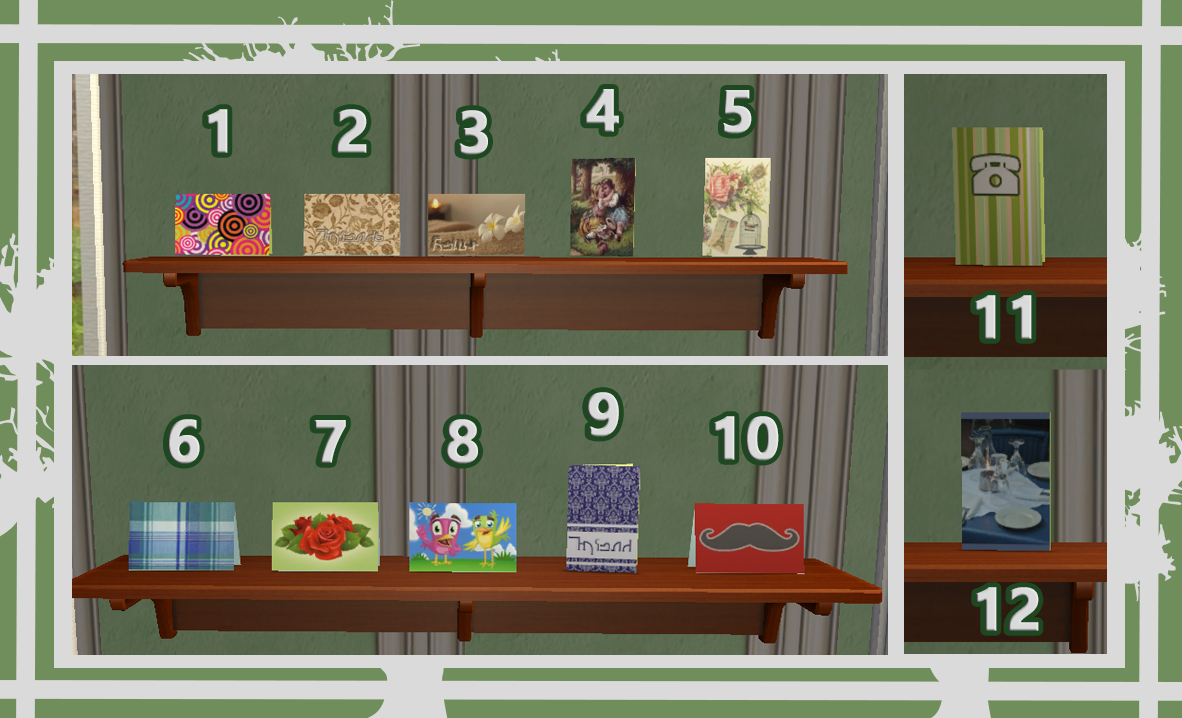 All 12 of these cards fall under the "Friendship" category upon purchasing.

Card 1: Is entitled, " The Way You Are," and reads, " Thank you for being exactly the way you are (even when you get on my nerves)."

Card 2: Is entitled, "Family you choose," and reads, " Friends are the Family you choose."

Card 3: Is entitled, " Take a Break," and reads, "Let's take a break and hang out this week!"

Card 4: Is entitled, "A Virtual Hug" and reads, "I am sending you a virtual hug in this card."

Card 5: Is entitled, "Special Place" and reads, "You hold a special place in my heart."

Card 6: Is entitled, "Drop me a Line" and reads, " Hi! Hello! How are you doing? Drop me a line soon, OK?"

Card 7: Is entitled, "Amazing Friend" and reads, " You are an amazing friend."

Card 8: Is entitled, "BFFs" and reads, " Best Friends Forever!"

Card 9: Is entitled, "Smile to my Face" and reads, "Having a friend like you really brings a smile to my face. "

Card 10: Is entitled, "Friends in Public" and reads, "Best friends know how crazy you can be and still choose to be seen with you in public."

Card 11: Is entitled, "Chat Again Soon" and reads, "I am so happy we met, let's chat again soon!"

Card 12: Is entitled, "Lunch?" and reads, "Let's do lunch sometime!"


Final Thoughts...
As I said before, this originally started out as a request but ended up as a really neat collaboration. If you are looking for more cards to go with MogHughson's mod, fear not! Goldenbtrfly and I are planning to do two more sets together. All feedback/suggestions/comments are welcome!

Curious about my request policy or what I am working on next? I keep a brief and updated segment dedicated to this on my profile page.
Additional Credits:
Custom Content Featured in Photos: I used Michelle's Green Recolor of
"Anytime Candles in Swirls,"
but other than that everything else was from Kate at parsimonious, the
"Winterwood" Welsh Dresser,
"Kottage Kitsche" Jar with Lid,
"Sultana" Zebra Rug,
and
"Statement" Artwork.
Design: A big thanks to all of the following websites for their awesome public domain photos featured on my work:
Multicolored swirls,
antique floral pattern
,
relaxing sand,
antique children hugging,
vintage floral Eiffel tower backing,
blue plaid,
red roses,
happy sky,
green bird,
pink bird,
blue geometric pattern,
mustache,
green stripes,
and
table setting.
Technical: And finally, a huge thanks to SimPE, Adobe Photoshop Elements 13, Nvidia DDS Utilities (SimPE help), FRAPS (screenshot help), Mod The Sims, MogHughson for her lovely postal system, and my partner in crime, Goldenbtrfly, for not only putting up with obsessive use with smilies, but for originally requesting and helping me out on this project!
I could not have done this without all of their hard work before me!


Packs Needed

For a full list of packs with names, see the
Packs Needed
popup.
Other Information
Style
:
– Contemporary
– Modern
Room
:
– Kitchen
– Living: Living Room
– Dining: Dining Room
– Bedroom
– Nursery
– Study: Study/Office
Maxis Flags
:
– Not Applicable
Tags
#friendship, #friend, #relative, #neighbor, #family, #happy, #love, #card, #cards, #postal, #system, #post, #mail, #mailbox, #stamp, #friendshipcard, #MogHughson, #InLovewithRed, #Goldenbtrfly
Packs Needed
| | Base Game |
| --- | --- |
| | Sims 2 |
| | Expansion Pack |
| --- | --- |
| | Nightlife |
About Me
Policy: Feel free to use whatever recolors of mine you want on MTS. But if you use my work, I'd like credit for it listed in the description etc. Also, if you do end up using my work for something and posting it, let me know :) I'd like to be aware of it and see what kinds of cool things you've created with my work :) On a further note, feel free to use my uploads to go inside of your pictures, uploads, or things like that. But once again, please let me know that you've done so. Thank you so much!

What am I working on now? I've been out of creating practice the last few years but am looking to get back into it. Who knows? [Updated as of 11/27/22]

Love,
Red