Buy Mode

>

>

Creativity, knowledge, exercise, and recreation.
12 New "Thinking of You" Cards to go with MogHughson's Postal System!
MTS has all free content, all the time. Find out how YOU can help to keep it running.
Tell me how...
731

Downloads
60

Thanks Thanks
7

Favourited
5,654

Views

Uploaded: 8th Feb 2018 at 11:02 PM
As it is the month of love, I decided to make a set of "Thinking of You" cards for
MogHughson's Postal System.
Why does Valentines have to just be about romantic love when you can send a thoughtful card to any sim you care about?

The "Thinking of You" category has not been touched in the game yet (except for one card in my
summer-themed card set
from awhile back) so I offer these in hopes to add more variety in your game. They are similar to the Friendship cards...but I think these have a bit more meaning than just a 'hey, how are ya?' Some of the cards are more specific than others, so I suggest looking at the spoiler to read through them all.
There are 12 cards in total, all with the same blue envelope seen in photos. Please enjoy!
For those of you who are unfamiliar with
MogHughson's Postal System,
it is a mod that allows your Sims to write, send, and receive cards via their mailbox. It is by far my favorite mod because not only can my Sims send cards, but once received, I can display them in my house! And since every household has a mailbox, it is the perfect add-on to your Sims game. (Trust me...you'll want this mod!) The cards I have made here (and in the past) are cards that work with this particular mod.
MogHughson's original upload post has plenty more information about this if you are curious.
Check it out!!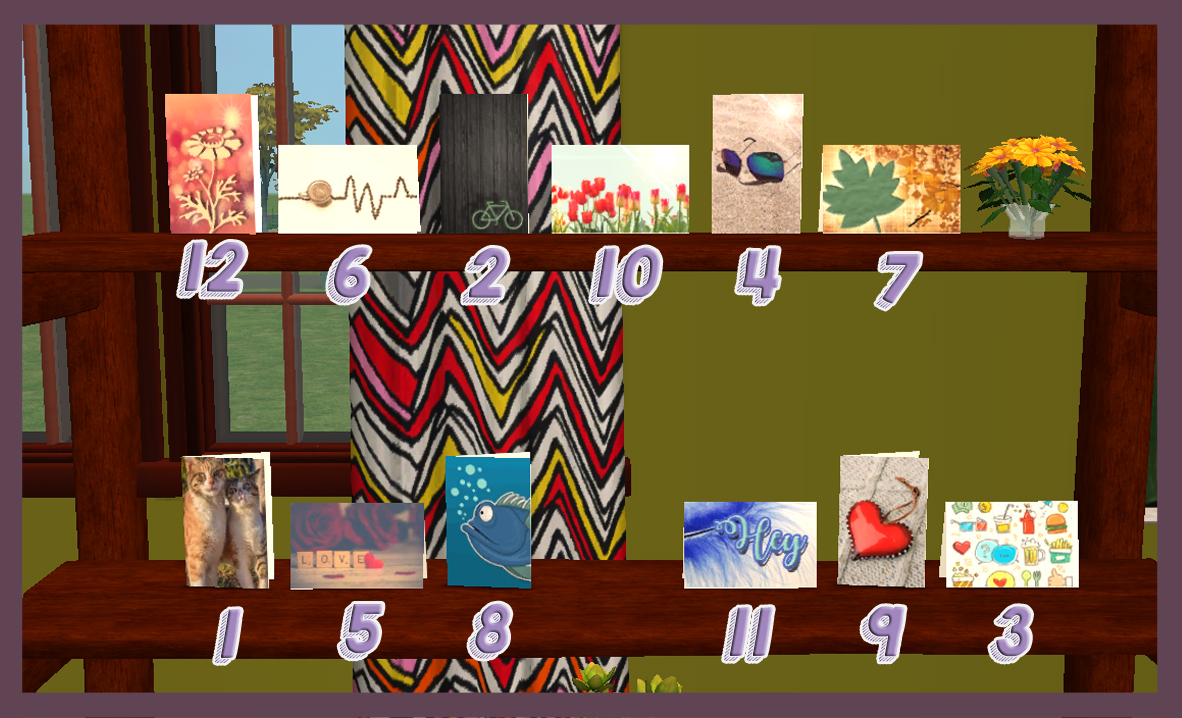 Sorry about the confusing number order...I didn't even think about it when I took the picture!

Card 1: Reads "Hey pal! Just a little note to let you know I am thinking of you! Let's get together sometime soon."
Card 2: Reads "Hey, haven't heard from you in awhile. Hope all is well!"
Card 3: Reads "I haven't seen you in class for awhile. We all miss you!"
Card 4: Reads "I was just thinking I'd head over to the beach soon, you in?"
Card 5: Reads "Always know I'm thinking of you while we are apart."
Card 6: Reads "I was just thinking we should get some coffee sometime, what do you think?"
Card 7: Reads "Just a little note to say I am thinking of you!"
Card 8: Reads "I was just thinking we should go fishing soon, what do you say?"
Card 9: Reads "Just a little note to let you know how much you mean to me."
Card 10: Reads "Thinking of you today!"
Card 11: Reads "Hey friend! Thinking of you today. I hope everything is well with you."
Card 12: Reads "A little note to cheer you up! Hope things get better."



Curious about what I am working on next? I keep a brief and updated segment dedicated to this on my profile page.
Additional Credits:
Design:
Love Letter Picture:
by Nietjuh at pixabay.com
Blue Feather Background:
by ewa69 at pixabay.com
Tulip Clipart:
by KreativeHexenkueche at pixabay.com
Heart/Sweater Background:
by pasja1000 at pixabay.com
Aviators in Sand Photo:
by webandi at pixabay.com
Red Sparkle Background:
by monicore at pixabay.com
Fish in Water Photo:
by ROverhate at pixabay.com
Leaves and Parchment Paper:
by geralt at pixabay.com
Heartbeat Coffee Photo:
by Myriams-Fotos at pixabay.com
Fun Sketchbook Cliparts:
by pencilparker at pixabay.com
Black Wood:
by dannysantos at pixabay.com
Cat Friends:
by dimitrisvetsikas1969 at pixabay.com
Technical:
And finally, a huge thanks to
SimPE
and its creators, Adobe Photoshop Elements 13, Nvidia DDS Utilities (SimPE help), FRAPS (screenshots), pixabay.com for the designs, Mod The Sims, and the awesome MogHughson for her lovely postal system. It changed the way I play Sims.
I could never have done this with any of their hard work before me! Thank you all!

About Me
Policy: Feel free to use whatever recolors of mine you want on MTS. But if you use my work, I'd like credit for it listed in the description etc. Also, if you do end up using my work for something and posting it, let me know :) I'd like to be aware of it and see what kinds of cool things you've created with my work :) On a further note, feel free to use my uploads to go inside of your pictures, uploads, or things like that. But once again, please let me know that you've done so. Thank you so much!

What am I working on now? I've been out of creating practice the last few years but am looking to get back into it. Who knows? [Updated as of 11/27/22]

Love,
Red