Vintage shirts for males
10,928

Downloads
293

Thanks Thanks
23

Favourited
16,911

Views
Uploaded: 21st Apr 2009 at 5:50 PM
Long ago I started a pioneer neighborhood and made a bunch of clothing, much of which was not very good. However the shirts for adults, teens and boys turned out pretty well. They all use Maxis meshes, the long sleeve shirt for men and boys and the sweater for teens. Some of the shirts are very simple recolors using the Maxis patterns, but most are from patterns I found on the web. Friends on a forum I belong to asked that I share them so here they are. These shirts were designed for pioneers during the latter half of the 1800s but are still suitable as casual wear for much of the 20th century and even today. Men's styles don't change as quickly or as drastically as women's.
The pants in all the pics are by
CatofEvilGenius
. These are her Smooks Brothers pants and I find them just what I need for my vintage neighborhood.
There are 14 men's shirts, also available for young adults, which are divided into two sets. Set 1 includes four checks, one stripe, one plain solid green and one textured denim. Set 2 are all plaids. The shirts are numbered in the order that I made them with the file names matching the text tags for ease of organization. All file names include a descriptor. Pics are numbered to help you match to the files. Some of the shirts are very close in color, especially the checks and you may not want them all. Just discard those you don't want.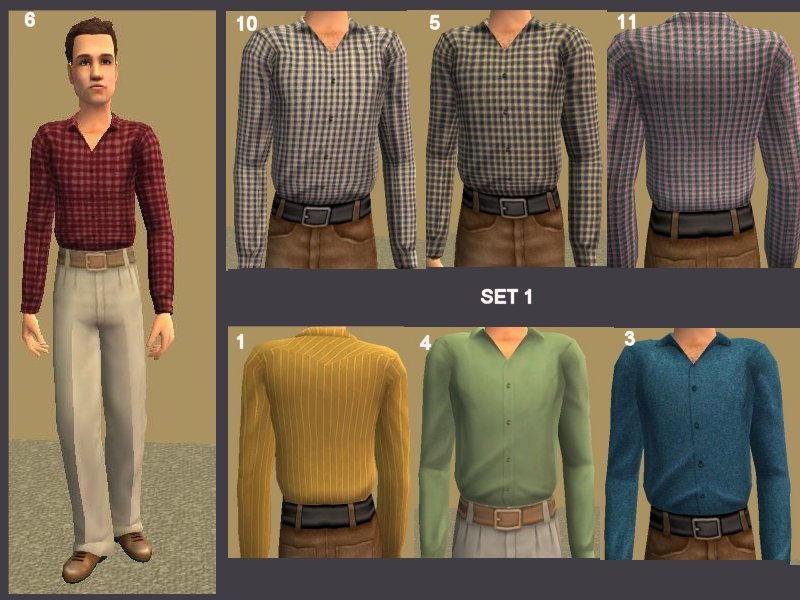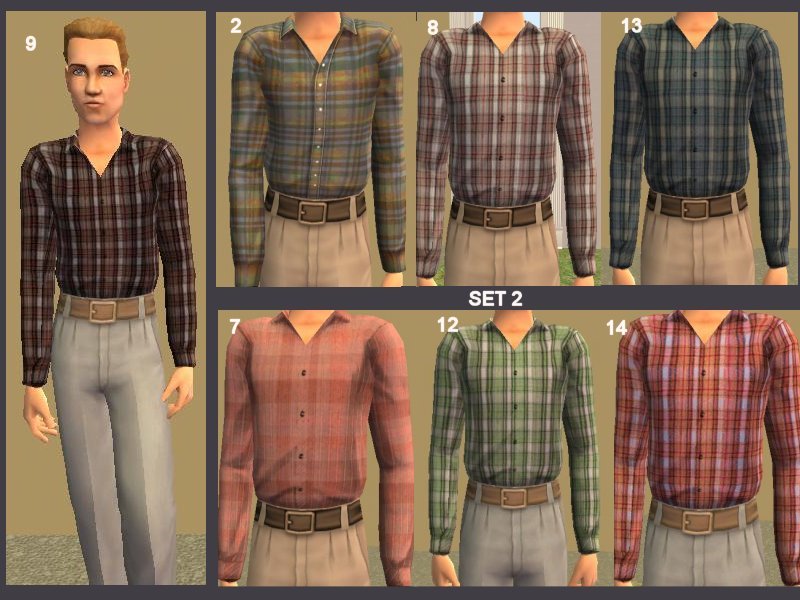 There are 15 teen shirts in two sets. Most of the shirts in these sets are collarless, having a simple banded neckline. This type of neckline goes back as far as the middle ages and is still used today. A simple straight band is sewn onto the neck opening. This is fastened snugly around the neck when the shirt is worn.
three of the shirts have the ordinary Oxford collar, worn open over a hi-necked t-shirt. Set 1 contains 7 solid colors. These shirts have a slight luster. They might be silk or polished cotton so could be either dressy or casual, depending on the era you use them in. Set 2 has one check, one plaid, one very Victorian paisley and two small-figured calicos, as well as the three striped Oxford shirts. See thumbnails below for a pic of set 1.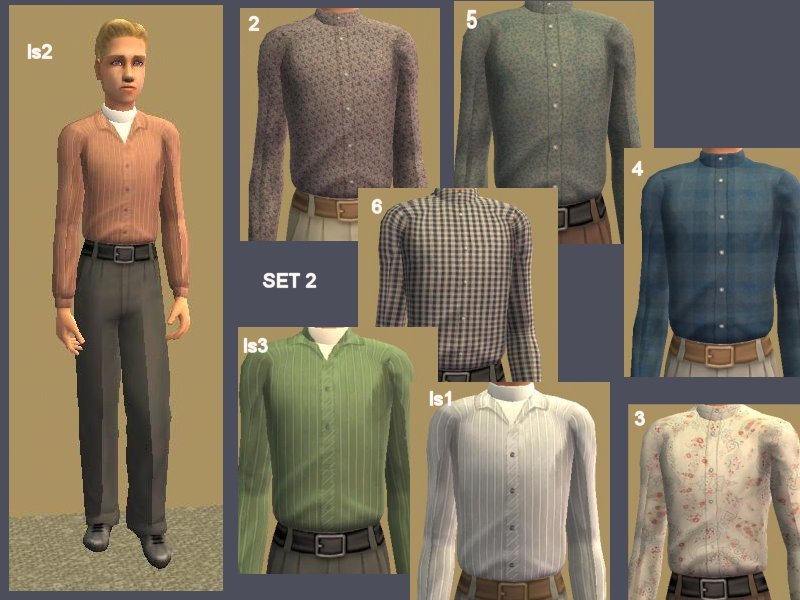 Twelve boys' shirts are also in two sets. Set 2 is all plaids, set 1 everything else. A note on shirt 1. This is a very tiny check in a pale green. It shows up as white or cream in thumbnails and is not much darker in this pic. You have to get very close to it in game to see the green but otherwise it just appears to have a slight texture. At least that's the way my videocard renders it. I called it Willow since that was the name of the fabric swatch I took it from. See below for pic of set 2.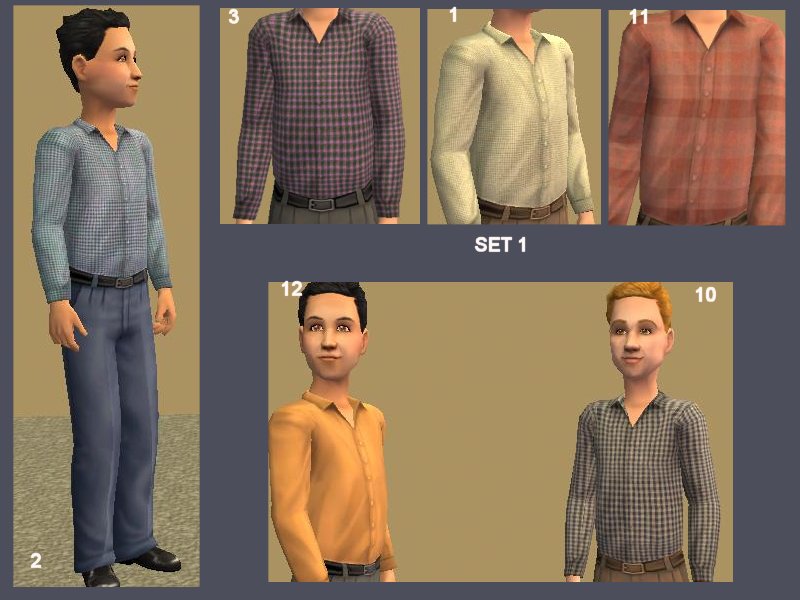 Additional Credits:
Hair is from FantasySims (closed site) and from
Genensims
.
Eyes are by
echo66
, and
Elstone Designs
, which is currently closed for maintenance. I believe Elstone can be found at N99.
And thanks to Ruby, Aeronwy, Oydie, Kethwyn and Jenba for encouraging me to submit these.
Packs Needed
None, this is Sims 2 base game compatible!
Other Information
Age
:
– Child
– Teen
– Young Adult
– Adult
Clothing Type
:
– Everyday
Clothing Style
:
– No Style : None of the below styles
– Historial : Historically accurate
Other Type
:
– Not Applicable
Maxis Flags
:
– Not Applicable