Poses: You will believe a Sim can FLY!!!
MTS has all free content, all the time. Donate to help keep it running.
11,910

Downloads
1,531

Thanks Thanks
131

Favourited
140,137

Views
Picked Upload! This is a picked upload! It showcases some of the best talent and creativity available on MTS and in the community.

Uploaded: 21st May 2009 at 10:35 AM
Updated: 25th Nov 2010 at 10:24 PM by whiterider
----------------------------------------------------------------
IMPORTANT NOTE: It has come to my attention that the Pets EP may be required for this to work in your game. I am currently working on making this base game required only.
----------------------------------------------------------------
Heya Peeps!
This is for the Picture Takers and Story/Movie Makers out there. Here's my first Game Mod. It's SynapticSim's Flying Pose Object. It contains 15 different poses. Please sit back and enjoy the pictures: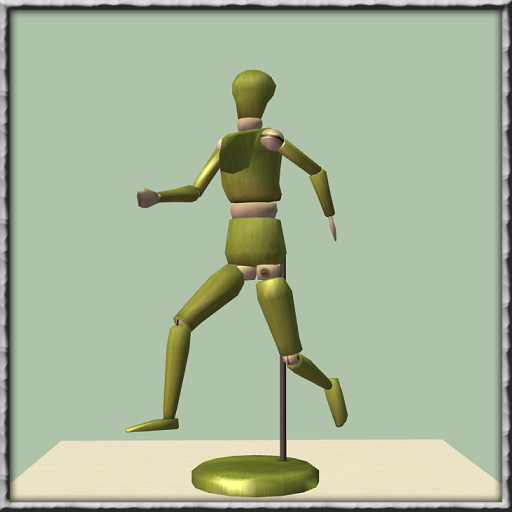 SynapticSim's Flying Pose Object
The Pose Menu Strings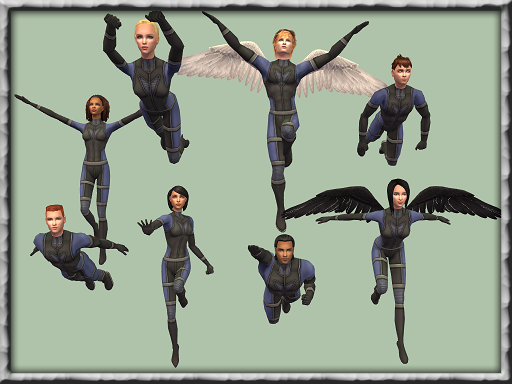 Group Picture Featuring 8 of the Poses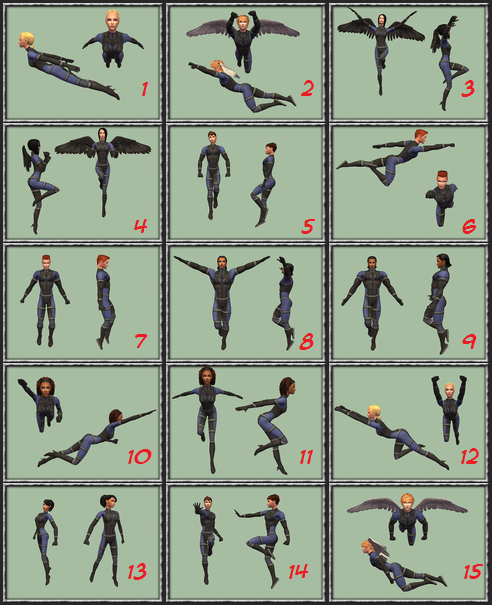 1 - Fly Fast Arms Back
Click For Larger View
2 - Fly Fast Fists Forward
Click For Larger View
3 - Fly Float Arms Up and Out
Click For Larger View
4 - Fly Float Fists Up
Click For Larger View
5 - Fly Float Menacing
Click For Larger View
6 - Fly Fast One Arm Forward
Click For Larger View
7 - Fly Float Fists
Click For Larger View
8 - Fly Float Arms Up
Click For Larger View
9 - Fly Float Arms Down
Click For Larger View
10 - Fly Up Up and Away
Click For Larger View
11 - Fly Land Graceful
Click For Larger View
12 - Fly Fast Arms Front
Click For Larger View
13 - Fly Float Menacing 2
Click For Larger View
14 - Fly Float Stop Hand
Click For Larger View
15 - Fly Fast Fists Down
Click For Larger View
Information:
This object is cloned from the Maxis Object "The Measure of a Sim Wooden Model" which is a base game object, however, when I created the pose objects, I inadvertently pulled Pet's animations, so the Pets EP is required for now.
What is the difference between this "Pose Object" and the "Pose Boxes" that are out there?
I love pose boxes, however, one thing that drives me crazy is the requirement to go back in and stop the animation or using the Force End or Stop All. The Pose Object will queue the animation between 3 and 5 seconds, however most are 5 seconds. This is ample time to hit the "pause" button.
Who does this work for?
It works for Teens through Elders, and both genders of'course.
Where is it located in the game?
You will find this in Buy Mode under the General/Miscellaneous Category. It costs 1 simolean.
Recommendations:
I recommend using the awesome
A Whole New Dimension: OMSP's
by SilentLucidity. This will allow you to place your sims at varying heights to get the most out of the pose. A few of the poses aren't located off the ground quite far enough so their toes dip into the ground a bit. Use one of the OMSP's at the above link to overcome that obstacle.
I highly recommend using the
Freezer Clock
by treeag. This allows you to freeze only one sim in a certain pose/animation while the rest of the sims on the lot go about their business as usual.
I wouldn't recommend uploading this with your lots because some people are opposed to hacks/mods. Should you upload it however, that is fine with me, but DO NOT under any circumstance upload this to The Sims 2 Exchange or any Paysite. If you upload it to any other site, please be sure to provide a link back to this thread or to
SynapticSim's Lair
.
No credit is required if you use this in pictures, stories, or movies.
Please have a blast with this!
~ Syn
Additional Credits:
The Wings Pictured are my own Wings located here:
http://www.modthesims2.com/d/320074
and
http://www.modthesims2.com/d/324681
Packs Needed


For a full list of packs with names, see the Packs Needed popup.
Packs Needed
| | Base Game |
| --- | --- |
| | Sims 2 |
| | Expansion Pack |
| --- | --- |
| | Pets |
SynapticSim's Policy
If you include/use my meshes with your uploads, please add a link to my site SynapticSim's Lair:

https://synapticsimslair.jcink.net/

Should you use a mesh such as the Lean Bodybuilder that was created based off of Marvine/BeosBoxBoy's work then credit should be listed in this order, Marvine/BeosBoxBoy/SynapticSim

Please do not use my textures for non-sim related projects. If you do use my textures to create something new, please credit me with a link to my site.

I also love to see what people do with my stuff so if you can't contact me by PM on my site then you can send an email to synapse928@hotmail.com, just be sure to note that it is sims related in the subject ... I'm paranoid about emails from people I don't know, lol.

Please do not upload anything I make to the Sims Exchange.

This policy goes into effect immediately. No parts of my (SynapticSim's) creations can be used to create Custom Content for The Sims 3 or The Sims 4. This includes the templates that I have released as well as any of my other creations dating all the way back to The Sims 2 Exchange up until my most recent creations and any future creations. I don't even know if it's possible to use Sims 2 custom textures with Sims 3 or 4 custom content, but if it is, please DO NOT use any part of my creations for public use and/or downloading. This includes costumes, skintones, hair, eyes, makeup, face masks, meshes, accessories, objects, mods, hacks, and anything else made by me for use with or in The Sims 2. Please respect my wishes where this subject is concerned. Should I discover my content being used in ANY part on The Sims 3 or Sims 4 creations uploaded to another site for people to download, the admin of that site will be contacted and asked for the content to be removed. Should you also be a member of SynapticSim's Lair, then you will be permanently IP banned without warning.