>

The eyes are the windows to your soul. Get the eyes you think your Sim deserves.
-Mix and Match Defaults!- 15 'Keen Eye' Binned and Townie Friendly Eyes! Set#2
MTS has all free content, all the time. Find out how YOU can help to keep it running.
Tell me how...

Created by Phaenoh View Policy / About Me View Downloads Home Patreon
Uploaded 25th Oct 2007 at 6:47 AM · Updated 1st Jan 2012 at 8:35 PM by Phaenoh
I originally started this set for my
Old Hollywood contest entry
, and then after a great response from my
first set
, I decided to do another (and later a
third set
!). My two biggest problems with Maxis eyes were that they were WAY too big in proportion to the rest of the eye and head, and secondly, there was NO shading around the sides to indicate that the eye was in fact, round.
My eye sets address both those problems. The iris is smaller, and there is shading. I also didn't like how blurry the eyes were, real eyes are VERY clear and intricate. On that note, I don't really want realistic eyes, so I didn't overdo it there. Instead, I went overboard with the colors and your new default options! All these eyes were made using the Maxis ones as a base, shrinking, and color changing them, so they still have that good-old Maxis feel to them.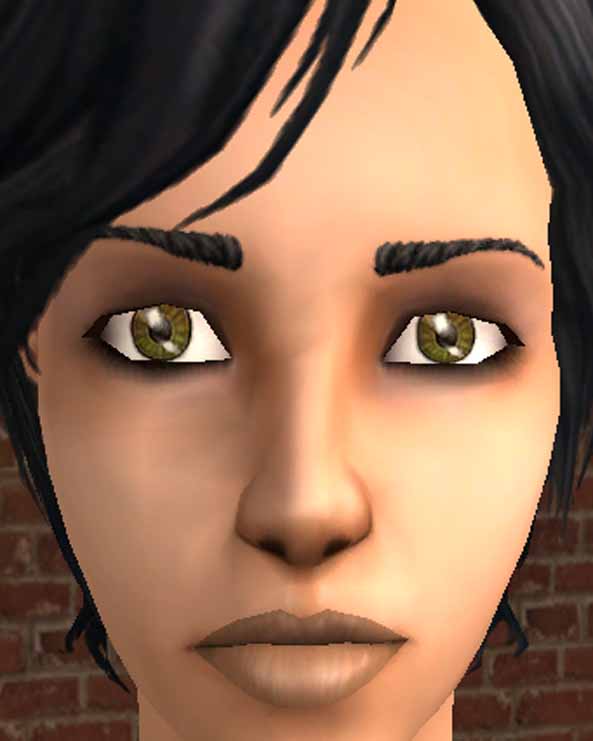 15 colors in all! (See picture, I don't feel like naming them all right now). In addition I have made up a pack of Default Eyes, though, mine are different from most default eyes out there. With mine, you can pick each color individually! No more liking 3 colors but detesting the other 2! Some of the colors I'm offering are even available as two different default colors (I made some brown grays and some gray blues (purple!), those are available for both their closest matches). You will need to pick your five favorite (or you could just replace some of them, if you happen to be partial to some of the Maxis ones, or have other separated eye defaults already (like
Set#1
, lots of pretty blues there, or
Set#3
full of browns, grays, hazels, and fantasy colors). Each Default is labeled first with the color it will replace, then with my color's name. Ex. Defaults-GreenEyes-PhaenohKeenEye-Sage. This file will replace the Maxis Green eyes with my Sage ones.
The picture below lists the name of each color and next to the name are the Maxis swatches that color could be the new default for. (Be careful, these colors are slightly off since they were taken in Bodyshop, see the other pictures for the EXACT shades) See the first one, 'Mulberry' has the Maxis gray swatch, meaning it could be your next Default Gray if you like. Do make sure you don't just blindly drag and drop the default package into your downloads folder, they clash with each other as there are many options for each color. Please also note, the actual CAS and Bodyshop Swatch is not pictured, I made custom ones for each one so you see what color it is and that its part of this set (and if that doesn't help you recognize the color quick enough, the tool tip lists the name as well).
I felt like I kinda cheated you guys out of your greens last time, so this time there are A TON of green colors. I always like the pretty green color Maxis gave us, but I kinda felt like I was turning by back on my mom (who has very pretty green eyes kinda like the ones pictured at the top). So to fix that problem, and fill a couple of requests for hazel (sorry, I know I didn't do enough), and purple I created this set.
Outdated:I plan on doing one more set, and YOU GET TO PICK THE COLORS!!! I want you all to post links to pictures in the comment space and tell me which color in the picture you want eyes the color of. The first/best 15 will get made into the last set.
See that set
here
.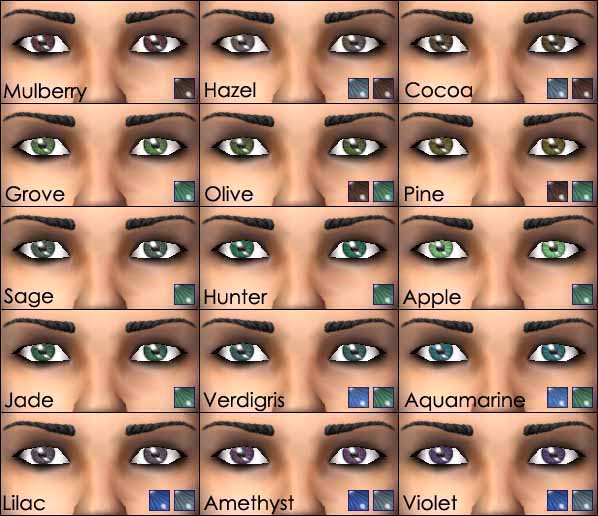 See separated pictures for exact shades. (Didn't notice till I had done it all, sorry)
If you don't want to mess around with my defaults or just want to collect them all, the other package contains all the colors pictured as standard custom eyes. Each of these eye colors is binned, or genetically correct, meaning if you install my eyes they won't take over your neighborhood. Cocoa is the only one in this group that is set as dominant (will act like the brown Maxis eyes do) and all the others are set as recessive (act like light blue or green). All of these eyes are townie-friendly, meaning after you install these eyes, townies created afterwards have a chance at having them, even if you don't use the default replacement set!
What colors you pick for your Defaults are completely up to you, however, most of the colors here are more of mixed colors, you might like the ones from
Set#1
(have I linked there enough times for one post?) for your defaults better, except of course, you can prolly find a green here you like! Have fun!
Enjoy!
-Phaenoh
P.S. I love reading comments, leave me a couple? Don't forget to find pictures to link to of colors you'd like to see eyes in! Any color, even 'fantasy' eye shades have a shot here!
Additional Credits:
To the authors of a couple random posts on MATY and a few here that are buried so deep that you practically need spelunking gear to find them.
Tags: #Keen Eye, #clear, #sharp, #Maxis, #Default Replacements, #Genetic, #Townie, #Friendly, #Townie-Friendly
Blurb and Updatez:
Please don't reupload my work anywhere else. Just point them back here, I'm not going anywhere! :)
Please ask permission before using my work as a base for your project. I almost always say 'yes' and often times I will help you with your project! :bunny:
If you make something (like a story or a video) and it has something of mine in it, send me the link, I love to see my stuff 'in action'!
Sadly, but honestly, I can't take on requests. You can ask if it's something already related to one of my current projects, but I'm not likely to take on your project for you. MTS has lots of wonderful tutorials ;)