Mansion & Garden Stuff: Retro Rolls
MTS has all free content, all the time. Find out how YOU can help to keep it running.
Tell me how...

Created by XxCTxX View Policy / About Me View Downloads Home
Uploaded 22nd Sep 2016 at 7:43 AM · Updated 21st Sep 2016 at 9:50 PM by XxCTxX
Heya,
Today it's another Maxis Match Base Game recolours, this time of the Retro Rolls (vertical role/chignon) from the Mansion & Garden Stuff pack.
I made a total of 17 recolours named: Alpine, Arctic, Atlantic, Blood, Boysenberry, Bubblegum Blush, Burnt Umber, Clockwork, Dove, Fade to Grey, Fire, Magenta, Mauve, Medusa, Peacock, Seafoam & Twilight.

My recolours vs the original: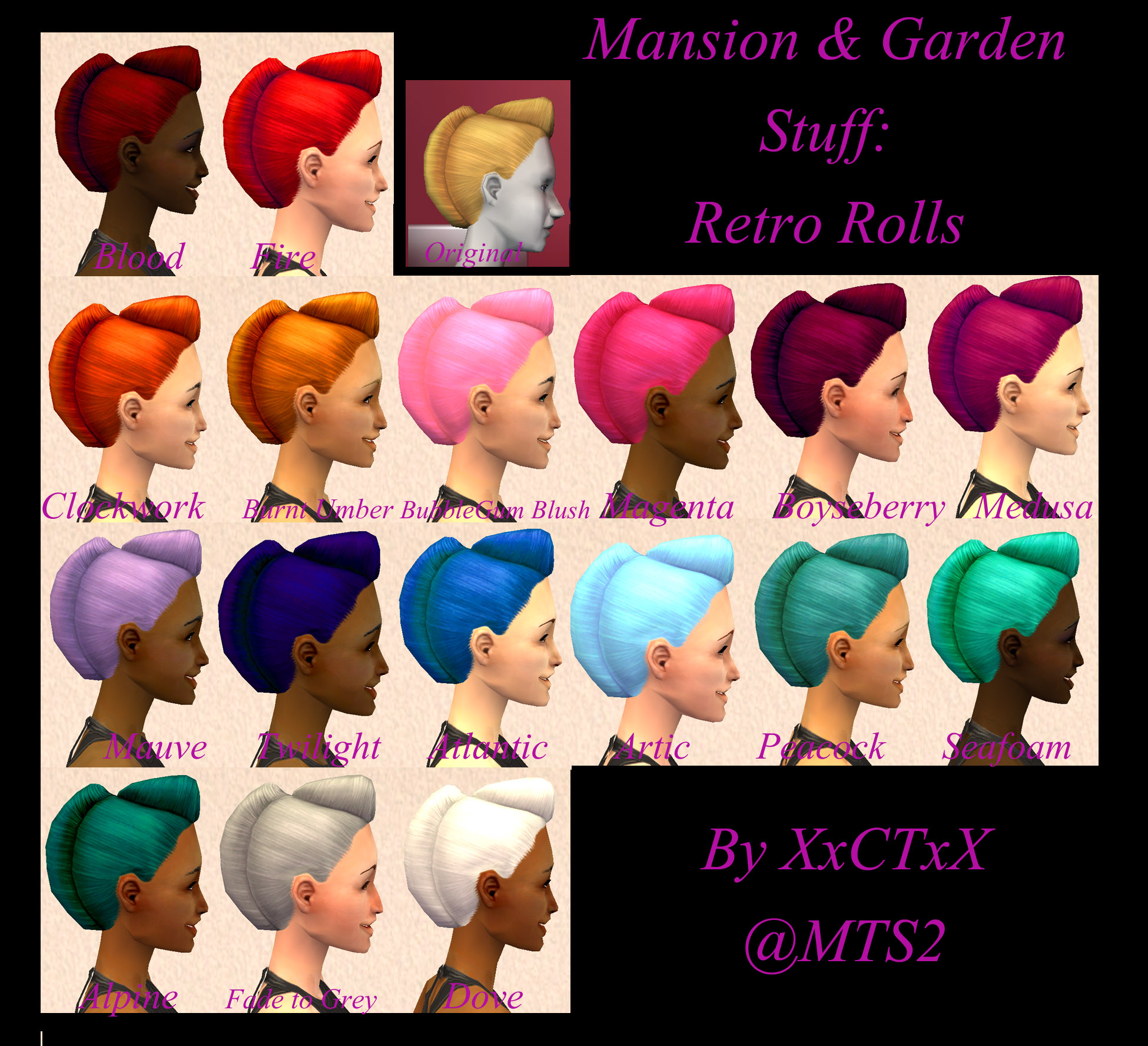 A side view of Blood:

*Requires Mansion & Garden Stuff Pack*

*They are found under Customs in C-A-S.*
*I've recoloured from the blonde hair so the eyebrows are default blonde unless you change it in C-A-S.* I have some custom unnatural eyebrows
Here
and
Here too
*
*These work for YF & AF only, for younger age stages it will be blonde hair and for elders it will be grey hair.*
*I've named all the package files by colour in case you'd like to choose certain colours only.*
Models:
Thanks to these creators for making my Sim models gorgeous!
Skin by: Sleeping Tabby
Eyes by: Maxis, Sugar & Caffeine
Make up by: Maxis, Rensim, Vikagu
Additional Credits:
Programs:
-BodyShop
- ADOBE Photoshop CS2
-Tutorials by Faylen
-Maxis
Hair Style: Punk/Streaks/Crazy Colours Maxis-Match
Maxis Flags: Not Applicable
Bin Type: Unbinned
Age: Young Adult Adult

Tags: #maxis, #match, #recolour, #recolor, #alternative, #punk, #blue, #pink, #green, #purple, #punky, #grey, #aqua, #orange, #hair, #up, #roll, #vertical, #chignon, #bun, #updo, #xxctxx
Hewwo there!
Hewwo there!

I've been playing sims since I was 9.
I like recolouring items to create more maxis match stuff. I try keeping as much of it simple and base game so it's fun for all!

General Policies:
-DO NOT reupload any of my work.
-DO NOT edit/modify any of my work without my consent.
-IF you use my work for any photographic or video work, please let me know and also credit me.
-Please DO NOT steal my trademark names that I use for colours.
With my recolours/textures:
You may include with Sims.
You may re-use my textures for related projects.

Uploading Terms for anything else:
-Upload to MTS ONLY!
-DO NOT upload onto TSR/ the Exchange

-Let me know if you've credited me, love to see what you've made!
-Have fun!
-A big thank you for those who have downloaded, thanked, favourited and commented! You guys bring joy to me.