Inspiration - Base Game Nursery Items take ALL Regular Bedding.
MTS has all free content, all the time. Donate to help keep it running.
54,092

Downloads
1,840

Thanks Thanks
275

Favourited
132,065

Views
Picked Upload! This is a picked upload! It showcases some of the best talent and creativity available on MTS and in the community.


Uploaded: 26th Apr 2010 at 8:17 PM
Updated: 4th Dec 2011 at 3:50 AM - Small Crib Bedding Fix (I will also update here with links to beddings)
UPDATE:2:29PM (04/26/10) EST-Small Bedding Fix Please Redownload
I rotated the bedding map on the cribs and got rid of the folded part.
I saw
BasketballGirl_35's
"Nurseries to Match Maxis Bedding" set and at first I thought she had slaved the crib bedding to the "regular" bedding, but after reading I found out that it was a Maxis recolor. I was surprised to see that nobody has ever slaved the baby furniture to regular bedding, so I thought to myself: "Man, don't you realize how useful this would be if you made something like this," And so I did. Here is my "Inspiration":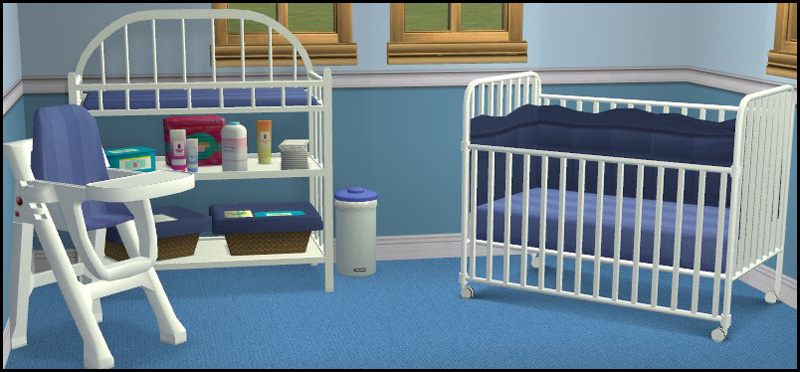 Apartment Life Stripey Bedding.
All of the objects seen have been torn apart, what has been slaved to the "regular" bedding is:
-The cushion of the highchair
-The matted part of the changing table
-The basket liners of the changing table
-The crib's mattress.
Everything else is in its own slave. I.E. the crib will keep its original texture even though the fabric parts are slaved to the regular bedding.
Known Issues
You will probably have problems with the darn top of the diaper dispenser if you're nitpicky about things like that. I'm cosidering making a few recolors so that it will match better with everything. Another issue, it's bedding mapping on a few completely different objects. You'll run into issues with some bedding on the highchair, especially if the texture is, "complicated," or "stripey-ish" but a majority of the beddings work really well on the high chair and the other objects. I would reccomend looking at my "shopping list" for some reccomended items that look like they would work well with these new cribs and such so that your highchairs won't look wonked out with some of the textures.
HugeLunatic made a replacement that makes the mat and liners of the changing table pull the textures of the original crib. If you have this download do NOT download fway-MaxisBeddingOnCTable-DEFAULT.zip and download the custom version instead, OR remove HugeLunatic's default replacement and download fway-MaxisBeddingOnCTable-DEFAULT.zip. Both replacements won't work nice together.
But wait, there's more!
Even if you decide not to download the NON-default version of my cribs (or the default replacement bedding) it is HIGHLY RECOMMENDED that you download my crib UV mapping fix (if there isn't one?). Ever notice that the front of your babies' cribs are the shade of whatever the original crib bedding is? That's because EA forgot to map the crib properly. For nearly
6
years this has gone unchanged.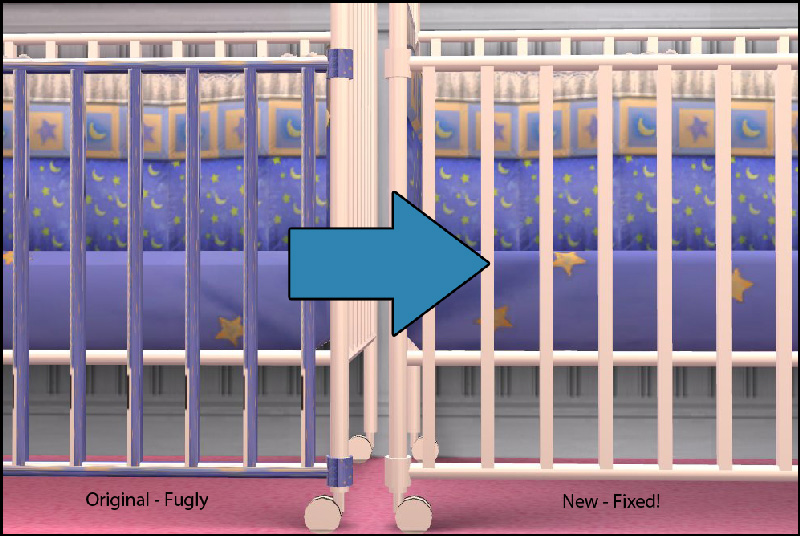 Note:
Only download fway-CribMapFix-DEFAULT.zip if you are NOT downloading fway-MaxisBeddingOnCribs-DEFAULT.zip.
Will there be a FreeTime version?
You betcha! I'm working on that.
I've fallen into the realm of the Sims 3.
"Shopping List" (recommended beddings)
Gingham Beddings
by HugeLunatic.
Stripes Bedding
(and more) by TwoHorses.
Bahamaut25
has some Teen Style "Surfer" recolors.
Kid's Bedding #1
#2
by Purplepaws.
A Bundle of Quilts
by Autumnwish.
Bedding Defaults & Non-defaults
by HystericalParoxysm.
If you decide to download HugeLunatic's "Gingham" bedding, I suggest downloading "
The Gingham Rocking Horse
" by CTherese.
For those who mesh, you may use the "bedding" group in the GMDC as a base if you need to. It does not belong on any paysite or the exchange, still. Credit would be appreciated, however, but not necessary.
Polygon Counts:
fway-MaxisBeddingHighChair-NDPETS.package:1620
fway-MaxisBeddingOnCribs-NDPETS.package:3480
fway-MaxisBeddingOnCTables-NDPETS.package:1720
MaxisBeddingOnCribs-BGND.package:3480
MaxisBeddingOnCTables-BGND.package:1720
MaxisBeddingOnHighChairs-BGND.package:1620
fway-MaxisBeddingOnCribs-DR.package:3480
fway-MaxisBeddingOnCTable-DR.package:1720
fway-MaxisBeddingHighChair-DR.package:1620
Cribfix (just in case):3480
Additional Credits:
-Big thanks to basketballgirl_35 for the idea from her
Nurseries to Match Maxis Bedding
sets.
-The creators and devs of
SimPE
- Everyone in #create, thank you for your recommendations.
- Phaenoh, the idea about making the highchair cushion not so floodfilly was a great idea.
Packs Needed
None, this is Sims 2 base game compatible!
Tags
#crib, #cribs, #default, #slave, #master, #repository, #regular bedding, #bedding, #regular, #cribbage, #pish posh, #osh gosh be-gosh, #shiny, #new, #non-default, #non, #non default, #babies, #infants, #toddlers, #infant, #toddler, #Maxis, #Match, #Maxis Match, #EAxis, #EAxis matc
My Policy
Policy:
Anything that I have made, whether it be a mod or a piece of CC to plop in your Sims' homes, my policy is that you may do whatever you'd like with the stuff I post as long as it remains free. I no longer consider the things I make to be mine, they now belong to the community! I don't own EA code. lol So if you'd like to see how I did something with these mods or CC, feel free to poke and prod away.