>

Mods that run in the background that modify game play in all lots without player intervention.
"Dress Me Correctly" made compatible with Pregnancy Wear Any Outfit
MTS has all free content, all the time. Find out how YOU can help to keep it running.
Tell me how...
18,738

Downloads
442

Thanks Thanks
161

Favourited
62,359

Views
Uploaded: 21st Feb 2015 at 11:37 AM
I love Mog's
mod which allows sims to dress correctly at the right time of day
. However, one tiny thing about it was annoying me - if you use Pregnancy Wear Any Outfit and have ordinary clothes with maternity meshes, this mod doesn't know that and it forces your sim into maternity wear after a shower or at their first bump pop. With my version, they'll spin into the proper category - everyday, PJs or work clothes. Please see Mog's page for a fuller explanation of what the original mod does.
It's designed for use with clothes which have a maternity mesh - that means all categories of clothing that the original mod affects (PJs, everyday and work) will need a maternity mesh if you have a pregnant sim wearing them. If their clothing doesn't have a maternity mesh, they'll spin into that category but not look pregnant. Don't worry! They still are pregnant, they'll probably even waddle. It just means you need to go to the dresser (or the store) and choose them a new outfit for that category which has a maternity mesh. I can highly recommend the wonderful MysticalOne's maternity meshes, which adds a maternity mesh to all Maxis meshes. That will cover all of your work clothes. But you can use it with Maxis meshes as well - some of the Everyday full outfits already have a maternity mesh added.
All credit goes to MogHughson for the original mod - I haven't really done anything on this at all, I've just removed the pregnancy check, and tied up the ends neatly so it didn't throw an error.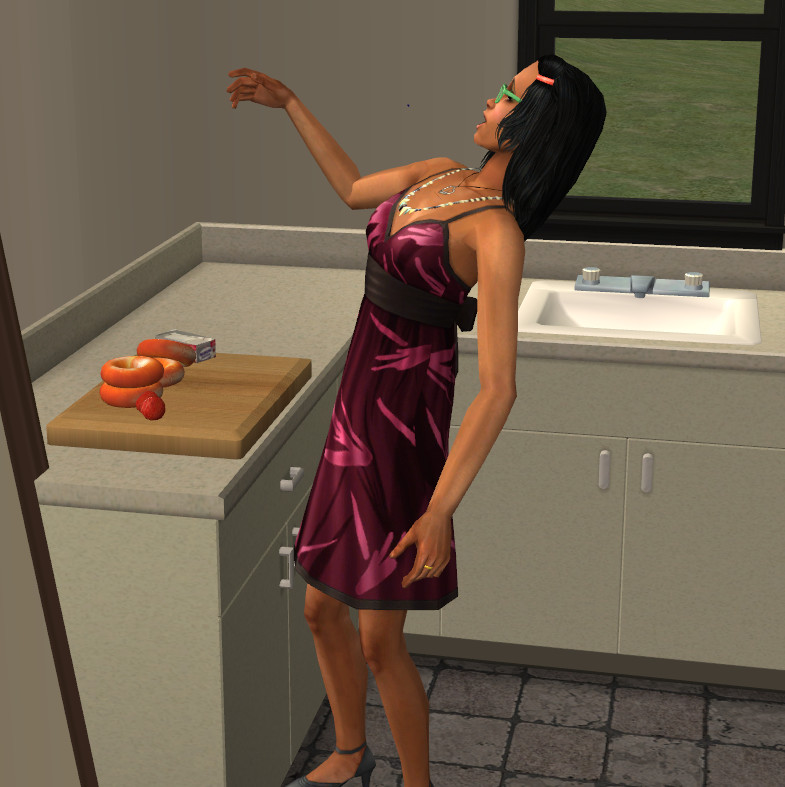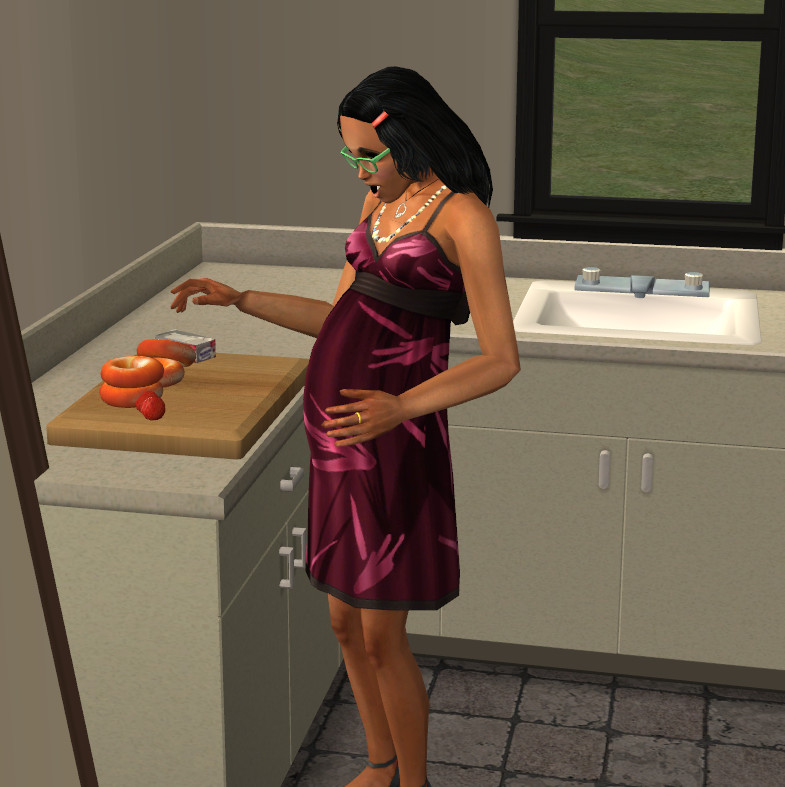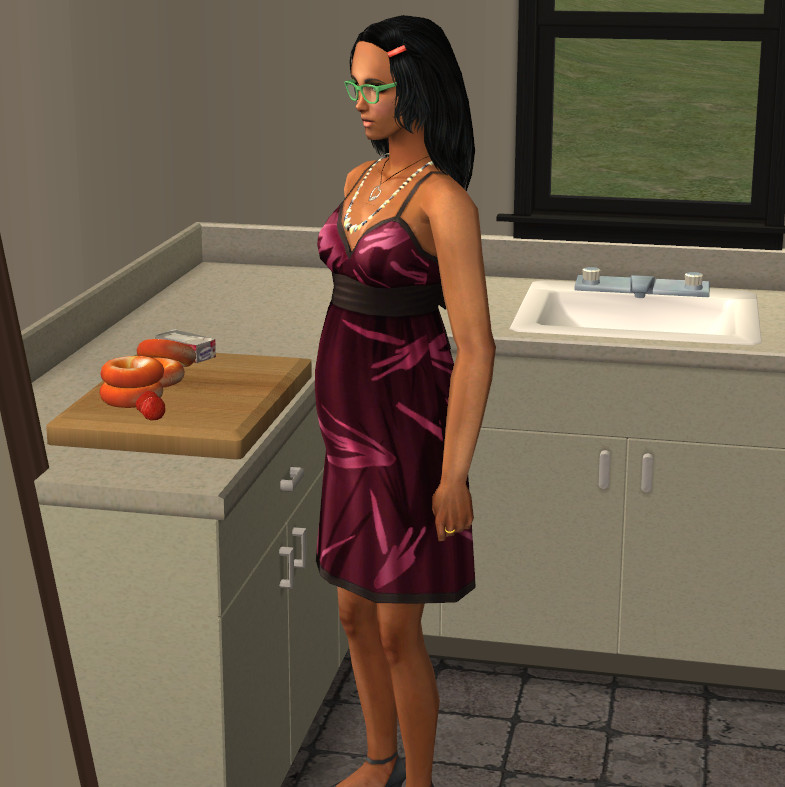 FAQs:
Why do I want this?
If you use Pregnancy Wear Any Outfit by Squinge, and are annoyed by the default maternity wear, you want this.
Does it work with male pregnancy and teenage pregnancy?
Eeeeeh, sort of. It won't break anything. But you need to tweak it a little. With a pregnant teen via inteen, make sure you switch her everyday and PJs to a maternity enabled outfit, or she won't look pregnant when she spins. You can change her outfit again after she gives birth. With a pregnant male, you'll have to manually change him back into Maternity, unless you can get custom male clothing with maternity meshes, which I have no idea if you can. Sorry, I won't be fixing this. I have no idea how to enable a check for one gender only.
What about other teenage pregnancy mods?
I have no idea, sorry. But I suspect the same method as suggested for inteen would work.
What is Pregnancy Wear any Outfit and where can I get it?
It allows your sims to wear their normal clothes (custom or maxis) when pregnant rather than a limited selection of maternity wear. Get it
here for AL
, Or
here for other EPs
Does it work with Maxis clothes, or do I need to download custom clothes?
If you want to use Maxis clothes, then you need
MysticalOne's maternity meshes
for all categories including separates, outerwear and work clothes. You can download custom clothes instead/as well. You can check if an outfit has a maternity mesh by choosing "Plan outfit" on a pregnant sim in her 2nd or 3rd trimester.
I downloaded this but they keep getting back into maternity wear.
You need Pregnancy Wear Any Outfit as well. This mod is quite pointless without that.
Should I keep Mog's mod or replace it with this version?
Replace it with mine. They will conflict. (Not game breakingly, but only one will work.)
Why does my sim keep getting into their work clothes when they are on maternity leave?
Sorry. Can't help that. The mod thinks they still have work, and I can't tell it that they are on maternity. Just make them get changed, or pretend they decided to hang at home in their uniform

(Or force them to go to work anyway... I mean, hey, maybe your sim is telling you they want to go in!)
Additional Credits:
All of the code is borrowed from the original mod by MogHughson here at MTS -
http://www.modthesims.info/download.php?t=317625
About Me
At the moment everything I have uploaded here uses a mesh or some other base from another creator. If you use my textures to make recolours please don't forget to credit the original creators!

I love to hear what people have done with my items - if you create a lot or story with my stuff it would be nice to get a comment with a link. It's not required but it is appreciated.

I don't take requests due to time constraints but I may possibly consider suggestions.

Thanks for reading! :)
simsfreq