>

Mods that run in the background that modify game play in all lots without player intervention.
Jogging motive changes
MTS has all free content, all the time. Find out how YOU can help to keep it running.
Tell me how...

Created by gummilutt View Policy / About Me View Downloads Home
Uploaded 25th Jan 2017 at 5:03 PM · Updated 18th Mar 2017 at 6:28 PM by gummilutt
Long time no see! I'm back with another global mod for you all. If you're active at
Leefish
you might have already seen it as part of Fishmas 2016, but since I know not everyone checks that site (really, you ought to!) I decided to share some of my gifts here as well.
I give you jogging motive loss changes. Update! Now with a pet pee version. See below for more details.
What is this?
This is a global mod that changes how the hobby jogging interaction affects motives. I like having some of my Sims go for a jog in the morning and I find the motive changes are rather unrealistic, especially for pets. Pets don't get stinky enough to need a bath just from jogging, and from what I hear jogging is supposed to give you energy, not leave you half dead even though you just woke up.
Now comes in two versions, regular and pets pee. Only use one of them.
JoggingMotiveLossChanges
In this mod I have separated the motive changes so that jogging affects Sims and pets differently. Sims will get hungry and be in need of a shower, but take less of a hit to energy and comfort. Pets will get very tired and happy, but won't see much change to hunger, hygiene and bladder.
| Motive | Maxis | With my mod - Sims | With my mod - Pets |
| --- | --- | --- | --- |
| Bladder | -5 | -20 | -10 |
| Comfort | -40 | -20 | -40 |
| Energy | -60 | -20 | -70 |
| Fun | +30 | +35 | +50 |
| Hunger | -30 | -40 | -25 |
| Hygiene | -50 | -40 | -10 |
| Social | +20 | +20 | +40 |
Motive bars go from -100 to 100, so -100 is an empty bar, 0 is a half full bar, and 100 is a full bar. If you think motives should be affected differently than my changes, the mod is easy to modify to your liking. See below for instructions.
Pets pee version
When I made the jogging mod originally I reasoned pets don't get to stop and pee everywhere when jogging so I decided to leave it a low decrease of bladder motive. But in light of my
Pet Hiking Motive Changes
-mod that fixes the hiking interaction so Pets come back with full bladder motive, it seemed silly not to add a version of this that does the same. After all, there's no reason why you can't let your dog or cat pee before starting the jog.
So, if you want your pets to come back from a jog will full bladder, get the pet pee version. All other motives are unchanged from what is listed above.
Compatibility
Requires Freetime.
Conflicts
Will conflict with other mods that affect jogging motives. Unlikely to conflict with mods changing other aspects of jogging.
Does not affect Smonaff's base game jogging mod.
How to edit
To edit this mod you will need SimPE. Open the package file in SimPE.
1. In Resource Tree window, click Behavior Constant (BCON).
2. In Resource List, click "Jogging Motive Change Per Hour" to edit motive changes for Sims, and "Jogging Motive Change Per Hour for Pets" to edit motive changes for pets.
3. In Plugin View, select the line of the motive you want to change. In my example picture I am editing energy.
Line 0x0 to 0x6 are the motive changes. Line 0x7 to 0xD control the limit of how high or low a motive can go (I have not changed these from maxis values).
4. In Dec box, enter the value you want. Remember Maxis motives go from -100 to 100, where 0 is a half full bar.
5. When you've made the changes you want, click commit.
6. Save your changes.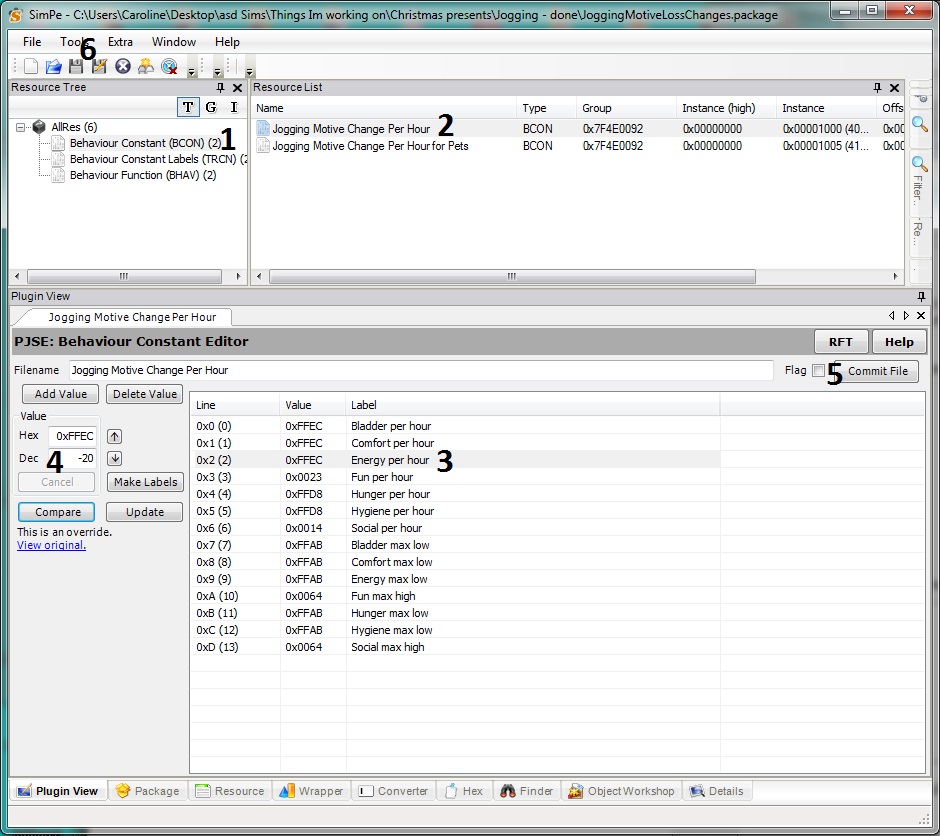 If you for some reason can't edit it yourself and you'd like different numbers than what I offer, you are welcome to ask me for help. Anyone could do this themselves, but I know
SimPE
can be overwhelming or might not work on your machine, so I'm happy to help you out.
Policy
You are most welcome to edit this for your own use, but please don't upload your modified version anywhere. If you'd like to use my mod as a base for something, send me a PM and we'll talk about it

Credits
Thanks to
iCad
who bounced ideas with me on this project. I'm not a jogger so input on what is realistic was most appreciated.
Leefish.nl
for letting this mod be a part of Fishmas 2016. Thanks to Santafish for organizing it, and Leefish for hosting the site. If you haven't checked out the gifts from Fishmas I suggest you do so as there were lots of fun creations. If you are interested in my contributions you'll find them on day
9
,
12
,
15
,
23
and
25 part 4
.
If you like this mod, you might also like
Pet Hiking Motive Changes
by me here on MTS.
Type: Fixed Global Mods

Tags: #jogging, #fix, #realistic, #freetime, #hobby, #activity, #pets
About my creations
--- Currently retired from creating due to health reasons ----
--- Hanging out in Sim Crafters discord group ---
--- No longer sharing content on MTS ---
I hope to return one day but for now consider me retired, and my uploads unsupported.
Hello! If you ever downloaded something of mine, thank you! It's a great feeling seeing something you spent time on be useful to someone else in their game, and with all the great CC out there I'm very flattered you would choose to get something of mine.
I do not take requests! Please don't PM me with requests, I won't respond. I do sometimes make things for people, but only when I see someone wishing for something on the forums and I feel like making it for them. So if you have a mod you wish would exist, make a post in
Hacks and CC that you'd like to see!
-thread. That's what it's there for after all! :)
A shoutout to VioletPadfoot for inspiring me to try creating, long ago. You gave me the nudge that got me started, and I'm very grateful. I'd also like to thank all of the wonderful experienced creators (gdayars, justJones, maybesomethingdunno, NixNivis and many more) out there that wrote the tutorials I've used, or that has answered my questions when I've gotten stuck. You guys are what makes learning fun, and what inspires me to keep expanding my knowledge with new projects. Special thanks to Michelle who has helped me a lot when it comes to objects and recolors, and BoilingOil who taught me some modding basics that I needed when I started modding more seriously.
Policy
For my mods (global mods/modded objects) I would like to be asked before you share something based on my work. I'll probably say yes, but I'd still like to be asked :) If I'm no longer around, then you are free to do whatever you like, but as long as I'm still active I'd like to be asked first. If the mod thread itself says policy is open, then that specific creation is open and you are welcome to do what you like with it.
Because I suck at making textures for recolors, I mostly edit things that already exist. Thank you to all you creators out there with open policies that allow me to do so. If you want to use something of mine for an unrelated project and I based mine on someone elses texture, please make sure you check their policy too. With my own textures you may use however you like. Exception to this rule are default replacements. Do not make default replacements using my creations. You can PM me and ask permission, but the answer is most likely no.
Other sites
Only share content on tumblr now. Still retired though so probably nothing, but if something new comes out, that's where it'll be. You can find it linked here on my profile.