Sims 2

>

>

Mods that run in the background that modify game play in all lots without player intervention.
Child Tickle and tell secret fix.
3,692

Downloads
274

Thanks Thanks
41

Favourited
11,647

Views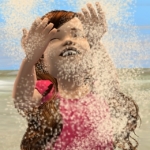 Uploaded: 9th Jul 2019 at 9:19 PM
Updated: 23rd Jul 2019 at 11:44 PM
For the longest time, when children sims use the tickle or tell secret interaction on an npc, townie, or child not in your family, the interaction drops out of the cue without the animation playing. After some fiddling around in Simpe, I found out that the interaction was not enabled for visitors, unlike the adult version of tickle, which was. This mod fixes these interactions so now your kids can tickle and tell secrets to their friends as well as their families.
Furthermore, since this interaction is available for visitors, you may see other children use this interaction autonomously as well, although I haven't tested enough to find out yet.
final note: the tickle interaction needs open for business or later to work. The tell secret fix needs pets or later to work. Don't worry, there are two packages so you can select what you want.
Additional Credits:
Hair by newsea edited by kotangens
http://hypnotizedsims.blogspot.com/...extures_11.html
skin tone: feather skin
https://sim-strangers.tumblr.com/po...y-light-rose-s1
hair by newsea: newsea lover
retextures here:
http://allthehairs.podserver.info/?q=node/434
original:
http://www.newseasims.com/inside-page.php?cid=1&id=241
eyes: opeu maxis match eyes
non defaults:
http://modthesims.info/d/245827/max...-10-colors.html
defaults:
http://modthesims.info/d/254735/def...match-eyes.html
Packs Needed

For a full list of packs with names, see the Packs Needed popup.
Other Information
Type
:
– Fixed : Fixed Maxis Mistakes
– Social Mods : Social Interaction Mods (things that change how sims interact with each other)
Packs Needed
| | Base Game |
| --- | --- |
| | Sims 2 |
| | Expansion Pack |
| --- | --- |
| | Open for Business |
I make small mods for the sims of things that annoy me.
I got into modding after realizing that it is easier to fix things yourself than wait for mods to fix it. I have almost no experience in modding but through reverse engineering other mods and fooling around in sims 4 studio, and
SimPE
I have found out how to make simple edits and the like. I try to keep my mods updated when possible. Feel free to update, take apart, or modify my content in any way. Just make sure to credit me if you post it online.