Sims 3

>

>

Programs and utilities either to mod the game or to make it easier to install content.
Tool to Package Custom Body Hair - update 9/8/12
9,088

Downloads
321

Thanks Thanks
63

Favourited
118,279

Views

Uploaded: 11th Jun 2011 at 6:46 PM
Updated: 27th Nov 2013 at 3:54 PM by Nysha
If anything begs for custom content, it's the new body hair that arrived with the 1.22 / Generations patch. This little program makes it easy to package custom body hair textures.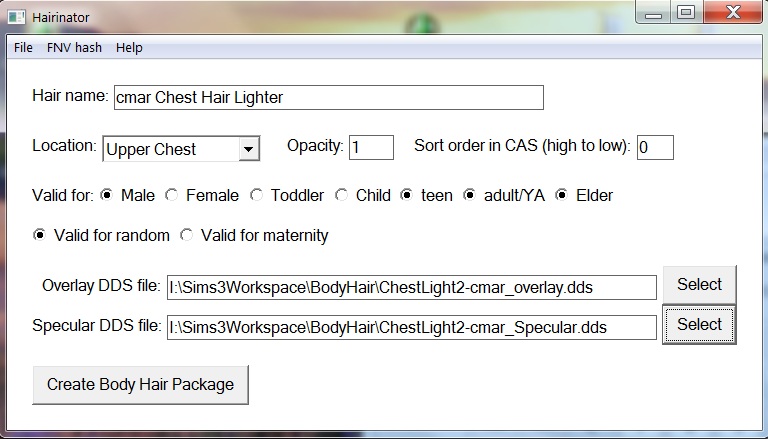 Just enter a name for your hair, select the body location, and import your textures. You only need two: an overlay and a specular. Optionally you can adjust the opacity of the hair and the sorting order in CAS. By default it will be enabled for males only, teen through elder, but you can change that if you wish.
Notes:
Games must have the 1.22 base game patch or higher to use body hair. You don't have to have the Generations expansion.
It's a bad idea to name your hair 'My hair' or 'New hair', or heaven forbid, just 'Hair'. The name must be unique or the identifiers for your hair may conflict with someone else's who also needs to be more imaginative. The best way is to combine your name with a descriptive name for the hair.
The options to enable hair packages for teens and females is in anticipation that core and script modders will enable body hair for them in CAS in the near future. I've updated XCAS to enable the body hair screen for teens and females as of 6/12/2011.
Only runs on Windows.
Installation:
Unzip Hairinator.exe and salflibc.dll into the same folder.
Tutorial:
As promised:
http://www.modthesims.info/showthread.php?t=445407
Additional Credits:
The skin pictured is HP's Barbie Increased Texture Detail.
As always, s3pe.
Updates:
6/11/2011:
Yes, already! Update to allow enabling/disabling of "Valid for Random" and "Valid for Maternity".
9/8/2012:
Version 1.11 uploaded.
This is an update only to the underlying platform - salflib.dll. It improves file selection performance when running on Windows 7 so that you should be able to select significantly more files before it freezes for a minute or so.
Packs Needed
None, this is Sims 3 base game compatible!
Other Information
Operating System
:
– Windows : Windows XP, Windows Vista, Windows 7, etc
Utility Type
:
– CC Editors : Tools for modifying .package files, sims*pack files, and resources contained within those files.
Plugin Type
:
– Not Applicable : Standalone tools
About Me
If you have a problem with one of my mods, please post in the thread for that mod. There's no reason to pm me - it fills up my inbox and means no one else is going to be able to learn from your problem and my answers.

My policy on use of my work:

Feel free to use any of my meshes, morphs, skins, or whatever as a base. If you change, convert, or enhance my stuff you may post it without asking, but please give credit. If you use them without changes, please post a link to my downloads rather than reposting. However, you may include them with Sims or lots without asking, but with credit.

Please do not post anything using my creative work on any pay site or the Exchange, unless it's in a free section of a pay site. If you want to post your own original creation made using my tools to a pay site or the Exchange, you may do so, but give credit for the tool.

Obviously my tools are for free use by anyone, but I'd appreciate a credit if you post something created with them.

So basically: no pay site, no Exchange, give credit. Other than that, meh.

If at some time I lose interest in Sims 3, or am too busy, or die, anyone who wants to may update/modify/add to any of my work as long as they follow the MTS policy on updating broken or outdated custom content.

I don't take requests. Suggestions for enhancing work I'm doing or have done are welcome, whether or not I act on them, but please no requests for totally unrelated stuff that I probably have no idea how to do.