>

Doors, Windows, Doorways, Arches
Medieval Centred Leadlight Door - Ye Olde Kingdom of Pudding
MTS has all free content, all the time. Find out how YOU can help to keep it running.
Tell me how...
22,104

Downloads
763

Thanks Thanks
95

Favourited
42,258

Views
Uploaded: 28th Jan 2012 at 10:31 PM
Updated: 10th Feb 2012 at 12:06 AM by leesester
Ye Olde Kingdom of Pudding - Medieval Centred Leadlight Door
Made by Leesester for The Merrye Makers


Greetings, good gentles/ladies. We are The Merrye Makers - a group of eleven (now twelve) creators spanning all disciplines (clothing, lots, objects, etc.) offering for thy downloading pleasure a collection of medieval things most beauteous from Ye Olde Kingdom of Pudding -- otherwise known as "Simdom Pudding". Verily, Leesester, we welcome thee into The Merrye Makers.



Glass

In Ye Olde Kingdom of Pudding lived careful crafters of glass. It was hot, hard, laborious work – gratifying for those who were workaholics. First, dried beechwood logs were burnt and the ashes carefully collected taking care not to mix any spawned rocks or metals with them. After this, three furnaces were built of stones and clay and large fires lit on both sides of the biggest furnace. This was a perfect task for pyromaniacs. Two parts of ashes and a third part of sand were well mixed, then lifted up with a long-handled iron ladle and put into the furnace to be fritted. Once hot, frequent stirring with the same iron ladle prevented the mixture from melting and agglomerating. Simdom Pudding craftsmen continued doing this for a night and a day while their energy bars became redder than the clay of the furnaces. Meanwhile, handy workers ground and kneaded white pottery clay to make pots which were placed in the red-hot furnace. The fritted mixture of ashes and sand was picked up with the ladle and all pots filled with it in the evening. Dry wood was added to the furnaces all through the night, so that the glass, formed by the fusion of the ashes and sand, was fully melted. Those who were artistic poured and cut the glass as needed, positioning bits over designs they created on a board.

Source:
http://www.awesomestories.com/relig...s/story-preface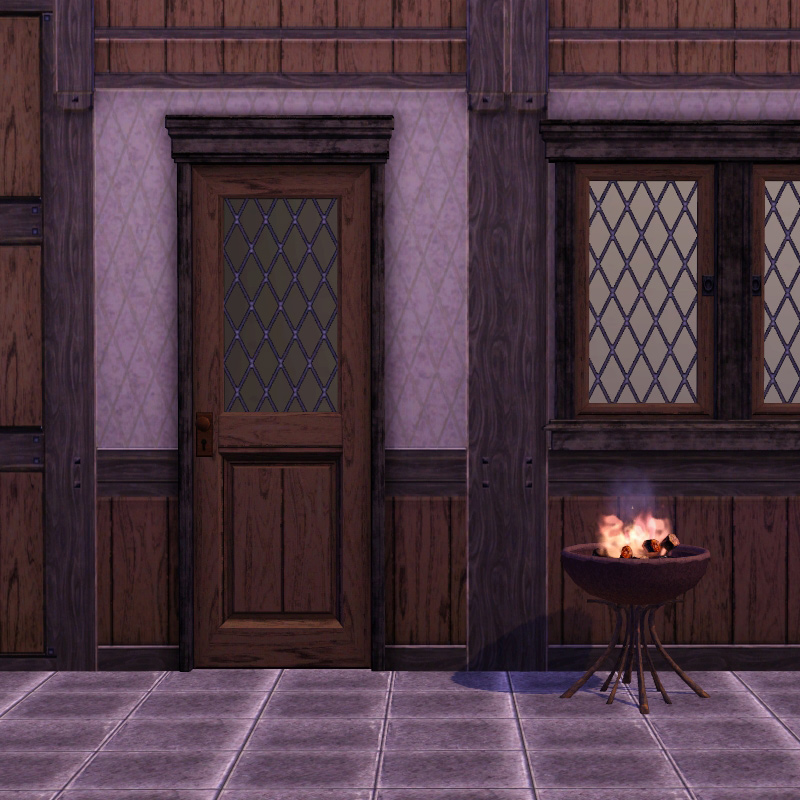 (Enter a fish - stage left.)
I have been working with the Merrye Makers for quite a while and was impressed by their commitment to a plan of a big set of Medieval items for simmers to use, so I asked to join. Here is my first offering, a "Maxis Match" door that is made to go with the Base Game Sir Cunningham window (which is really more Tudorish than medieval, but yea...) The door has an extra preset where the door handle is a rougher brown metal and still has the original preset with the shiny handle. This means that the door can also be used by none-medieval style players. While I was there I repositioned the Mission arch to also be centred on two tiles.


| In Game Name | Price | Channels | Extra Presets | Polys hi/low |
| --- | --- | --- | --- | --- |
| Centred Brasserie Door | 180 | 4 | 1 | 562/534 |
| Centred Brasserie Arch | 135 | 2 | 0 | 296/92 |


Polygon Counts:
See post

Additional Credits:
S3OC, S3PE, TT3, TSRW for the additional meshgroups, Inge Jones
The Merrye Makers
Ahh, wanderers, welcome. Art thou merrye? If thou art not merrye thou art soon to be. What wares hast thou come here looking for? Clothing for thy entire family? Furniture for thy house? Maybe thou art simply in need of a house in general! Well sir, we are most glad to let you know that we have all that and more.
This has been a big undertaking for everyone involved, our skills range from featured creators to never having uploaded anything before. Everyone has enjoyed watching the project grow, meeting new people and learning new skills.
The Merrye Makers would like to thank a number of people for getting us here. First off is the staff of MTS. The staff were so supportive of us and it's definitely no easy matter to get 100+ things approved! There are also numerous other people who were going to participate but, for various reasons, were not able to upload with us. We would like to thank Rylandholmes, Whiterider, dramamine213, hudy777DeSign, Freshprince and Kitty Paine for their feedback and support. Thank you to SimmyRN for providing the narratives found in
italitics
throughout the posts. Thank you to jje1000 for the medieval world in the pictures, Praaven. Find out more about Praaven here:
http://www.modthesims.info/showthre...ghlight=praaven
.
Policy
Please follow the policy provided by the individual creator. Please credit the individual creator and not us as a group.