Sims 2

>

>

Mods that run in the background that modify game play in all lots without player intervention.
More sensible badge gain
4,522

Downloads
247

Thanks Thanks
51

Favourited
17,224

Views

Uploaded: 6th Aug 2017 at 2:13 AM
Updated: 7th Aug 2017 at 1:36 AM - Typo
For some reason, some of the badges are much harder to get than others. The cashiering badge gets a lot of hate for being slow, but the cosmetology badge is just as bad. Zarathustra mentioned on the forums that it takes a lot of makeovers, and come to think of it, it does take an awful lot. I crunched the numbers, and in an unmodded game it should take 111 makeovers to get a gold badge.
111
!! It's ridiculous. No more!
What this does
In Maxis code, it takes an exponential amount of makeovers to increase badge level. With no badge, it takes 12 makeovers to get a bronze badge. It then takes nearly three times as many for the silver (31), and almost six times as many for the gold (66). Why Maxis, why?
This is a global mod that increases the gain from each makeover, so that Sims don't have to give quite as many to get a gold badge. It comes in two varieties. To understand how they differ it may be helpful to know how badges work. There are four levels, no badge, bronze, silver and gold badge. A Sim is awarded a bronze badge when they gain 333 points, a silver badge when they've reached 666 and a gold badge when they reach 1000.
Both versions cut the required number of makeovers down to one third of the original 111. Only use one version.
Maxis Match
In this version, gain rate continues to be higher the less experience the Sim has just like Maxis has it, but the rate is increased for all levels.
No badge - 48 points per makeover, total of 7 makeovers required
Bronze - 28 points per makeover, total of 12 makeovers required
Silver - 20 points per makeover, total of 17 makeovers required
Inverted
In this version, gain rate gets better the more experience the Sim has.
No badge - 20 points per makeover, total of 17 makeovers required
Bronze - 28 points per makeover, total of 12 makeovers required
Silver - 48 points per makeover, total of 7 makeovers required
I made this version because to me, it makes more sense that they find it easier to improve their skill once they've learned the basics. With this version, it will take a Sim longer to get a bronze badge than it does in an unmodded game, but it will be significantly faster to get the silver badge so over all you will see less failed makeovers.
How to edit
In my usual tradition I am including instructions on how to edit this, in case you want different numbers than what I offer here. Requires SimPE.
Open the file in SimPE.
Step 1. Click the BCON resource you see in the resource list
Step 2. In Plugin View, click the line of the badge level you want to change the gain rate for
Step 3. In the Dec box, change the number to however many points you want your Sim to get for each makeover. Remember each badge level is 333 points, so choose accordingly.
Step 4. Commit your changes by clicking "Commit File"
Step 5. Save your changes.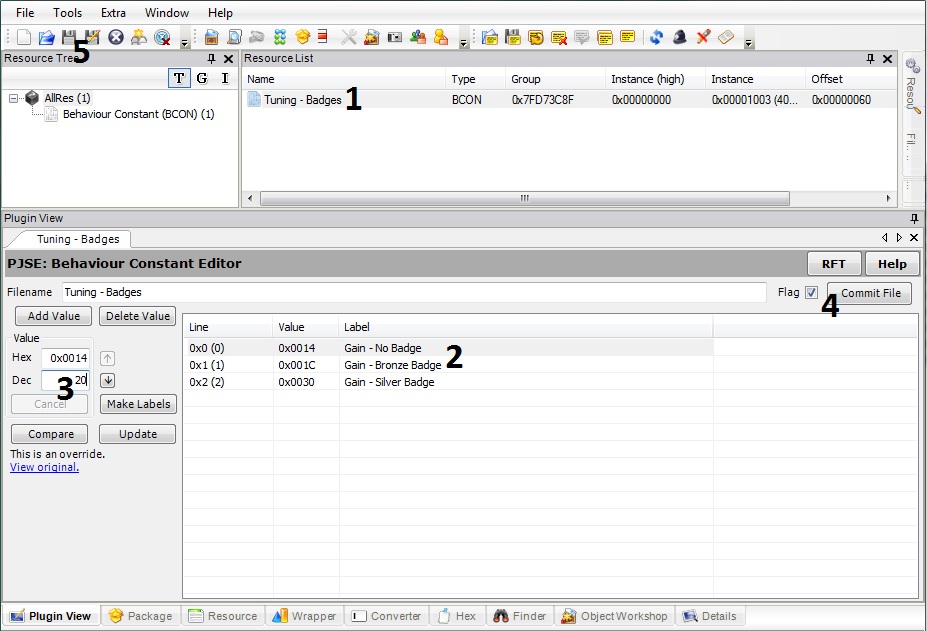 Done! That's all you have to do

Compatibility
Requires Open for Business. Compatible with all EPs and SPs released after OFB.
Conflicts
None that I know of. Will only conflict with other mods that change badge gain rate of cosmetology.
Does not conflict with joninmobile's No Bad Makeovers.
Credits
Zarathustra for the idea
Pescado for his smartercashier, that I looked at to see how he increased the speed of cashiering badge
Packs Needed

For a full list of packs with names, see the Packs Needed popup.
Other Information
Type
:
– Fixed : Fixed Maxis Mistakes
– Global Mods : Mods that change the way the game works without requiring any user intervention.
Packs Needed
| | Base Game |
| --- | --- |
| | Sims 2 |
| | Expansion Pack |
| --- | --- |
| | Open for Business |
About my creations
--- Currently retired from creating due to health reasons ----
--- Hanging out in Sim Crafters discord group ---
--- No longer sharing content on MTS ---
I hope to return one day but for now consider me retired, and my uploads unsupported.
Hello! If you ever downloaded something of mine, thank you! It's a great feeling seeing something you spent time on be useful to someone else in their game, and with all the great CC out there I'm very flattered you would choose to get something of mine.
I do not take requests! Please don't PM me with requests, I won't respond. I do sometimes make things for people, but only when I see someone wishing for something on the forums and I feel like making it for them. So if you have a mod you wish would exist, make a post in
Hacks and CC that you'd like to see!
-thread. That's what it's there for after all! :)
A shoutout to VioletPadfoot for inspiring me to try creating, long ago. You gave me the nudge that got me started, and I'm very grateful. I'd also like to thank all of the wonderful experienced creators (gdayars, justJones, maybesomethingdunno, NixNivis and many more) out there that wrote the tutorials I've used, or that has answered my questions when I've gotten stuck. You guys are what makes learning fun, and what inspires me to keep expanding my knowledge with new projects. Special thanks to Michelle who has helped me a lot when it comes to objects and recolors, and BoilingOil who taught me some modding basics that I needed when I started modding more seriously.
Policy
For my mods (global mods/modded objects) I would like to be asked before you share something based on my work. I'll probably say yes, but I'd still like to be asked :) If I'm no longer around, then you are free to do whatever you like, but as long as I'm still active I'd like to be asked first. If the mod thread itself says policy is open, then that specific creation is open and you are welcome to do what you like with it.
Because I suck at making textures for recolors, I mostly edit things that already exist. Thank you to all you creators out there with open policies that allow me to do so. If you want to use something of mine for an unrelated project and I based mine on someone elses texture, please make sure you check their policy too. With my own textures you may use however you like. Exception to this rule are default replacements. Do not make default replacements using my creations. You can PM me and ask permission, but the answer is most likely no.
Other sites
Only share content on tumblr now. Still retired though so probably nothing, but if something new comes out, that's where it'll be. You can find it linked here on my profile.