Sims 2

>

>

Mods that run in the background that modify game play in all lots without player intervention.
Fire Applies Burn Overlay
1,127

Downloads
94

Thanks Thanks
21

Favourited
3,860

Views

Uploaded: 10th Apr 2021 at 7:12 PM
Updated: 1st Jun 2021 at 12:10 PM by BartekStu
About
Have you ever been bothered by how, despite being
on fire
, your Sims happily return to ordinary life the second the flames die out? If so, look no further - this mod, while relatively simple, adds an extra touch of immersion whenever disaster strikes. Afterwards, the Sim will be able to remove the overlay in the same way you would remove the electrocution one - by bathing, changing appearance, etc.
The fire object in the game runs on a number of loops - this mod simply slides into a few of these loops and applies the overlay to any Sim who is on fire. This extends to teens, adults, and elders - children can catch on fire, but since they have no in-game overlay, they will be unaffected. You have three options to choose from, depending on your visual preference -
use only one version, please!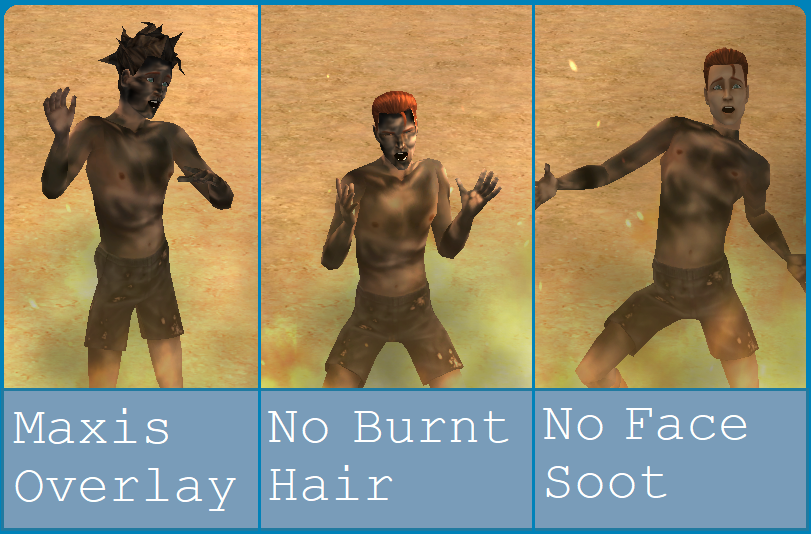 The "Maxis Overlay" version uses the in-game electrocution skin. It is the most visually consistent.
Both the "No Burnt Hair" and "No Face Soot" versions come with a custom burned overlay built into the .packages. "No Burnt Hair" is recommended if you're not a fan of the electrocution hair, although there is a small visual issue where the soot on the Sim's face can cut off abruptly at the hair line - I think it's ignorable. "No Face Soot" is recommended if you dislike both the hair and abrupt cut-off.
The "Maxis Overlay" and "No Face Soot" versions are labelled respectively - the "No Burnt Hair" is just "FireGivesBurntOverlay.package" and is considered the "default" version.
Compatibility
Requires "Apartment Life" or higher.
Mod Conflicts
None that I am currently aware of. It is compatible with Simler90's Fire Mod and simmodder's 'More Dangerous Fire' mod at LeeFish, and the firemod at MATY.
This
mod
by
roguebotanist
makes an improvement to the AF burnt texture. It is compatible with all versions of this mod.
Technical Information
Maxis Overlay Version:
- Modifies BHAVs 0x1040 (Main - Set on Fire - Sim on Adjacent Tile) and 0x1051 (Main - Set on Fire - Sims on Tile) in group 0x7FD0A790
- Adds custom BHAV 0x105F to group 0x7FD0A790 (Custom - Apply Burned State)
No Face Soot:
- Modifies BHAVs 0x1040 (Main - Set on Fire - Sim on Adjacent Tile) and 0x1051 (Main - Set on Fire - Sims on Tile) in group 0x7FD0A790
- Adds custom BHAV 0x105F to group 0x7FD0A790 (Custom - Apply Burned State)
- Modifies Global 0x3B9 (Clothes - Electrocution - Do I have on?) in order to properly clear custom overlay
No Burnt Hair:
- Modifies BHAVs 0x1040 (Main - Set on Fire - Sim on Adjacent Tile) and 0x1051 (Main - Set on Fire - Sims on Tile) in group 0x7FD0A790
- Adds custom BHAV 0x105F to group 0x7FD0A790 (Custom - Apply Burned State)
- Modifies Global 0x3B9 (Clothes - Electrocution - Do I have on?) in order to properly clear custom overlay
- Modifies Global 0x3B6 (Clothes - Electrocution - Remove Burnt Face) in order to properly clear custom overlay
Credits
The creators of
SimPE
MTS
jfade, for The Compressorizer
Packs Needed
| | Base Game |
| --- | --- |
| | Sims 2 |
| | Expansion Pack |
| --- | --- |
| | Apartment Life |
| | Stuff Pack |
| --- | --- |
| | Mansion and Garden |